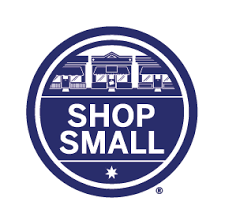 This feature is a follow up to our blog post A Guide to Shopping Small with American Expressafter which we realized there was a need to provide a step by step guide to using the Shop Small website!
June 28 Update: The 2021 Shop Small Promotion is here! Earn up to $50 in statement credits until August 23, 2021

There's no denying the fact that some of the best reward cards in Canada are offered by American Express and one or more of them should be in everyone's wallets. However what I hear time and time again from many of our readers is the same thing:
'there are very few or no retailers that accept American Express'
This comment just shows how under educated the market is when it comes to American Express cards. Are they as widely accepted Visa or Mastercard? No, that part is true but they aren't that far off. Amex covers a major portion of retailers that Visa and Mastercard do and are adding merchants like crazy. In 2017 alone over 70,000 new business began accepting American Express and broken down for four of our major cities:
Over 15,500 places in the Toronto area started accepting American Express® Cards in the last year.*
Over 7,500 places in the Montreal area started accepting American Express® Cards in the last year.*
Over 7,000 places in the Vancouver area started accepting American Express® Cards in the last year.*
Over 3,800 places in the Calgary area started accepting American Express® Cards in the last year.*
Still the question you may ask is where can I use the card?
For major retailers that's pretty easy. Almost all grocery stores, gas stations, drug stores, clothing and other major retailers accept American Express. The two big ones that don't are Costco and the Loblaw family of grocery stores. However pretty much every other retailer that is considered a major merchant accepts American Express.
But what about small retailers? I know some people don't always like to ask 'do you take Amex?' when they are entering a shop or are about to pay at the till. American Express Canada has addressed that with their Shop Small program which is a great website for searching for the non-major retailers that accept Amex.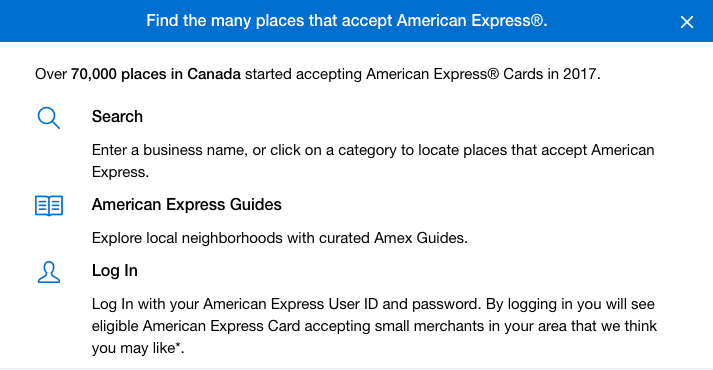 The website itself can be found by clicking here.  (https://maps.americanexpress.com/en-CA/maps)

It is very intuitive and easy to use but here are some general instructions on how to use to the map site.
When you first get to the site, if you don't allow location services the map defaults to the area you are near (as long as you allow it to access your location)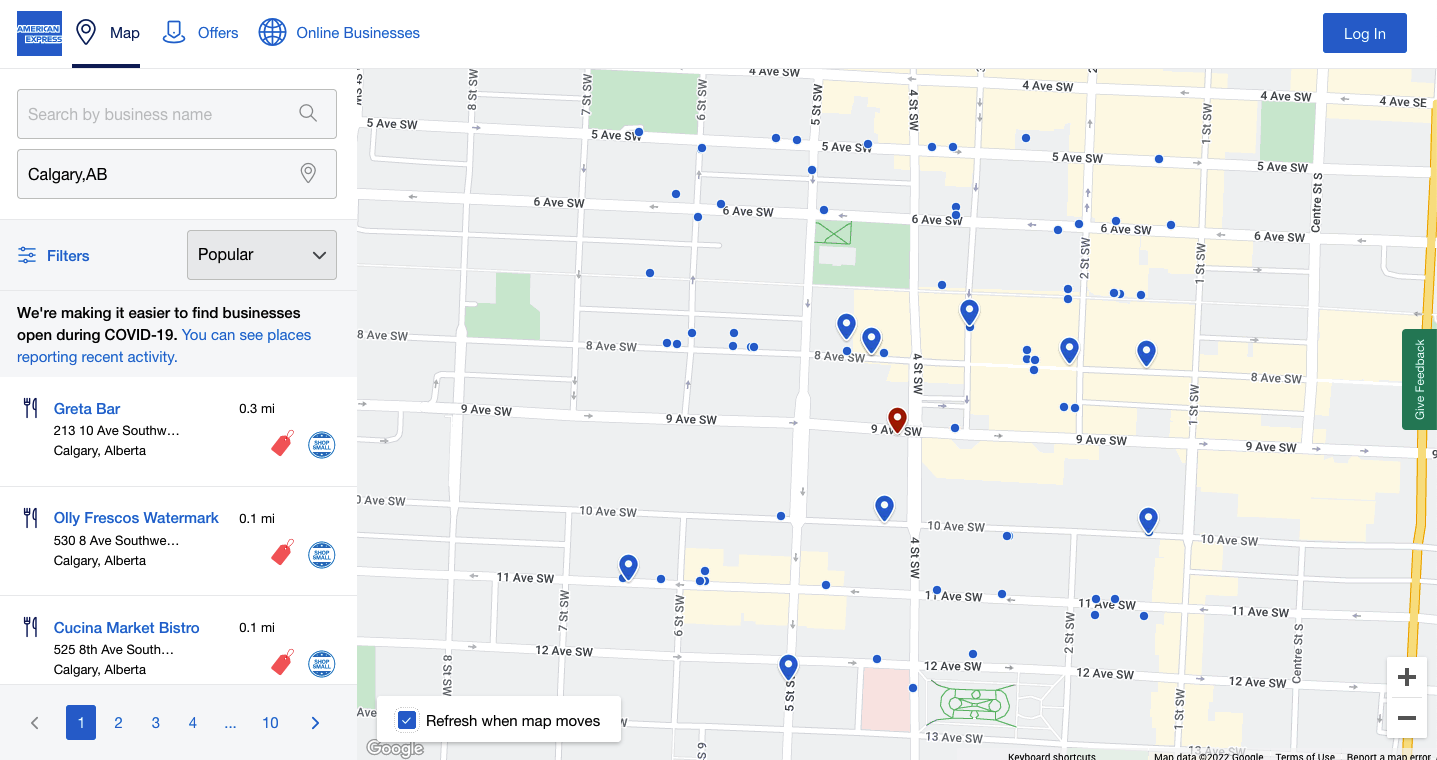 If you are just wanting to search in the area you are in you are all set.  You do have the option to narrow your search several ways. First is to check the 'Refresh when map moves' option: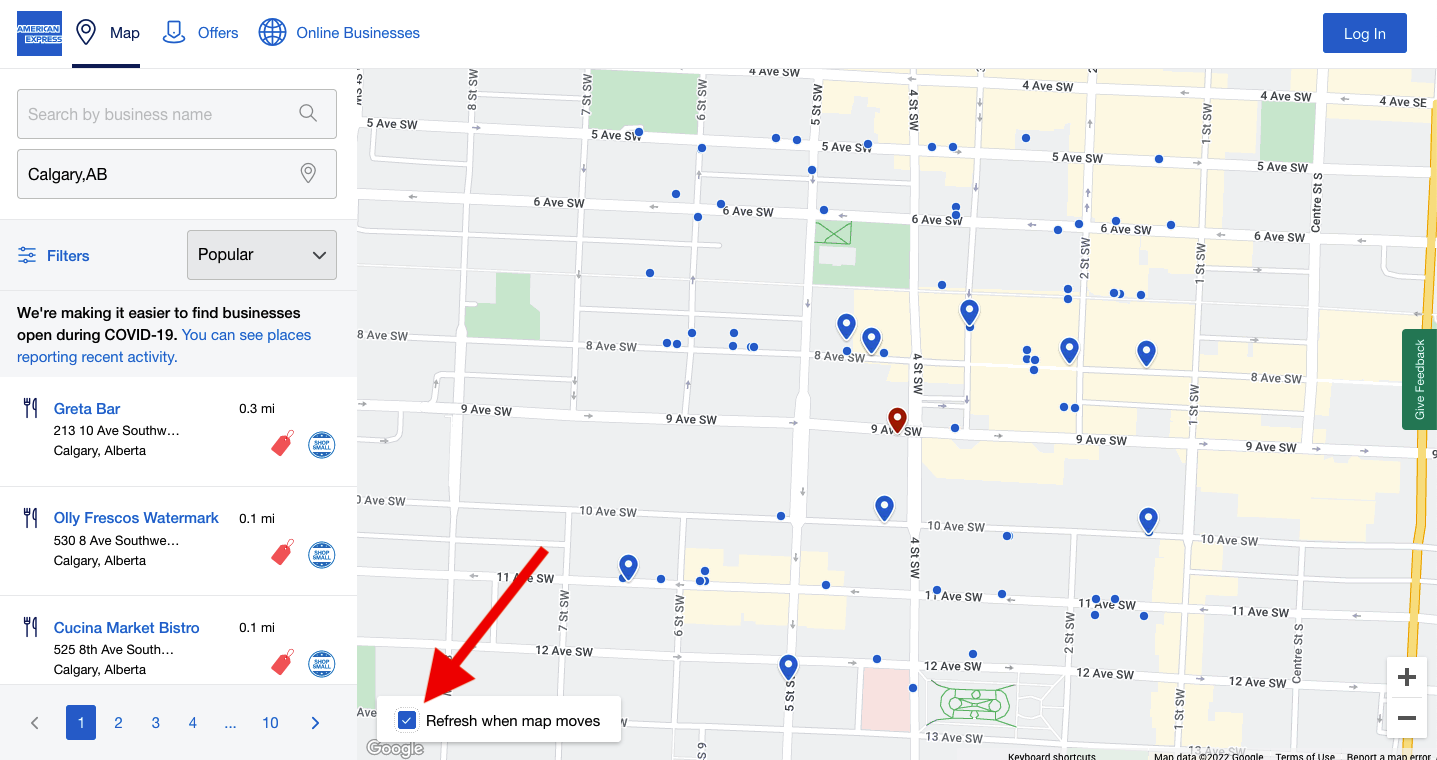 Then you can use the zoom in and out buttons: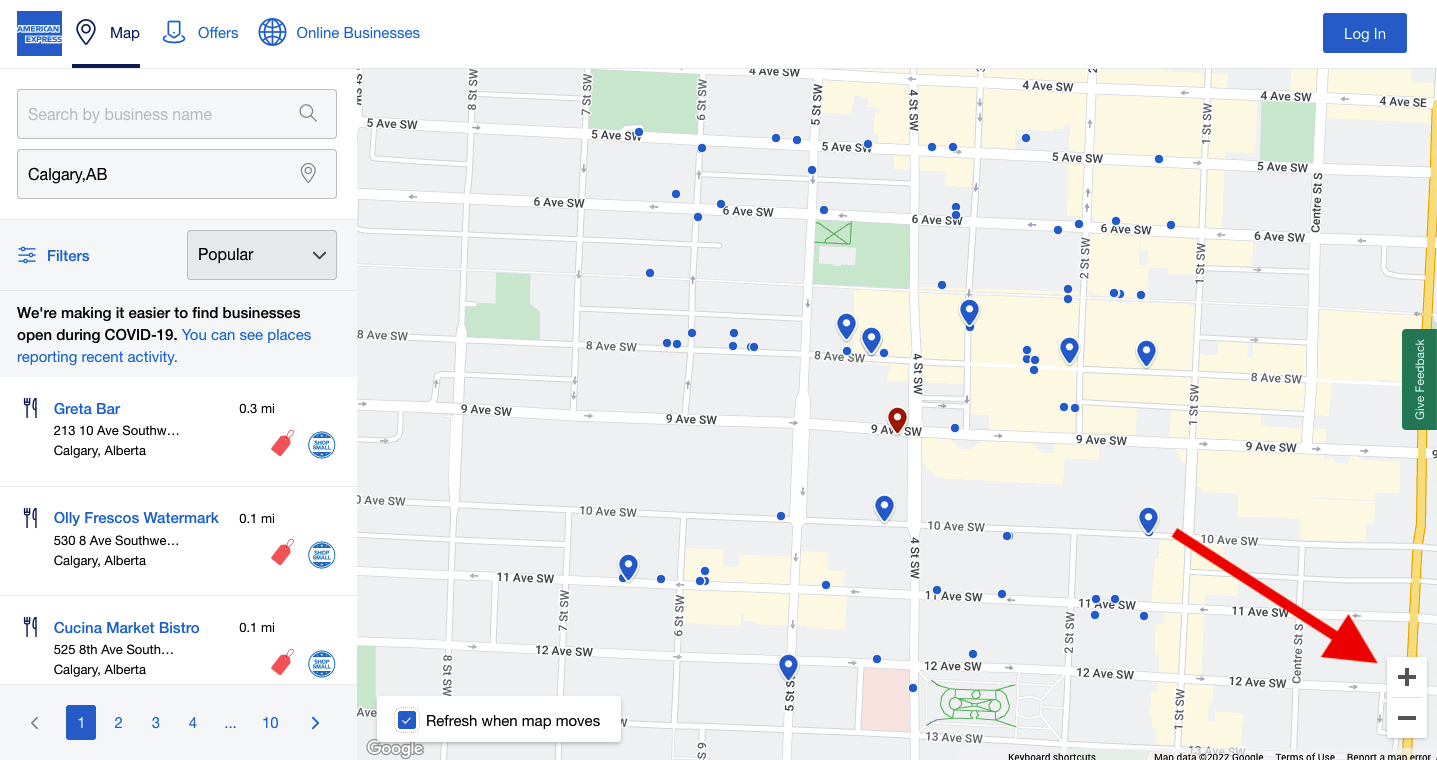 Once zoomed in you have several options to see what retailers accept the cards. First you can hover your mouse over a retailer on the list of results on the left and it will show you on the map where that retailer is: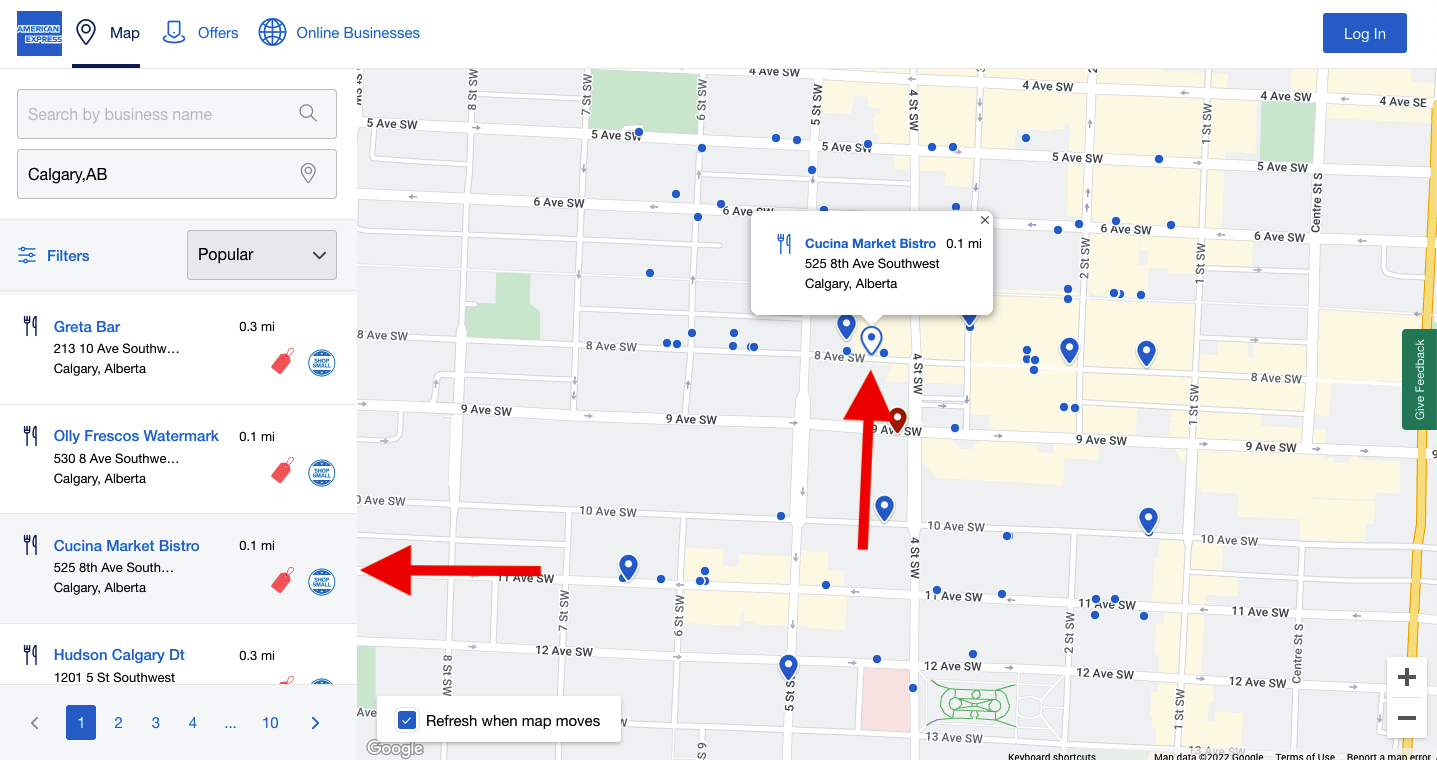 or you can hover your mouse over one of the dots/place markers on the map to see what retailer it is: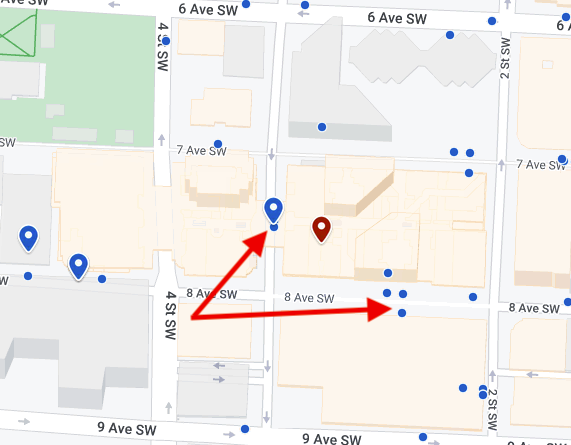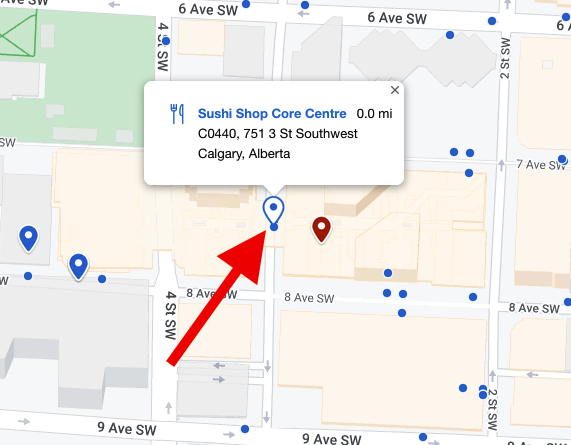 You have other options to narrow your search as well. You can search by business name or you can click on the filter option and filter your results by 'Featured' and/or 'Category' which is perfect if you are maybe only wanting to go out and dine so that you can earn your 5x Points on the American Express Cobalt Card!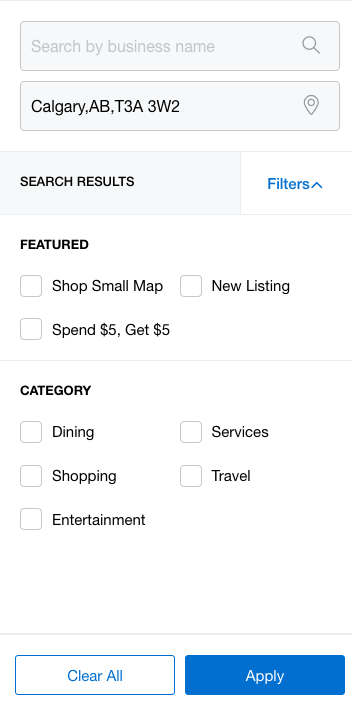 If you want to search for a city or town you may be travelling to you can scroll the map across all of Canada or simply type the name of the location: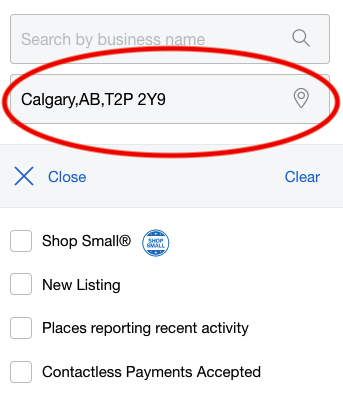 And just to show you how many places do accept the cards, here are examples of some searches we did for various cities and towns, big and small across Canada:
Toronto, ON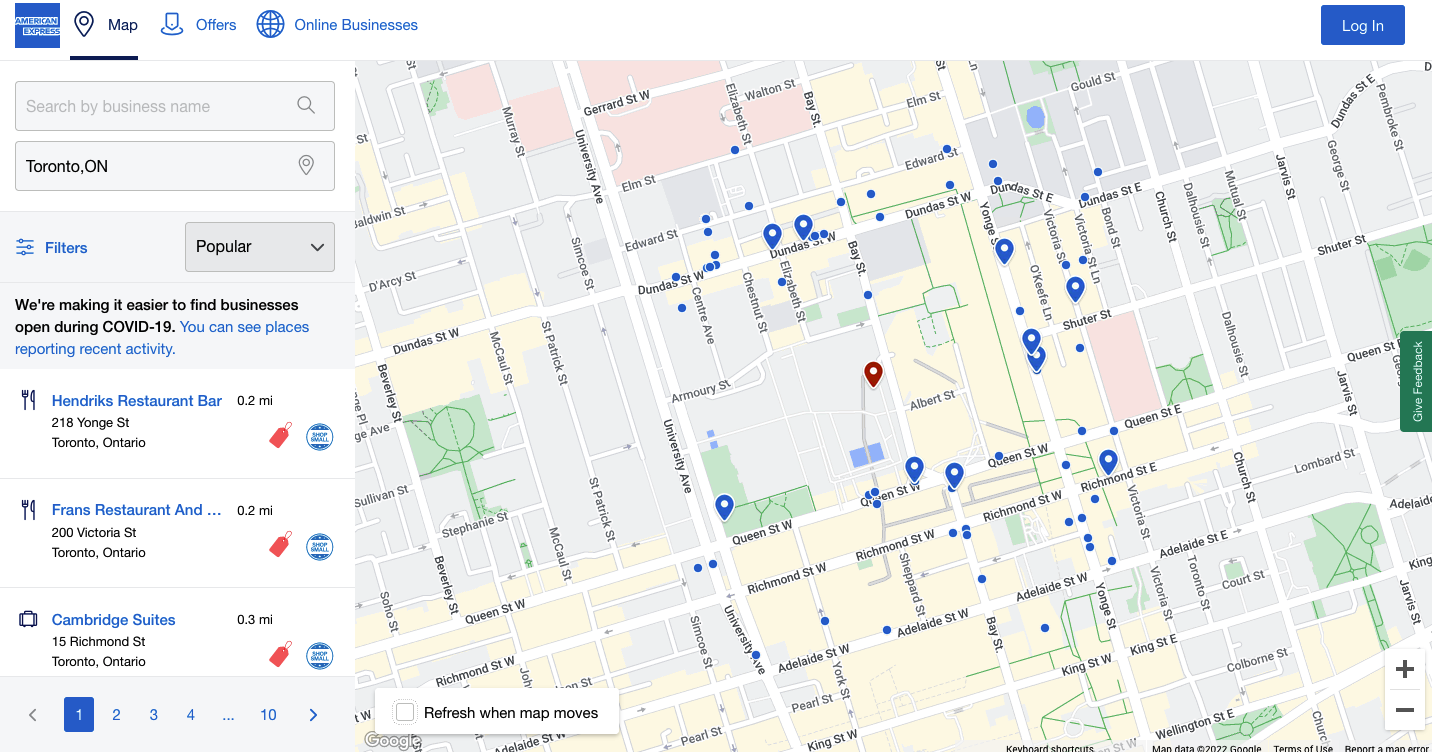 Calgary, AB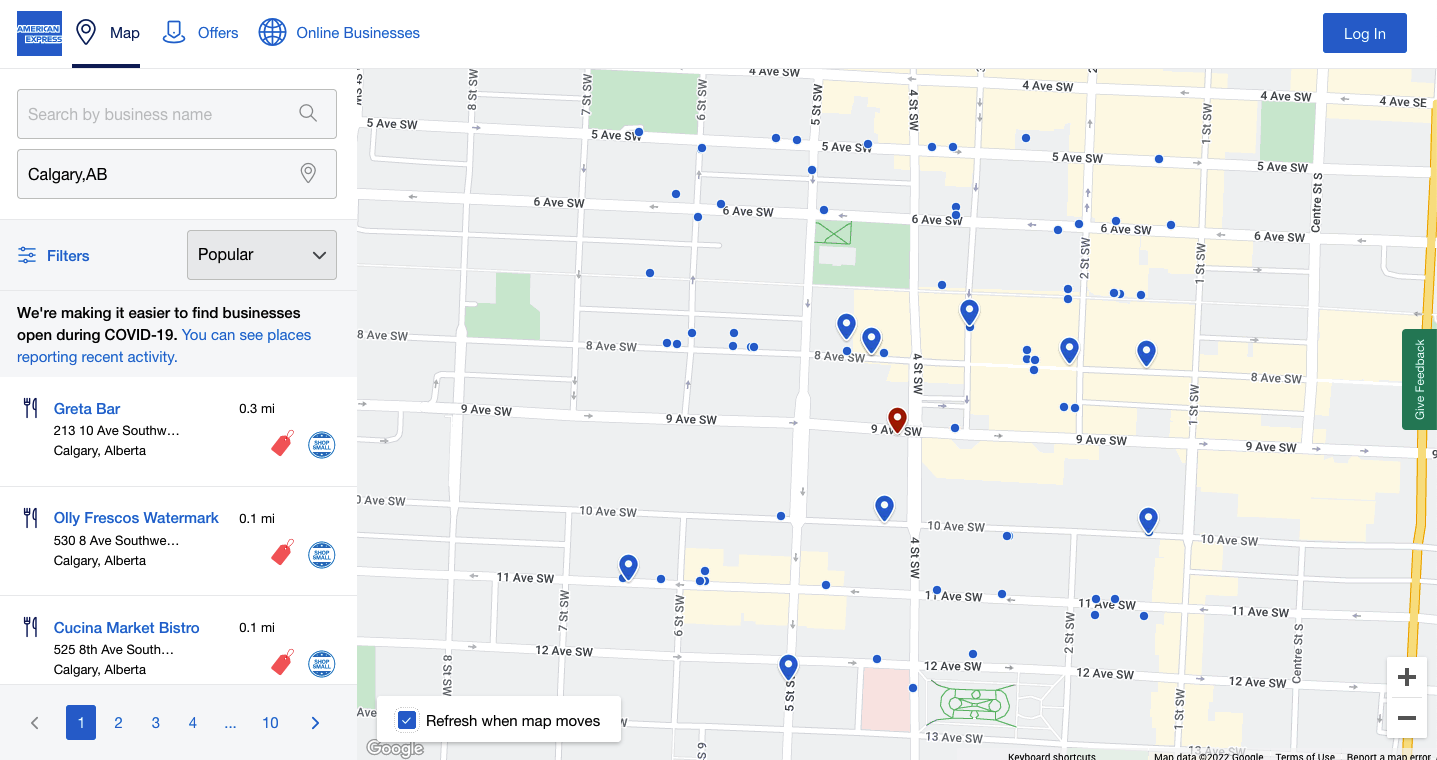 Yellowknife, NT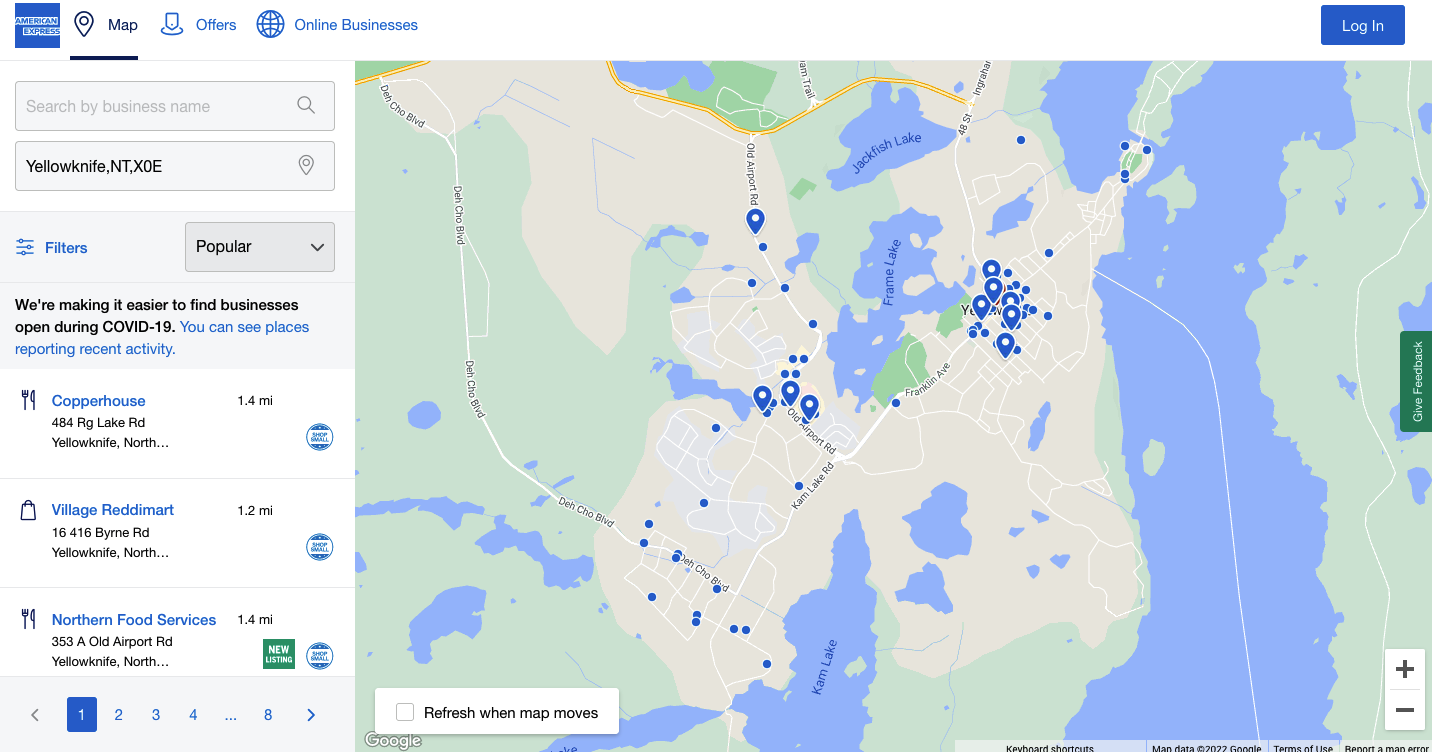 Gander, NL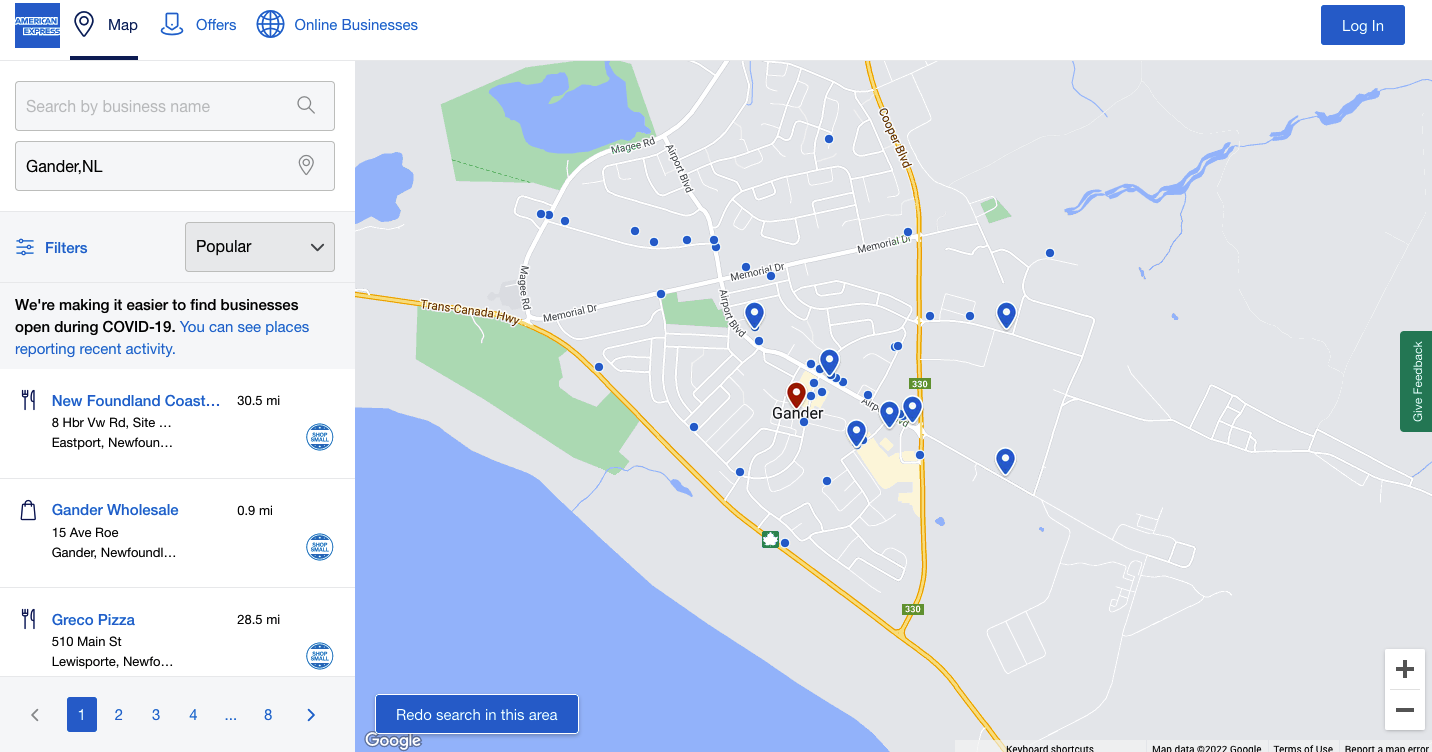 Burks Falls, ON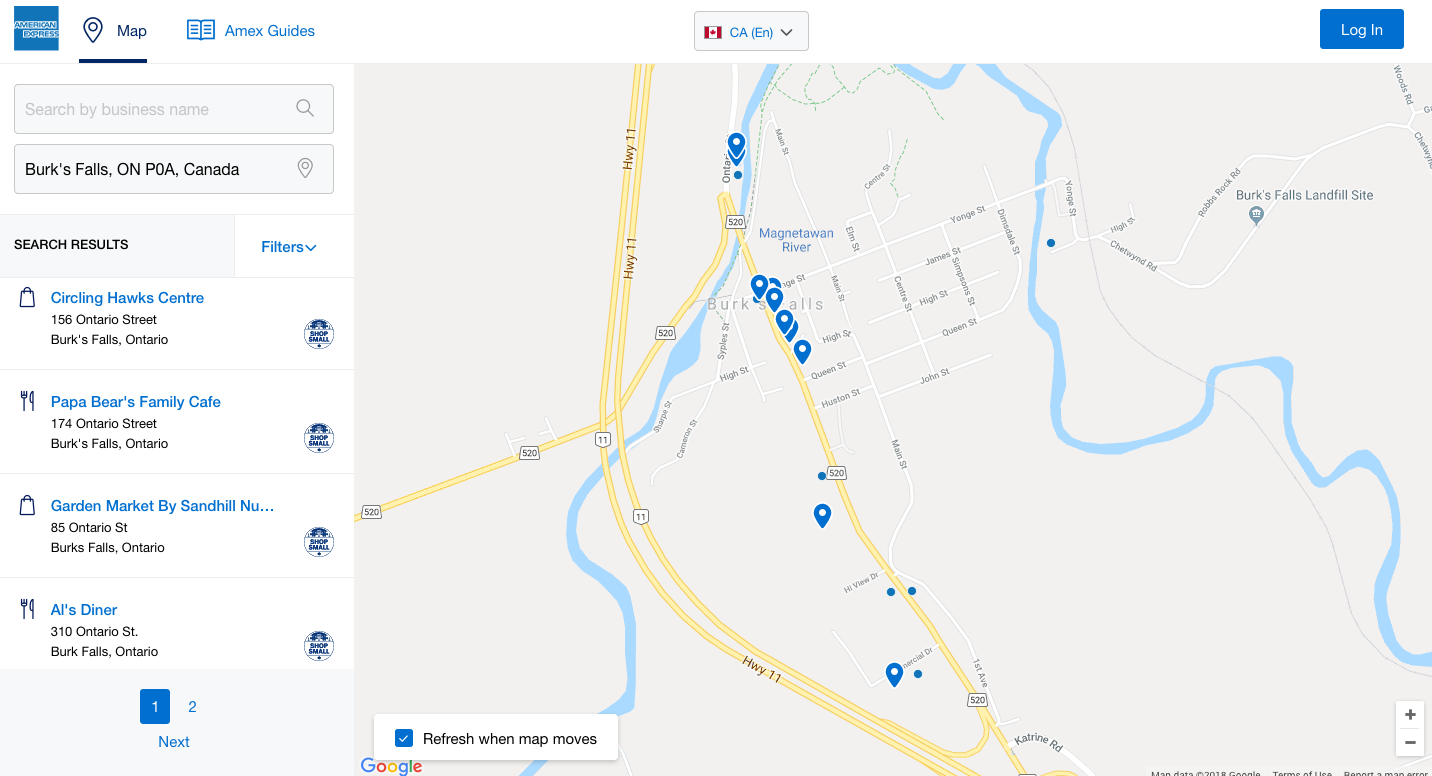 Foam Lake, SK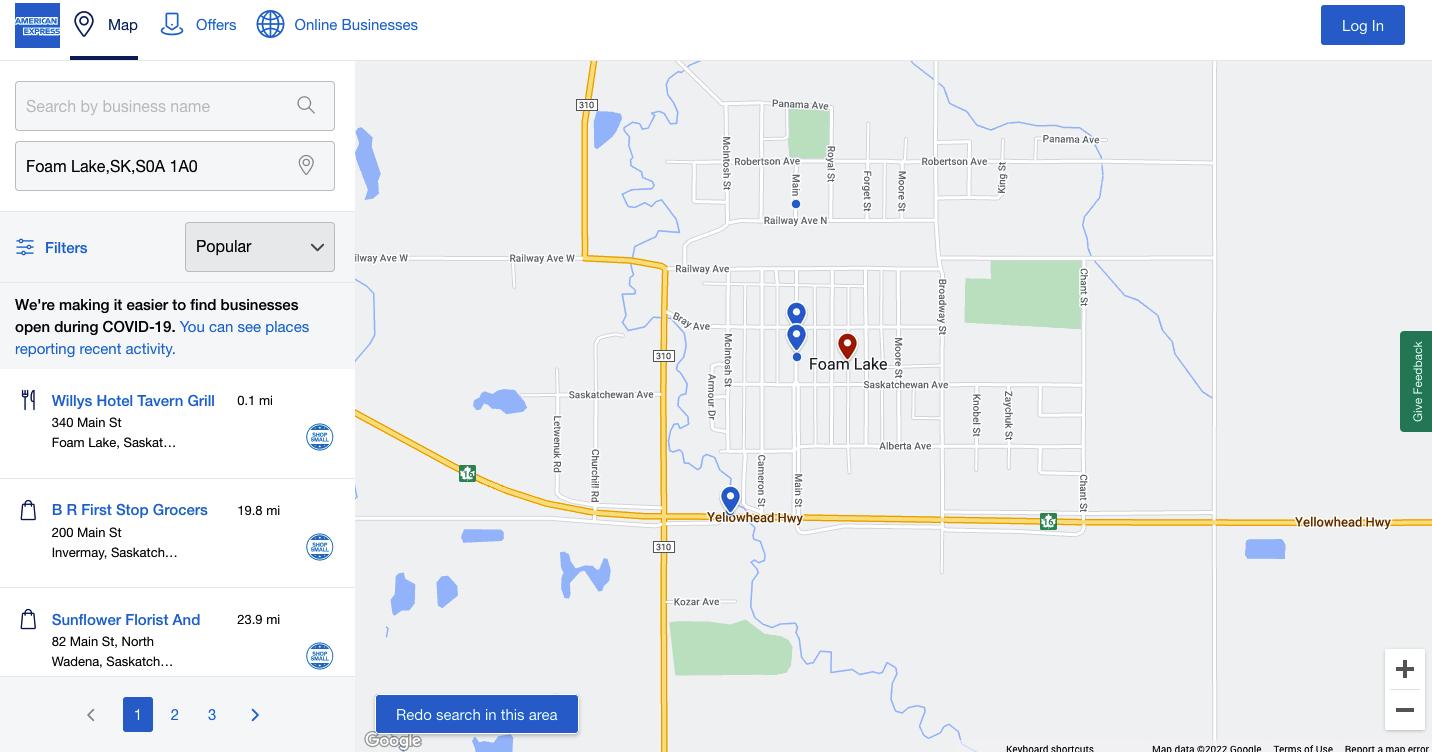 On top of the Shop Small feature, we here at Rewards Canada also have a resource that can help you with locations accepting the cards, it is our American Express Cobalt Card Confirmed Multiplier locations. This page was created after one of readers asked if we knew where you could earn 5x/2x/1x points on the card. While focused on the Cobalt card, it is a great resource for any American Express cardholder.
As you can see there are no shortage of places in our great country that accept American Express. In our household, the Rewards Canada family has six separate American Express card accounts and take it from us there is a reason why we have the cards. They are some of the most rewarding out there and as part of Rewards Canada's mission is educate the Canadian public on making the most of reward programs and feel it is our duty to help our readers and visitors realize that the misnomer of nobody accepting American Express is simply that, a misnomer.


American Express Cobalt™ Card
American Express Cobalt™ Card

• In your first year as a new Cobalt Cardmember, you can earn 2,500 Membership Rewards® points for each monthly billing period in which you spend $500 in net purchases on your Card. This could add up to 30,000 points in a year
   • 30,000 points is enough for: 
   • $300 in statement credits redeemed towards travel purchases charged to your Card or 
   • $225 in American Express® Prepaid Cards 
• Earn 5x the points on eligible eats and drinks in Canada, including groceries and food delivery
• Earn 2 points for every $1 spent on eligible transit & gas purchases in Canada and eligible travel purchases. That's 2X the points on purchases that get you from point A to B
• Earn 1 point for every $1 in Card purchases everywhere else. We won't tell you where to spend, we'll just reward you on your Card purchases
• Cobalt Cardmembers receive regular Perks such as bonus reward offers and access to great events
• Access Front Of The Line® Presale & Reserved Tickets to some of your favourite concerts and theatre performances and special offers and events curated for Cardmembers with American Express® Experiences
• American Express is not responsible for maintaining or monitoring the accuracy of information on this website. For full details, current product information and Terms and Conditions, click the Apply now link. Conditions Apply



Footnote:
*Based on internal comparison of American Express small business merchant locations in January 2017 to American Express merchant locations in December 2017.

This feature is NOT a sponsored feature. It is a guide developed by Rewards Canada to help educate our readers.

Talk to us!
Have you ever used Amex's ShopSmall Map feature? What do you like about it most? Are there any improvements they can make? Tell us in the comments section below or join the conversation on Facebook and Twitter!

Rewards Canada can be found on the following social media channels: