Sep 14, 12 City Bonus Highlight: San Diego (SAN) This weeks City Bonus Highlight looks at bonuses for flying to or from San Diego as well as hotel bonuses in the region. More...

Sep 13, 12 100% Bonus is back for buying US Airways Dividend Miles More...

Sep 13, 12 WestJet is running a contest called The Million WestJet Dollars Giveaway to promote their WestJet Rewards frequent flyer program. More...

Sep 12, 12 Redemption Stories: The Good, The Bad & The Ugly. Call for stories on Starwood Preferred Guest. Have you redeemed Starpoints for Starwood stays, airline miles or any of their other rewards? Tell us about your experience! More...

Sep 10, 12 Starwood Preferred Guest's Better by the Night promo is now open for registration More...

Canada's Choice
Part 2 of Rewards Canada's Canada Top Travel Rewards Credit Cards 2012 is here!
Part 1 was our own rankings of over 70 travel rewards credit cards in Canada and Part 2 lets you decide which cards should be at top. Be sure to Vote by Oct 17!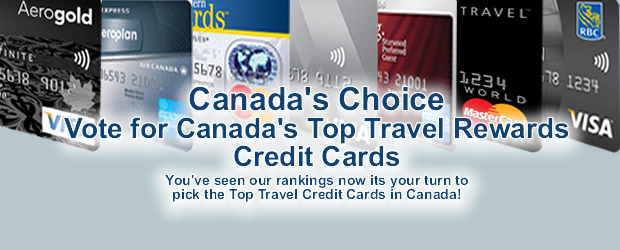 Bonus Offers for Flying
Aeroflot Bonus

- Earn up 6,000 Extra Bonus Miles for Aeroflot flights between Moscow and Miami. More... Oct 30 - Nov 30, 12

airBerlin topbonus
- Double topbonus Miles + up to 10,000 Bonus topbonus Miles on any airBerlin route within Europe. More... Register and book by Sep 30 for travel until Dec 31, 12

Air Canada Aeroplan
- 75% Bonus Aeroplan Miles for every eligible roundtrip flight (or two one-way segments) with Air Canada or Air Canada Express within Canada. More... Until Oct 21, 12

American AAdvantage
- Double AAdvantage Miles for Japan Airlines operated nonstop flights between Boston or San Diego and Tokyo. More... Dec 2, 12 - Feb 28, 13
- 1,000 Bonus AAdvantage Miles + 500 Business ExtrAA Points when you fly on American Airlines within 90 days of a qualifying enrollment using your company's new Business ExtrAA account number. More... Until Nov 30, 12

Miles & More
- Double Miles & More Miles when you fly on Brussels Airlines between Brussels and Oslo, Gothenburg, Stockholm, or Copenhagen. More... Until Oct 31, 12
- Double Miles & More Miles on flights between Germany or Austria and Asia. Valid on every flight segment in Economy Class on board a flight operated by Austrian Airlines or Lufthansa. More... Until Nov 30, 12

TAP Portugal Victoria
- Double Victoria Miles on TAP Portugal flights between Madrid and Lisbon or Porto. More... Sep 17 - Oct 31, 12

US Airways Dividend Miles
- Earn up to 25,000 Bonus Dividend Miles when you fly with US and any other Star Alliance member carrier Worldwide Travel on 3 partner carriers to get 2,500 bonus miles, 4 to get 5,000 and 5 to get 15,000. Fly on 6 or more and you'll earn 25,000 miles. More... Until Dec 15, 12

Bonus Offers for Staying
BY AIRLINE PROGRAM
AeroMexico Club Premier

- 1,000 Club Premier Kilometers Per Night for stays at Lucerna Hotels in Mexicali, Tijuana, Cd Juárez, Culiacán and Hermosillo. More... Until Oct 31, 12

Air Canada Aeroplan
- Earn up to 8,000 Bonus Aeroplan Miles for stays at any of 1,100+ Starwood Hotels Worldwide. More... Until Dec 9, 12
- Earn up to 5,000 Bonus Aeroplan Miles for stays at Fairmont Hotels Worldwide. More... Sep 15, - Jan 31, 12
- Double Aeroplan Miles on every qualifying stay at participating Best Western hotels Worldwide. More... Sep 23 - Dec 31, 12 Valid for Residents of U.S., Canada, the Bahamas or the U.S. Virgin Islands only

Air France KLM Flying Blue
- 250 Bonus Flying Blue Miles for stays at Best Western hotels in Switzerland. More... Until Oct 31, 12
- Double Flying Blue Miles for stays at the JW Marriott Cannes. More... Until Dec 31, 12
- Double Flying Blue Miles for stays at the at Regent Berlin on the Luxury Escape Summer Package. More... Until Oct 31, 12

Air India Flying Returns
- Double Flying Returns Mileage Points for stays on qualifying rates at the Hotel New Otani Tokyo and Osaka. More... Until Aug 31, 13

Alitalia MilleMiglia
- Double MilleMiglia Miles for stays of 2 or more nights at NH Hotels in Italy. More... Until Oct 31, 12

American AAdvantage
- 1,000 Bonus AAdvantage Miles PER NIGHT for stays at participating Conrad Hotels or Waldorf Astoria Hotels Worldwide. More... Until Dec 31, 12

China Eastern Eastern Miles
- Double Eastern Miles Points for stays at any Starwood Hotels Worldwide. More... Register by Dec 31 for stays until Jan 31, 13

Miles & More
- Double Miles & More Miles for stays at all Swissôtel hotels and resorts worldwide (except for the Swissôtel Le Concorde) More... Until Dec 31, 12

United Mileage Plus
- 1,000 Bonus Mileage Plus Miles PER NIGHT for stays at participating Conrad Hotels or Waldorf Astoria Hotels Worldwide. More... Until Dec 31, 12

Virgin Atlantic Flying Club
- Double Flying Club Miles for stays at all participating Millennium & Copthorne Hotels in Europe, North America, the Middle East, New Zealand and Asia. More... Until Oct 31, 12

BY HOTEL PROGRAM
Best Western Rewards
- Earn up to Triple Rewards Points starting on every 2nd qualifying stay* at participating Best Western hotels Worldwide. More... Sep 23 - Nov 18, 12

Coast Hotels Coast Rewards
- 200 Bonus Coast Rewards Points with the Back to Business special at The Roosevelt, a Coast Hotel Seattle. More... Until Dec 31, 12
- 250 Bonus Coast Rewards Points when booking a Wine-tour Package or Ultimate Golf Passport Package at the Coast Wenatchee Center Hotel. More... Until Oct 10, 12

Hyatt Gold Passport
- 5,000 Bonus Gold Passport Points & 3rd Night Free for stays of 3 or more nights at the Hyatt Regency Oubaai Golf Resort & Spa. More... Until Sep 30, 12

InterContinental Hotels Group Priority Club
- Stay X Get Y Promo: Earn up to 15,000 Bonus Priority Club Points for a certain amount of nights or completing a certain amount of stays at participating IHG Hotels Worldwide. More... Oct 1 - Dec 31, 12 Targeted Offer - May not work for everyone
- Triple Priority Club Points or Airline Miles when you stay at any participating IHG hotel in Portugal or Spain. More... Until Dec 31, 12
- 2,000 Bonus Priority Club Points for stays on the "Canton Fair 5-in-1" rate at participating IHG Hotels in Guangzhou, Foshan, Zhongshan or Shenzen. More... Book by Oct 30 for stays until Nov 4, 12
- Earn up to 15,000 Bonus Priority Club Points starting with your second stay at participating InterContinental® Hotels & Resorts, Crowne Plaza®, Hotel Indigo™, Holiday Inn®, Express by Holiday Inn™ and Holiday Inn Express® hotels worldwide. More... Until Nov 30, 12 Targeted Offer - May not work for everyone

Melia International Mas Rewards
- 500 Bonus Mas Points for stays at participating Melia Hotels in Mexico, Dominican Republic, Latin America, the United States and Puerto Rico. More... Until Sep 30, 12

Red Lion R&R Club
- Triple R&R Club Points and 15% off the lowest public available rate for stays at participating Red Lion Hotels in the United States and Canada. More... Until ?

Starwood Preferred Guest
- Double Starpoints for stays at the Westin Snowmass Resort or the Wildwood Snowmass. More... Dec 1 - 20, 12 and Jan 2 - Apr 14, 13
- Earn up to 3,000 Bonus Starpoints for stays at select Starwood Beach and Golf resorts in Spain, Portugal, France, Monaco and Scotland .More... Book by Oct 15 for stays until Nov 30, 12

Bonus Offers for Driving
AeroMexico Club Premier
- Double Club Premier Kilometers for all Sixt rentals Worldwide. More... Until Oct 15, 12

Air China Phoenix Miles
- Earn up to Triple Phoenix Miles Kilometers on Avis rentals Worldwide. More... Until Oct 31, 12

Delta SkyMiles
- Earn up to 2,000 Bonus SkyMiles on Hertz rentals Worldwide. More... Book by Oct 31 for rentals until Dec 31, 12

Emirates Skywards
- Double Skywards Miles on all Hertz rentals of 3 or more days Worldwide. More... Book by Sep 30 for rentals until Dec 31, 12

Hainan / Hong Kong Airlines Fortune Wings
- Double Fortune Wings Kilometers on all Hertz rentals of 3 or more days Worldwide. More... Book by Sep 30 for rentals until Dec 31, 12

TAP Portugal Victoria
- Double Victoria Miles on all Avis rentals of 2 or more days Worldwide. More... Until Oct 1, 12

Turkish Miles&Smiles
- Double Miles&Smiles Miles on all Hertz rentals of 3 or more days Worldwide. More... Book by Sep 30 for rentals until Dec 31, 12


Bonus Offers for other Activities
American AAdvantage
- 25% Bonus AAdvantage Miles when you transfer AAdvantage miles to friends or family. Bonus can be awarded to either the recipient or the transferor.More... Until Sep 30, 12

US Airways Dividend Miles
- 100% Bonus Dividend Miles when you buy or gift US Airways Dividend Miles. More... Until Sep 30, 12