Sep 21, 12 City Bonus Highlight: Paris (CDG,ORY) This weeks City Bonus Highlight looks at bonuses for flying to or from Paris as well as hotel bonuses in the region. More...

Sep 20, 12 Air Canada and Accor Hotels are running a Facebook contest where you have a chance to win 300,000 Aeroplan Miles and a 4 night stay at any Accor Hotel Worldwide. More...

Sep 19, 12 RBC Rewards members (including Avion Cardholders) can now convert their points to WestJet Rewards. More...

Sep 18, 12 Rewards Canada was listed as Canada.com's travel website of the week last week! More...

Sep 18, 12 American Express is sending out targeted Referral Bonuses which also include larger sign up bonuses for the person being referred. More...

Don't forget to vote for Canada's Choice!
Part 2 of Rewards Canada's Canada Top Travel Rewards Credit Cards 2012 is here!
Part 1 was our own rankings of over 70 travel rewards credit cards in Canada and Part 2 lets you decide which cards should be at top. Be sure to Vote by Oct 17!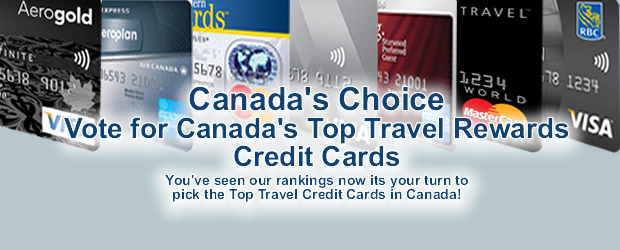 Bonus Offers for Flying
Air Canada Aeroplan

- Double Aeroplan Miles when you fly on Bearskin Airlines between Thunder Bay and:Sudbury, Timmins or Sault Ste Marie; Ottawa and: Sudbury, Timmins, Kitchener-Waterloo, Sault Ste Marie or North Bay. More... Until Oct 19, 12
- Earn up to 7,000 Bonus Aeroplan Miles when you purchase a 16 credit Toronto city airport Flight Pass. More... Until Oct 31, 12

Delta SkyMiles
- 1,000 Bonus SkyMiles on your next Delta flight when you register by November 6, 2012, then book and fly by December 6, 2012, More... Targeted offer - May Not Work for everyone

Ethiopian Sheba Miles
- 50% Bonus Sheba Miles for flights between Addis Ababa and Pointe Noire. More... Until Nov 30, 12

Etihad Guest
- Earn up to Triple Guest Miles on all Etihad flights Worldwide. More... Book by Sep 30 for travel until Oct 1, 12 Targeted Offer - May not work for everyone

US Airways Dividend Miles
- Double Dividend Miles or Double Preferred Qualifying Miles on all US Airways flights Worldwide when you use a MasterCard card for booking. More... Register and book by Oct 31 for travel until Dec 31, 12

Bonus Offers for Staying
airBerlin topbonus

- Double Top Bonus Miles for stays at all participating Steigenberger and InterCity Hotels in Europe. More... Until Oct 31, 12
- Double Top Bonus Miles for stays at all participating Dorint Hotels in Europe. More... Until Dec 31, 12

Air Canada Aeroplan
- Earn up to 5,000 Bonus Aeroplan Miles for stays of 2+ nights at participating Radisson® hotels in Canada. More... Oct 1 - Dec 20, 12
- Triple Aeroplan Miles for stays at any Accor Hotels Worldwide. More... Until Oct 31, 12

Air China Phoenix Miles
- Double Phoenix Miles Kilometers when you stay at any participating Mandarin Oriental hotel Worldwide. More... Oct 1 - Dec 31, 12

American AAdvantage
- Triple AAdvantage Miles for stays at any one of 420 Radisson Blu and Radisson hotels and resorts worldwide. More... Until Dec 20, 12

British Airways Executive Club
- Earn up to 3,000 Avios when you stay at Radisson Blu, Radisson Blu Edwardian, Radisson and Park Plaza hotels worldwide. More... Until Nov 30, 12

Emirates Skywards
- Earn up to Triple Skywards Miles for stays at Atlantis The Palm, Dubai. More... Book by Nov 30 for stays until Mar 31, 13

Etihad Guest
- Double Guest Miles for stays of 3+ nights at any participating Millennium & Copthorne Hotels in Europe, North America, Asia, New Zealand, the Middle East and Africa. More... Oct 1 - Nov 30, 12

EVA Air Evergreen Club
- Double Evergreen Miles when you stay at any Regent Hotels & Resorts Worldwide. More... Until Oct 31, 12

Japan Airlines Mileage Bank
- Double Mileage Bank Miles for stays at the East, Beijing. or The Opposite House Beijing. More... Until Feb 28, 13
- Triple Mileage Bank Miles for stays of 2+ nights at Sankara hotel & spa Yakushima. More... Oct 1 - Dec 29, 12

Miles & More
- Double Miles & More Miles for stays at all Best Western hotels in Italy. More... Until Oct 31, 12

Scandinavian EuroBonus
- Double EuroBonus Points for stays at select First Hotels in Denmark, Norway and Sweden. More... Until Nov 30, 12

US Airways Dividend Miles
- 1,000 Bonus Dividend Miles for stays at participating Westin Hotels in the U.S. Canada and Caribbean. More... Until Dec 31, 12

BY HOTEL PROGRAM
Accor Hotels Le Club
- Triple Le Club Accorhotels Points for stays at Sofitel Properties in the U.S. and Canada. More... Until Oct 30, 12

Carlson Hotels Club Carlson
- Triple Gold Points + 2,000 Bonus Gold Points for stays on the Bed & Breakfast Package for Two at participating Radisson & Radisson Blu Hotels Worldwide. More... Until Dec 31, 12

Hilton HHonors
- 5,000 Bonus HHonors Points for Premiership Rugby season ticket holders after your second eligible stay at any hotel in the Hilton Worldwide portfolio of brands within 90 days of enrollmentMore... Valid only for Premiership Rugby season ticket holders

InterContinental Hotels Group Priority Club
- Ambassador Status when you complete 3 stays at InterContinental Hotels & Resorts Worldwide. More... Targeted Offer - May not work for everyone

Marriott Rewards
- 5,000 Bonus Points when you stay five nights Sunday-Thursday at the Residence Inn San Diego North/San Marcos. More... Nov 18, 12 - Jan 26, 13
- 5,000 Bonus Points when you stay five nights at the Residence Inn Gainesville I-75. More... Nov 18, 12 - Jan 26, 13
- 2,000 Bonus Points per night per night when you stay any night Sunday-Thursday at the SpringHill Suites Baltimore Downtown/Inner Harbor. More... Nov 18, 12 - Jan 26, 13
- 2,000 Bonus Points when you stay six nights or more at the Residence Inn Houston Northwest/Willowbroo More... Nov 18, 12 - Jan 31, 13

Millennium & Copthorne Hotels Loyalty Club
- Triple Loyalty Points when you book the Loyalty Club Member Package at the Millennium Biltmore Hotel Los Angeles. More... Oct 1, 12 - Mar 30, 13

Shangri-La Golden Circle
- Triple GC Award Points for stays in a suite at Pudong Shangri-La, East Shanghai.More... Oct 1 - Dec 31, 12
- Double GC Award Points for stays at the China World Hotel Beijing, Pudong Shangri-La East Shanghai, Shangri-La Hotel Ningbo, Shangri-La Hotel Fuzhou or the Shangri-La Hotel, Changchun. More... Oct 1 - Dec 31, 12
- Double GC Award Points for stays in a Deluxe Room at Shangri-La's Far Eastern Plaza Hotel, Taipei or Shangri-La's Far Eastern Plaza Hotel, Tainan. More... Oct 1 - Dec 31, 12

Starwood Preferred Guest
- Double Starpoints for stays of 2 or more nights on the Experience Sheraton, special introductory package Sheraton Bali Kuta Resort. More... Dec 1, 12 - Jun 30, 13

Bonus Offers for Driving
airBerlin topbonus
- Double topbonus Miles on all Europcar rentals at all airberlin airport destinations Worldwide except US and Canada. More... Until Oct 31, 12

Air France KLM Flying Blue
- Earn up to Quadruple Flying Blue Miles on all Hertz rentals Worldwide. More... Until Dec 31, 12

China Eastern Eastern Miles
- Double Eastern Miles Points on all Hertz rentals of 3 or more days Worldwide. More... Book by Sep 30 for rentals until Dec 31, 12

EVA Air Evergreen Club
- Double Evergreen Miles when you rent a Hertz car for 1 day or more in USA, Canada, Australia, New Zealand or Europe. More... Until Nov 30, 12

InterContinental Hotels Group Priority Club
- Triple Priority Club Points on qualifying rentals of 2 days or more, at participating Avis locations in the U.S., Canada, Mexico, Latin America and the Caribbean, Australia, New Zealand, Europe, Africa, Asia and the Middle East. More... Until Dec 31, 12

Marriott Rewards
- Earn up to 5,000 Bonus Rewards Points when you rent any car at participating Hertz locations in the U.S., Canada, Europe, Mexico and Puerto Rico. More... Until Dec 31, 12


Bonus Offers for other Activities
Air Canada Aeroplan
- 50 Bonus Aeroplan Miles when you register your Costco membership number, Aeroplan Number and e-mail address on Costco.ca. More... Until Dec 31, 12

La Quinta Returns
- 300 Bonus Returns Points for watching an online video. More... Until Oct 31, 12

Scandinavian EuroBonus
- Earn up to 6,000 Bonus EuroBonus Points when you invite friends and family to join EuroBonus. More... Complete the online form by Sep 30, 12