Oct 5, 12 Hilton HHonors released their fourth quarter bonus points promotion, the good thing about is that is stackable with Virgin Atlantic Hilton promo that is currently available. More...

Oct 5, 12 If you plan on doing some flying in the U.S. on Southwest Airlines you can earn up to 1,000 bonus points for joining their Rapid Rewards program. More...

Oct 4, 12 Their are two campaigns from the Hilton family of hotels that will allow you to earn up to 1,000 HHonors for free. More...

Oct 3, 12 Aeroplan members who are not part of Coast Hotels Coast Rewards program can earn 500 free Aeroplan miles for joining the Coast Rewards program. More...

Oct 2, 12 WestJet and RBC have officially launched the World Elite version of the RBC WestJet MasterCard. This card will replace the World version that has been out for a little more than 2 years. More...

Oct 2, 12 British Airways: Earn up to 100,000+ Avios on Transatlantic flights from Canada. More...

Oct 1, 12 Radisson 1 for 1: Stay 1 Night, get a free night award. More...

Oct 1, 12 Limited Time: Increased sign up bonus of 15,000 Starpoints for the Starwood Preferred Guest Credit Card from American Express . More...

Don't forget to vote for Canada's Choice!
Part 2 of Rewards Canada's Canada Top Travel Rewards Credit Cards 2012 is here!
Part 1 was our own rankings of over 70 travel rewards credit cards in Canada and Part 2 lets you decide which cards should be at top. Be sure to Vote by Oct 17!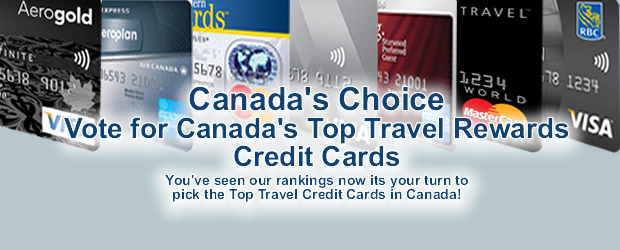 Bonus Offers for Flying
Air Canada Aeroplan

- Earn up to Triple Aeroplan Miles on every eligible roundtrip flight (or 2 one-way segments) between Toronto (Pearson) or Vancouver and Sydney, Australia. More... Dec 14, 12 - Jan 31, 13

Air China Phoenix Miles
- 50% Phoenix Miles Kilometers for Air China flights between Beijing and Delhi. More... Until Dec 31, 12
- 50% Phoenix Miles Kilometers for Air China flights between Tianjin and Shenzhen, Chengdu, Guangzhou, or Shanghai. More... Until Dec 31, 12
- 50% Phoenix Miles Kilometers for Air China flights between: Guangzhou and Chengdu, Chongqing, Hangzhou, Guiyang, Tianjin, Wuhan, Hohhot or Beijing; Zhanjiang or Shantou and Beijing; Zhuhai and Beijing. More... Until Oct 17 and Nov 15 - Dec 31, 12

American AAdvantage
- Earn up to 20,000 Bonus AAdvantage Miles for select AAdvantage® members who travel on flight 967 or 966 between New York (JFK) and São Paulo. More... Until Nov 15, 12 Targeted Offer - May not work for everyone

ANA Mileage Club
- Double Mileage Club Miles for flights between the U.S. and Asia (excluding flights to/from Japan). More... Nov 1 - Dec 31, 12 Valid for residents of North America only
- Earn up to 4,009 Bonus Mileage Club Miles when you fly on ANA flight NH1009 between New York and Tokyo. More... Oct 28 - Mar 31, 13
- Earn up to 4,075 Bonus Mileage Club Miles when you fly ANA between San Jose and Tokyo. More... Jan 11 - Mar 31, 13
- Earn up to 10,000 Bonus Mileage Club Miles for new and approved applicants of the ANA Card USA Visa for ANA flights between San Jose and Tokyo. More... Apply by Mar 31, 13 for travel Jan 11 - Apr 30, 13

British Airways Executive Club
- Earn up to 100,000+ Bonus Avios when you fly round trip on British Airways, American or Iberia between the U.S. or Canada and London/Europe on First Class, Business Class or select Economy Class fares. More... Until Jan 31, 13

Delta SkyMiles
- Earn up to 100,000+ Bonus SkyMiles when you fly on Delta marketed/operated or KLM marketed/Delta operated nonstop round-trip flights between the U.S. and London/Heathrow on First Class, Business Class or select Economy Class fares. More... Until Jan 31, 13

Emirates Skywards
- Earn up to 16,000 Bonus Skywards Miles with Emirate's October Miles Accelerator offers which enables you to earn more Skywards Miles when you fly with Emirates, irrespective of the fare you pay or where you buy your ticket. More... Until Oct 31, 12

Iberia Plus
- Earn up to 100,000+ Bonus Avios when you fly round trip on British Airways, American or Iberia between the U.S. or Canada and Europe on First Class, Business Class or select Economy Class fares. More... Register by Dec 31, 12 for travel until Jan 31, 13

Jet Airways JetPrivilege
- OFFER EXTENDED 20% JetPrivilege Miles Discount when you redeem JPMiles online at jetairways.com for Jet Airways and JetKonnect flights. More... Until Mar 31, 13

Bonus Offers for Staying
BY AIRLINE PROGRAM
Air Baltic Baltic Miles

- Triple Baltic Miles on all eligible stays at any property in the Hilton Worldwide portfolio of brands. More... Until Dec 31, 12

airBerlin topbonus
- Double topbonus Miles for stays at tall Gran Meliá, Meliá, ME by Meliá, INNSIDE by Meliá, TRYP by Wyndham, Sol and Paradisus Resorts Worldwide.More... Until Oct 31, 12

Air Canada Aeroplan
- Triple Aeroplan Miles for stays at any participating Coast Hotels in Canada and the U.S. More... Until Dec 31, 12
- 500 Bonus Aeroplan Miles for free when you join Coast Rewards. More... Until Dec 31, 12
- Double Aeroplan Miles when you book an Everyone's an Original winter rate at participating Fairmont Hotels Worldwide. More... Until Apr 30, 13

American AAdvantage
- Double AAdvantage Miles when you book an Everyone's an Original winter rate at participating Fairmont Hotels Worldwide. More... Until Apr 30, 13

Delta SkyMiles
- Earn 250 Medallion Qualification Miles (MQM's) + Double SkyMiles when you book and complete a two-night stay at any participating hotel or resort within the Hilton Worldwide portfolio. More... Until Dec 15, 12

Emirates Skywards
- 5,000 Bonus Skywards Miles when you complete your second qualifying stay at any participating hotel or resort within the Hilton Worldwide portfolio. Additionally, new Hilton HHonors members that sign up whilst registering for the promotion will instantly receive 1,000 Hilton HHonors bonus points More... Until Dec 31, 12

Miles & More
- Earn up to Quadruple Miles & More Miles for stays at any participating hotel or resort within the Hilton Worldwide portfolio. More... Until Dec 31, 12
- Double Miles & More Miles for stays at participating Taj Hotels Worldwide. More... Until Mar 31, 13

Singapore Airlines KrisFlyer
- Double KrisFlyer Miles when you stay on the Best Available Rate for two consecutive nights at Raffles Hotel Singapore. More... Until Nov 30, 12

Turkish Miles&Smiles
- Double Miles&Smiles Miles for stays in a Swissôtel Living Suite at the Swissôtel Istanbul. More... Until Dec 31, 12

United Mileage Plus
- Double Mileage Plus Miles when you book an Everyone's an Original winter rate at participating Fairmont Hotels Worldwide. More... Until Apr 30, 13

BY HOTEL PROGRAM
Carlson Hotels Club Carlson
- Receive a Free Night Award for stays at any Radisson Blu or Radisson hotel in the US, Canada or Caribbean. More... Book by Oct 31 for stays until Dec 31, 12
- Earn up to 6,000 Bonus Gold Points PER NIGHT for eligible nights at Carlson Rezidor hotels worldwide. More... Until Dec 31, 12

Hilton HHonors
- Earn 1,000 Bonus HHonors Points PER NIGHT for every Thursday, Friday, Saturday, Sunday and Monday night you stay at participating hotels and resorts in the Hilton Worldwide portfolio. More... Nov 1 - Dec 31 12

InterContinental Hotels Priority Club
- 5,000 Bonus Priority Club Points when you stay two consecutive nights at any participating Staybridge Suites® hotel or Candlewood Suites® hotel Worldwide. More... Until Dec 30, 12

Bonus Offers for Driving
China Airlines Dynasty Flyer
- Earn up to Triple Dynasty Flyer Miles on Avis rentals of 3 or more days in US, Canada, Europe, Middle East & Asia (Singapore, Malaysia, Guam and Taiwan). More... Until Dec 31, 12
- Double Dynasty Flyer Miles on Avis rentals of 4 or more days in Australia or New Zealand. More... Until Dec 31, 12

Japan Airlines Mileage Bank
- OFFER EXTENDED Triple Mileage Bank Miles for Alamo rentals of three or more consecutive days in the USA or Canada. More... Until Dec 31, 12
- ,000 Bonus Mileage Bank Miles for Hertz rentals of 3+ days at participating locations in the US or Canada. More... Until Dec 31, 12

La Quinta Returns
- 1,500 Bonus Returns Points on qualifying rentals of 3 days or more at participating Avis locations in the U.S. and Canada. More... Until Dec 31, 12

United Mileage Plus
- 500 Bonus Mileage Plus Miles on qualifying rentals of 3 days or more at participating Avis airport locations in Africa, Asia, Australia, the Caribbean, Europe, Latin America, Mexico, the Middle East and New Zealand. More... Until Dec 31, 12
- 500 Bonus Mileage Plus Miles on qualifying rentals of 3 days or more at participating Avis locations in the U.S. and Canada. More... Until Oct 31, 12

Bonus Offers for other Activities
Aegean Miles&Bonus
- 2,000 Bonus Miles when you join the Miles and Bonus program. More...

Air Canada Aeroplan
- 15% Bonus Aeroplan Miles when you trade or exchange other loyalty program points for Aeroplan miles. More... Until Nov 15, 12
- Triple Aeroplan Miles on hotel bookings and car rentals through aircanada.com. More... Until Nov 12, 12
- Double Aeroplan Miles on select purchases made through the Air Canada eBoutique. More... Until Oct 31, 12
- Earn up to 50,000 Bonus Aeroplan Miles with the American Express AeroplanPlus Platinum More... Until Nov 6, 12 Canadian Residents Only
- Triple Aeroplan Miles on your eligible purchases when you shop at any Esso station three or more times. More...Until Nov 4, 12
- 1,500 Bonus Aeroplan Miles when you enroll for an Esso Speedpass by Nov 30, link your Speedpass to your CIBC Aerogold® Visa Card or CIBC Aerogold Visa Infinite Card and then use your Speedpass on any eligible purchase at participating Esso stations by December 31, 2012. More...

American AAdvantage
- Earn up to 10,000 Bonus AAdvantage Miles when you buy AAdvantage miles online. More... Until Oct 31, 12

British Airways Executive Club
- Earn up to 50,000 Bonus Avios Points when you apply for and receive the RBC Royal Bank British Airways Visa Infinite card. More... Until Nov 30, 12

Starwood Preferred Guest
- Earn 15,000 Welcome Bonus Starpoints after you charge $1,000 in purchases to your Starwood Preferred Guest® Credit Card from American Express in your first three months of Cardmembership. More... Until Nov 12, 12 Residents of Canada only

US Airways Dividend Miles
- 100% Bonus Dividend Miles when you share US Airways Dividend Miles with friends or family. More... Until Oct 31, 12

WestJet Rewards
- $250 WestJet dollars Bonus + Annual $99 Companion Flight when you sign up for and receive the WestJet RBC World Elite MasterCard. More... Residents of Canada only