Oct 12, 12 City Bonus Highlight: Singapore (SIN) This weeks City Bonus Highlight looks at bonuses for flying to or from Singapore as well as hotel bonuses in the region. More...

Oct 12, 12 Stash Hotel Rewards Flash Sale: Hotel Andra Seattle for 2,000 points. More...

Oct 11, 12 Priority Club Point Breaks - Reward Nights for only 5,000 Points until Dec 10, 12. More...

Oct 11, 12 50,000 point sign up bonus for the Marriott Rewards Premier Visa. More...

Oct 11, 12 Rewards Canada Feature: Options outside of Aeroplan and Air Miles. Part 3: Hotel Frequent Guest Programs . More...

Oct 10, 12 PointsPay is a new Mobile-Based Wallet To Convert Points and Miles into Cash More...

Oct 9, 12 Capital One downgrades The Capital One® Aspire Travel™ Platinum MasterCard® and the the Capital One® Aspire Cash™ Platinum MasterCard®. More...

Last few days to vote for Canada's Choice!
Part 2 of Rewards Canada's Canada Top Travel Rewards Credit Cards 2012 is here!
Part 1 was our own rankings of over 70 travel rewards credit cards in Canada and Part 2 lets you decide which cards should be at top. Be sure to Vote by Oct 17!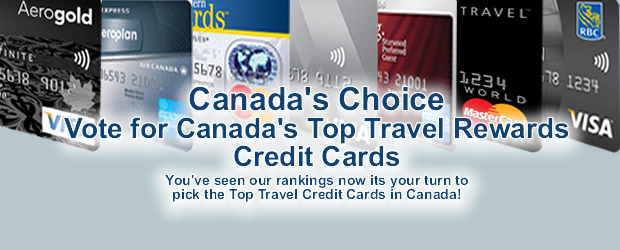 Bonus Offers for Flying
Ethiopian Sheba Miles

- Double Sheba Miles for flights between Ouagadougou and Addis Ababa. More... Until Dec 31, 12

Qantas Frequent Flyer
- 25% Frequent Flyer Points Discount for Classic Awards on selected Jetstar domestic flights within Australia. More... Book by Oct 18 for travel until Dec 12, 12

United Mileage Plus
- Earn up to 100,000+ Bonus Mileage Plus Miles when you fly on United nonstop round-trip flights between the U.S. and London/Heathrow. More... Until Jan 31, 13
- 50% bonus Mileage Plus miles when you fly nonstop between Chicago O'Hare, New York/Newark or San Francisco and Hong Kong. Offer is valid for all booking classes. More... Until Nov 30, 12 Targeted Offer - May not work for everyone
- 50% bonus Premier qualifying miles (PQM) when you purchase a ticket and fly in United Global First, United First, United BusinessFirst, United Business or full-fare United Economy. Add that to the 50% bonus PQM you already earn from purchasing these tickets, and you will receive a 100% PQM bonus. You can also earn 50% bonus PQM when you purchase a ticket and fly in discounted United Economy. More... Until Dec 7, 12 Targeted Offer - May not work for everyone

Bonus Offers for Staying
BY AIRLINE PROGRAM
AeroMexico Club Premier

- Double Club Premier Kilometers for stays at participating Hilton Hotels in North and South America, Europe and Africa. More... Until Dec 31, 12

Alaska Airlines Mileage Plan
- Double Mileage Plan Miles for stays at La Quinta Inns & Suites in the U.S., Canada and Mexico. More... Until Dec 30, 12

American AAdvantage
- Double AAdvantage Miles for stays at participating Hilton Hotels in North and South America, Europe and Africa. More... Until Dec 31, 12
- Double AAdvantage Miles for stays at La Quinta Inns & Suites in the U.S., Canada and Mexico. More... Until Dec 30, 12

Avianca TACA LifeMiles
- Double Life Miles for stays at participating Hilton Hotels in North and South America, Europe and Africa. More... Until Dec 31, 12

Cathay Pacific Asia Miles
- Earn up to Triple Asia Miles for stays of at participating Millennium & Copthorne Hotels Worldwide. More... Until Dec 31, 12

Emirates Skywards
- Double Skywards Miles for stays at select First Hotels in Copenhagen. More... Until Dec 31, 12
- Quadruple Skywards Miles for stays at the Jumeirah Emirates Towers, Jumeirah Creekside Hotel, Jumeirah Beach Hotel, Madinat Jumeirah and Jumeirah Zabeel Saray Dubai. More... Book by Dec 15 for stays Nov 15 - Dec 20, 12
- Double Skywards Miles for every stay at select Taj Hotels Worldwide. More... Until Mar 31, 13

Scandinavian EuroBonus
- Double EuroBonus Points for stays at select Rica Hotels in Sweden. More... Until Nov 30, 12

Singapore Airlines KrisFlyer
- Double KrisFlyer Miles when you stay at any participating Pullman hotel in Asia Pacific. More... Until Nov 30, 12
- Double KrisFlyer Miles when you stay at any participating InterContinental® Hotels Group property in Australasia, Japan, Southeast Asia and the Middle East. More... Until Nov 30, 12
- Double KrisFlyer Miles when you stay at any participating Mandarin Oriental hotel Worldwide. More... Until Nov 30, 12
- Double KrisFlyer Miles when you stay on the Best Available Rate in a Meritus Club Room or Suite at any Meritus hotel or resort in Singapore, Malaysia, China or Indonesia. More... Until Nov 30, 12
- Double KrisFlyer Miles for stays of 3+ nights at participating Millennium & Copthorne Hotels Worldwide. More... Until Nov 30, 12
- Earn Double/Triple or 3,000 bonus KrisFlyer Miles on qualifying rates at participating Starwood Hotels & Resorts across Europe, Africa & Asia Pacific. More... Until Nov 30, 12
- Double KrisFlyer Miles when you stay on the Best Available Rate at participating Taj hotels and resorts in India. More... Until Nov 30, 12
- Double KrisFlyer Miles when you stay for a minimum of two consecutive nights at any Trident hotel in India. More... Until Nov 30, 12

TAM Fidelidade
- Double Multiplus Points for stays at participating Hilton Hotels in North and South America, Europe and Africa. More... Until Dec 31, 12

United Mileage Plus
- Double Mileage Plus Miles for stays at participating Hilton Hotels in North and South America, Europe and Africa More... Until Dec 31, 12
- Double Mileage Plus Miles with every qualifying stay at all participating Choice Hotels locations Worldwide. More... Until Nov 15, 12

US Airways Dividend Miles
- 1,000 Bonus Dividend Miles PER NIGHT for stays at participating Conrad Hotels Worldwide. More... Until Dec 31, 12

BY HOTEL PROGRAM
InterContinental Hotels Group Priority Club
- 5,000 points per award night - Priority Club Point Breaks. Redeem only 5,000 points for stays at select hotels Worldwide. Offer and participating hotels are subject to change at any time, valid for stays thru Dec 10, 2012. More...
- Buy One Night Get One Night Free when you book a 2-night stay at any participating all-new hotels in Greater China for stays before 31 March 2013 and pay for just one night. More... Book Oct 16 - Oct 22 for stays Oct 16 - Mar 31, 13

Jumeirah Sirius
- Double Sirius Points for stays on the Winter Flavours offer at the Jumeirah Beach Hotel, Jumeirah Zabeel Saray or Jumeirah Creekside Hotel. More... Until Apr 30, 13
- Double Sirius Points for stays on the Winter Flavours offer at the Madinat Jumeirah. More... Until Dec 23, 12
- Triple Sirius Points at the Dhow & Anchor at Jumeirah Beach Hotel on Saturdays and Sundays during football season. More... Until May 15, 13
- Double Sirius Points when you dine at the all-inclusive La Parrilla Friday Brunch. More... Until Nov 9, 12
- Double Sirius Points at Madinat Jumeirah Cake Boutique at Souk Madinat Jumeirah. More... Until Nov 15, 12 -
Double Sirius Points when you sample the signature lunch menus at Tori No Su, Brasserie Angelique, Quest and Li Beirut at Jumeriah at Etihad Towers. More... Until Nov 15, 12
- 2,000 Bonus Sirius Points for stays of 7+ nights at the Grosvenor House Apartments by Jumeirah Living London. More... Until Mar 31, 13

La Quinta Returns
- Earn up to Triple Returns Points for stays at select La Quinta locations in the United States and Mexico. More... Until Nov 8, 12

Scandic Frequent Guest
- 1,000 Bonus Rewards Points for stays at the Scandic Paasi Helsinki. More... Until Oct 31, 12

Starwood Preferred Guest
- 1,000 Bonus Starpoints for stays at the Sheraton Silver Spring Hotel. More... Until Dec 31, 12
- 1,000 Bonus Starpoints on every Sheraton Club stay at the Sheraton Anchorage Hotel & Spa. More... Until Nov 30, 12

Bonus Offers for Driving
Air Canada Aeroplan
- Earn up to Triple Aeroplan Miles on Avis rentals at participating locations in Canada and the U.S. More... Until Dec 31, 12

Best Western Rewards
- 1,500 Bonus Rewards Points on qualifying rentals of 2 days or more at participating Budget locations in the U.S., Canada, Australia, New Zealand and Asia. More... Until Jun 30, 13
- 1,500 Bonus Rewards Points on qualifying rentals of 2 days or more at participating Budget locations in Europe, Africa and the Middle East. More... Until Dec 31, 12

British Airways Executive Club
- Double Avios when booking a group C car or above from Avis for 3 days or more Worldwide. More... Until Nov 11,12

China Airlines Dynasty Flyer
- Earn up to Triple Dynasty Flyer Miles on Avis rentals of 3 or more days in USA, Canada, Europe, Australia or New Zealand. More... Until Nov 30, 12

Emirates Skywards
- 500 Bonus Skywards Miles + Fourth day free for Avis rentals of in Australia. More... Nov 1 - Dec 15, 12
- Double Skywards Miles for Avis rentals of four days or more in Adelaide. More... Nov 1 - Dec 15, 12
- Earn up to Quadruple Skywards Miles on all Hertz rentals of 3 or more days Worldwide. More... Until Dec 15, 12

EVA Air Evergreen Club
- Earn up to Triple Evergreen Miles when renting with Avis for 3+ days in USA, Canada, Europe, Middle-East, Africa, Asia, Australia and New Zealand. More... Until Dec 31, 12

Miles & More
- Earn up to Quadruple Miles & More Miles on all Hertz rentals Worldwide. More... Until Dec 31, 12

Qatar Airways Privilege Club
- 1,000 Bonus QMiles for all Budget rentals in Saudi Arabia, Qatar and UAE. More... Until Dec 15, 12

Singapore Airlines KrisFlyer
- Earn up to Triple KrisFlyer Miles when renting with Avis for 3+ days in USA, Canada, Europe, Middle-East, Africa, Asia, Australia and New Zealand. More... Until Nov 30, 12
- Earn Triple KrisFlyer miles when you rent for a minimum of three consecutive days from any Europcar location in a choice of over 140 countries worldwide. More... Until Nov 30, 12
- Earn up to Quadruple KrisFlyer Miles when you rent with Hertz in the USA, Canada, Europe, Australia, New Zealand. More... Until Nov 30, 12

Virgin Atlantic Flying Club
- 100 Bonus Flying Club Miles per transaction when you book any car rental Worldwide using your Hertz #1 Club Gold® profile. More... Ongoing

Bonus Offers for other Activities
Marriott Rewards
- 50,000 Bonus Rewards Points when you apply for and receive the Marriott Rewards Premier Visa Card. More... Residents of Canada Only