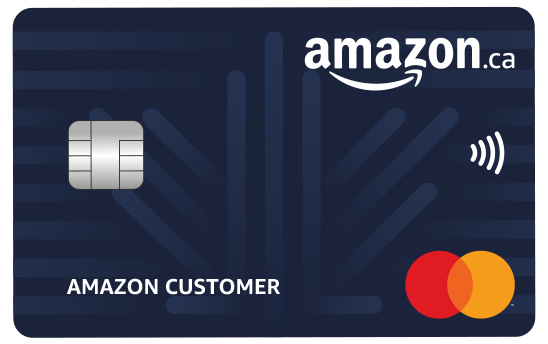 Amazon.ca Rewards Mastercard



Amazon.ca Rewards Mastercard
Special Welcome Offer: get 5% back at Amazon.ca, Whole Foods Market stores in Canada, grocery stores and restaurants for the first 6 months! (Valid on first $3,000 in eligible purchases††.)
Earn rewards on all your eligible purchases at Amazon.ca—including Whole Foods Market stores in Canada‡!
Earn 2.5% back on eligible purchases at Amazon.ca, Whole Foods Market stores in Canada and on foreign currency transactions with an eligible Prime membership‡.
Otherwise, get 1.5% back at Amazon.ca and Whole Foods Market stores in Canada‡.
Get 1% back on ALL other eligible purchases, wherever Mastercard is accepted‡.
Use your rewards at Amazon.ca—apply rewards directly to eligible Amazon.ca items.
No annual credit card fee.

Sponsored advertising. MBNA is a division of The Toronto-Dominion Bank (TD) and TD is not responsible for the contents of this site including any editorials or reviews that may appear on this site. For complete information on this MBNA credit card, please click on the Apply Now button.
‡ These are highlights of the rewards program (the "Program") associated with this credit card account. To participate in the Program, you must have an Amazon.ca account that is open and in good standing, and otherwise comply with the Program terms and conditions. The Amazon Prime membership status of the Amazon.ca account that you select to be associated with your credit card account will determine the number of points earned on eligible purchases. Accumulated points will be redeemed for Amazon.ca Gift Card(s), which will be loaded to your Amazon.ca account by Amazon. Complete terms and conditions describing Program eligibility, limitations and restrictions will be sent after your credit card account is opened. The Toronto-Dominion Bank has no liability or responsibility for the Amazon.ca Gift Card(s) or any aspect of your Amazon.ca account.

†† Limit one-time bonus points offer (no cash value) per new credit card account. This offer only applies to eligible purchases made during the first six months after credit card account opening: (a) at eating places and fast food restaurants (merchant category codes 5812 and 5814); (b) at grocery stores and supermarkets (merchant category code 5411); (c) on the Amazon.ca website; and (d) at any physical Whole Foods Market locations in Canada. For greater certainty, this offer replaces and is not in addition to the regular earn rates for the rewards program associated with the account. Regular earn rates will apply to purchases outside the above categories and to the above categories after $3,000 in eligible purchases. This promotion is offered by MBNA and Amazon and may be amended or cancelled at any time without notice.

✪ BALANCE TRANSFERS Balance transfers will be fulfilled in the order listed and are treated as balance transfers in accordance with your Account Agreement. The total value of balance transfers cannot exceed your authorized credit limit. If the value is greater, MBNA may send a partial payment to the named creditor/designated account. THERE WILL BE A TRANSACTION FEE EQUAL TO 1.00% OF THE DOLLAR AMOUNT OF EACH BALANCE TRANSFER INITIATED WITH THIS APPLICATION. A MINIMUM FEE OF $7.50 WILL APPLY TO EACH BALANCE TRANSFER TRANSACTION. A balance transfer may not be used to pay off or down your account balance or any other balances with us (including our affiliates, which would include any member of the TD Bank Group).

** Underwritten by Allianz Global Risks US Insurance Company (Canadian Branch). Details of insurance benefits, including terms, conditions, limitations and exclusions are in the Certificate of Insurance provided with your card.