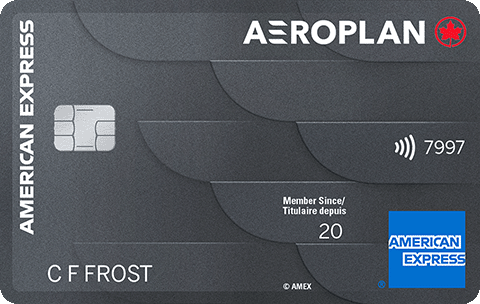 American Express® Aeroplan®* Card
American Express® Aeroplan®* Card

Card Type: Charge Card   
Annual Fee: $120
Additional Card Fee: $120 for each Additional Aeroplan®* Card to share some of the benefits and earn Aeroplan points faster $0 for each Additional Aeroplan®* No Fee Card to earn points faster


New American Express® Aeroplan®* Cardmembers can earn up to a total of 40,000 welcome bonus Aeroplan points and a bonus Buddy Pass:
Earn 10,000 Aeroplan points and a bonus Buddy Pass for an eligible round-trip flight within North America after spending $1,500 in purchases within the first three months of Cardmembership
Plus, you can also earn 2,500 Aeroplan points for each monthly billing period in which you spend $500 in purchases on your Card for the first twelve months of Cardmembership. That could add up to 30,000 Aeroplan points
With a bonus Buddy Pass, you can bring a friend anywhere Air Canada®* flies in North America. On the second ticket, you only pay the taxes and third-party charges
New Cardmembers: Earn up to $1,200 in value within your first year. Spend applies to bonus point offers valued at up to $800
Earn 2X the points on eligible purchases made directly with Air Canada®* and Air Canada vacations®*
Earn 1.5X the points on eligible Dining and Food Delivery purchases in Canada*
Earn 1X the points on everything else*
Enjoy your first checked bag free (up to 23kg/50lb) for up to 9 people travelling on the same reservation on Air Canada®* flights
Earn 1,000 Status Qualifying Miles and 1 Status Qualifying Segment for every $10,000 in eligible net purchases charged to your Card
As an American Express Aeroplan Cardmember, you can often book flight rewards for even fewer points with preferred pricing
American Express® Experiences: From music and movies, to specially curated dining and online shopping opportunities, stay connected with all that we have to offer from the comfort of your own home
Enjoy an array of travel related insurance benefits such as Lost or Stolen Baggage Insurance and up to $500,000 in Travel Accident Insurance
24/7 Customer Service and Emergency Card Replacement
• As part of our commitment to sustainability, the American Express® Aeroplan®* Card has been made with 70% reclaimed plastic
No pre-set spending limit on purchases gives you flexibility. Using a charge card is a great way to manage your finances as the balance must be paid in full each month*
American Express is not responsible for maintaining or monitoring the accuracy of information on this website. For full details and current product information click the Apply now link. Conditions apply.