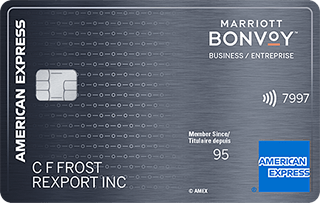 Marriott Bonvoy™ Business American Express® Card

Card Type: Credit   
Annual Fee: $150 Additional Card Fee: $50
Annual interest rate 19.99% on purchases and 21.99% on funds advances; Missed payment applicable rates, 23.99% and/or 26.99%

Earn 50,000 welcome bonus Marriott Bonvoy® points
Earn 50,000 Welcome Bonus Marriott Bonvoy® points after you charge $1,500 in purchases to your Card in your first three months of Cardmembership.
Earn Marriott Bonvoy points that you can redeem in a variety of ways.
Earn 5 points for every $1 in Card purchases at participating Marriott Bonvoy hotels.
Earn 3 points for every $1 spent on eligible gas, dining and travel
Earn 2 points for every $1 spent on everything else
Redeem points for free nights with no blackout dates at over 7,000 of some of the world's most extraordinary hotels and resorts around the globe. Use your points for flights on some of the world's leading airlines
Make the most out of a full suite of business management tools that give you more control over your business - anytime and anywhere.
Leverage your cash flow with the option of carrying a balance or paying in full each month
Control employee expenses plus track and accumulate points on your account with Supplementary Cards, so you have an opportunity to maximize the points you earn.
Experience the exclusive benefits of the Marriott Bonvoy® Business American Express®* Card.
Receive an Annual Free Night Award automatically each year after your anniversary
Receive 15 Elite Night Credits each calendar year with your Marriott Bonvoy Business American Express Card. These can be used towards attaining the next level of Elite status in the Marriott Bonvoy program
Upgrade to Gold Elite status after you charge $30,000 in net purchases to your Card each year, or when you combine 10 qualifying paid nights within one calendar year with the 15 Elite Night Credits from your card.
American Express is not responsible for maintaining or monitoring the accuracy of information on this website. For full details and current product information click the Apply now link. Conditions apply