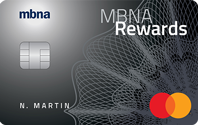 MBNA Rewards Platinum Plus® Mastercard®
MBNA Rewards Platinum Plus® Mastercard®
Accelerate rewards points on common purchases!
• No annual fee
• 1 point‡ for every $1 in eligible purchases
• 2 points‡ for every $1 spent on eligible gas, groceries and restaurant purchases ($5,000 annual cap on each category)
• Receive 5,000 bonus points†† after your first eligible purchase within the first 90 days of account opening
• Receive 5,000 bonus points†† once enrolled for paperless e-statements within the first 90 days of account opening
• Redeem points‡ for travel, brand-name merchandise, gift cards from participating retailers, cash back, and charitable donations
• Standard Annual Interest Rates of 20.99% on purchases, 22.99% on balance transfers✪ and access cheques, and 22.99% on cash advances
• A suite of comprehensive insurance** Take advantage of an everyday rewards card with no annual fee.
• This offer is only available to residents of Quebec. For residents of other provinces/territories please click here.


Sponsored advertising. MBNA is a division of The Toronto-Dominion Bank (TD) and TD is not responsible for the contents of this site including any editorials or reviews that may appear on this site. For complete information on this MBNA credit card, please click on the Apply Now button.
‡ These are highlights of the credit card rewards program (the "Program") associated with this credit card account. Points will be awarded on eligible transactions charged to your account as set out in the Program terms and conditions. You will earn two (2) points per dollar spent on eligible gas, grocery and restaurant purchases to a maximum annual amount of $5,000 in each category. Eligible purchases that are not eligible gas, grocery and restaurant purchases will earn a Base Earn Rate of one (1) point per dollar. The redemption rate for Points earned may differ depending on the redemption option chosen. Complete terms and conditions describing Program eligibility, accrual, earn limits, and redemption of Points, and other important conditions will be sent after your account is opened. Please read the terms and conditions carefully upon receipt.

†† To qualify for this offer, an applicant must be approved for the specific credit card account described in the offer and: (a) in order to obtain a "First Eligible Transaction Bonus" of 5,000 bonus points, the account must be used for at least one eligible transaction within the first 90 days of account opening that is not subsequently rescinded, the subject of a charge back request or otherwise disputed, and (b) in order to obtain a "Paperless Bonus" of 5,000 bonus points, you must enroll in online banking at www.mbna.ca, and consent to Paperless Statements for the account within the first 90 days of account opening, and not subsequently rescind such enrollment throughout this period. Please allow 8–10 weeks from the transaction date and the Paperless Statement enrollment for the applicable bonus points to be posted to your points account. Limit one-time bonus point offer (no cash value) per new account for each of the First Eligible Transaction Bonus and the Paperless Bonus). This promotion is offered by MBNA and may be amended or cancelled at any time without notice.

**Coverage is underwritten by Allianz Global Risks US Insurance Company (Canadian Branch) and/or American Bankers Insurance Company of Florida. Certain limitations and exclusions may apply to this benefit and others described in the certificate of insurance sent soon after your Account is opened.

✪ Balance transfers will be fulfilled in the order listed and are treated as balance transfers in accordance with your Account Agreement. The total value of balance transfers cannot exceed your authorized credit limit. If the value is greater, MBNA may send a partial payment to the named creditor/designated account. THERE IS NO FEE FOR THIS TRANSACTION. A balance transfer may not be used to pay off or down your account balance or any other balances with us (including our affiliates, which would include any member of the TD Bank Group)

The Toronto-Dominion Bank is the issuer of this credit card. MBNA is a division of The Toronto-Dominion Bank.