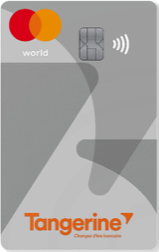 Tangerine World Mastercard®

Tangerine World Mastercard®
Annual Fee $0 Additional Cards: $0
Minimum Income: $60,000 personal or $100,000 household

• Personalized categories and unlimited money-back rewards monthly
• Automatic earning: Money-Back Rewards are earned automatically on everyday purchases and paid monthly. These can be applied to your Credit Card balance or redeemed into your Savings Account.
• No annual fee
• Earn 2% cashback on your choice of up to 3 categories, 0.5% money back on all other purchases
• Change your 2% Money-back categories to suit your spending from your choice of 10 categories
• 1.95% on Balance Transfers for six months
• Rental Car Collision/Loss Damage Insurance**: Damage and theft protection for your car rental when you rent for up to 31 consecutive days and charge the full cost of your rental to your Card.
• Mobile Device Insurance**: Protection on new cell phones, smartphones or tablets when you charge the full cost to your Card, or when you purchase it through a plan and charge all of your wireless bill payments to your Card. Covers up to $1,000 if your mobile device is lost, stolen, accidentally damaged or experiences mechanical failure.
• Mastercard® Airport Experiences Provided by LoungeKey***: Make the most of your travel with Mastercard® Airport Experiences Provided by LoungeKey. Your complimentary membership gives you exclusive dining, retail and spa offers in over 400 airports worldwide, along with access to over 1000 lounges at $32 USD per visit. Learn more at airport.mastercard.com.