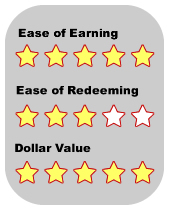 Love it or hate it, one of Canada's oldest programs still remains one of the most valuable. Aeroplan has grown beyond its frequent flyer program roots into a full fledged coalition loyalty program ala Air Miles. Take the hundreds partners you can earn miles at and numerous redemption options for travel on Air Canada and a dozen other airlines not to mention a large reward catalog beyond travel, almost any Canadian can find value in this program. Of course the best value comes in redeeming Aeroplan miles for business or first class flights but there is even value in economy class redemptions where many people find they get a 1.5 to 2.5% return when looking at spend on credit cards like the TD Aeroplan Visa Infinite card. Then take into account bonus mile opportunities and all your other earning in Aeroplan and that ratio goes up. Stuck with a stigma of high fees and taxes there are ways to use Aeroplan via its airline partners to alleviate that fee pain and still retain really high value in flight redemptions whether in Economy or right up to First Class.

The key to this program for it to be a valuable currency to you and most Canadian's is being flexible. You always hear about lack of availability but if you become flexible in dates and routing many people seem to find the flight rewards that satisfy their needs. You need to learn the ins and outs of Aeroplan to make full use of it and that's not hard to do. Rewards Canada helps out with features like 5 Tips to Avoid or Mitigate Fuel Surcharges on Award Tickets and visiting frequent flyer forums like FlyerTalk can bring a wealth of information to help you out.


3. RBC Rewards Points (Avion cardholders only)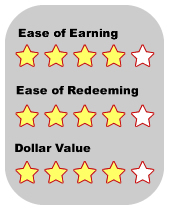 If you would have asked us two years ago about RBC Reward Points we would not have ranked them this high. There is one caveat to this high of ranking however, RBC Rewards Points are only really valuable if you hold one of RBCs Avion card products. Why is this? This is due to the travel redemptions offered for Avion cardholders, whether it be booking flights via the RBC Avion Airline Redemption chart process or converting RBC Rewards Points to American Airlines, British Airways, Cathay Pacific or WestJet. Even though it is a credit card program RBC has grown the program beyond credit cards on the earning side with their online shopping mall and transfer partners like Esso to help build up your RBC Rewards balance.

The value comes with several Avion redemption options where you can get upwards of a 2.3% return on your spending with the Avion award flight chart but gets even better with the card's conversion options to British Airways Executive Club and American AAdvantage. With frequent transfer bonuses to these programs you can be redeeming for business class flights with a return on your spending well above 5%. There is also value with other conversion options to WestJet Rewards and Cathay Pacific Asia Miles.

4. Starwood Preferred Guest Starpoints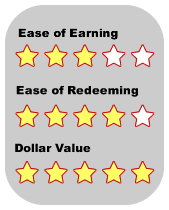 One would not think that a frequent guest program would fall into the top 5 travel rewards currencies for Canadians in general but low and behold one does. Long considered one of the best Frequent Guest programs by frequent travellers, Starwood Preferred Guest does not have to be for the elite traveller only. Granted they are somewhat harder to earn then all the other top 5 currencies because the primary earning option is on Starwood Hotel stays, but they do have a credit card in Canada and that is why Starpoints can be grouped into the Top 5 currencies. By utilizing the combination of the Starwood Preferred Guest Credit Card from American Express and your funneling hotel stays to Sheratons, Westins, Le Meridiens and the numerous other Starwood brands you can build up a fairly big balance.

Redeeming Starpoints is of course where this currency shines. You can redeem them for award nights at any of their brands of hotels and if you play your cards right people have reported as high as 7% returns on their spending from the credit card alone. Starwood Preferred Guest also has a cash+points award option where you pay part points and part cash for a stay so you don't have to have a huge balance to start redeeming and can save cash on your stays at the same time. Many in-the-know travellers utilize the cash+points option frequently. You also have the option of converting Starpoints to over 30 different airline frequent flyer programs around the globe including Aeroplan, hence access to Business Class flights (such as Miles & More Meilenschnaeppchen discount offers from Canada!). Unlike other hotel programs that have poor to average conversion rations, most Starpoints to Airline Miles transfer at 1 to 1 rate and if you transfer 20,000 Starpoints at a time SPG will award you 5,000 more miles! So with the credit card you are actually earning 1.25 miles in those 1:1 programs! Starpoints can also be used for one of a kind experiences through their auction award program called SPG Moments. All in all Starpoints are a great currency that should compliment any of the others on this list.


5. AIR MILES Rewards Miles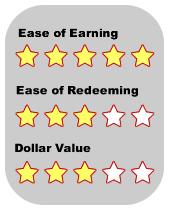 Air Miles is another program that Canadians either love or hate but no matter what you can't ignore Air Miles. By far one of the largest programs in Canada, this coalition program has grown well beyond the Air Miles name, in fact redemptions for actual air travel are only around the 10% level, while the other 90% are on merchandise, gift cards, other travel options and Air Miles Cash. That being said, with so many options to earn Air Miles and a large redemption catalog, there is still a lot of value to be had in Air Miles Reward Miles. The program would have ranked in 3rd or 4th a few months but the recent increase in miles required to redeem for flights (lightly guised as an enhancement as the increase covers fuel surcharges, read more here) definitely made Air Miles drop in the rankings based on that drop in the value of their flight redemptions.

Still with a credit card like the BMO Air Miles World Elite Mastercard you can earn Air Miles relatively quickly, especially when double dipping and couple this with the card's exclusive 25% discount on flights you can almost be redeeming at the old the mileage requirements and have no fuel surcharges to pay.

Honourable Mention: British Airways Executive Club Avios
We have to give an honourable mention to British Airways Executive Club and their currency called Avios. It went through a big change a few years where flight awards went from a set redemption chart to distance based. Much like Aeroplan and Air Miles, BAEC is well known for their high fuel surcharges on Transatlantic flights but are less known for their amazing partner awards based on the distance rule. We covered the North American options of these flight awards in this post "How to get select Canada to U.S. award flights faster by utilizing British Airways' Executive Club" and how you can get award flights for as little as $4,500 in spending. Now that is true value! Add to this 90,000 Avios on Cathay Pacific between Vancouver and Hong Kong in First Class, and the option to redeem for their service between Vancouver and New York you can see where the value lies with Avios. Earning may be a little tougher then say Aeroplan or Air Miles but BA has their own credit card in Canada with RBC plus you convert American Express Membership Rewards Points not to mention SPG Starpoints so all in all they can be relatively easy to come by.
The program to watch out for: Cineplex SCENE Points
It may not be travel related, at least not yet, but Cineplex SCENE is definitely a program to watch. Word on the street is that they are set to expand to become more of a coalition type program similar to AIR MILES and Aeroplan. Not sure if travel rewards will be in their future but the loyalty program of choice for teens and twenty somethings wants to grow to keep those young ones loyal to their program and not switch to the likes of AIR MILES and Aeroplan as they grow out of the 'going to a lot of movies stage' and look to reward their families with other redemption options. Rumour has it that SCENE is going to grow their list of earning partners so that you are not limited to where you earn SCENE Points which to date is primarily Cineplex and Scotiabank.


Care to comment on what Canada chose as the Top 5 Travel Rewards Currencies? Want to voice your opinion on the good and the bad of all the Top 5 Travel Rewards Currencies?. Share you views and experiences on our accompanying Blog post or on Facebook and Twitter for Top 5 Travel Rewards Currencies!

Rewards Canada can be found on the following social media channels: