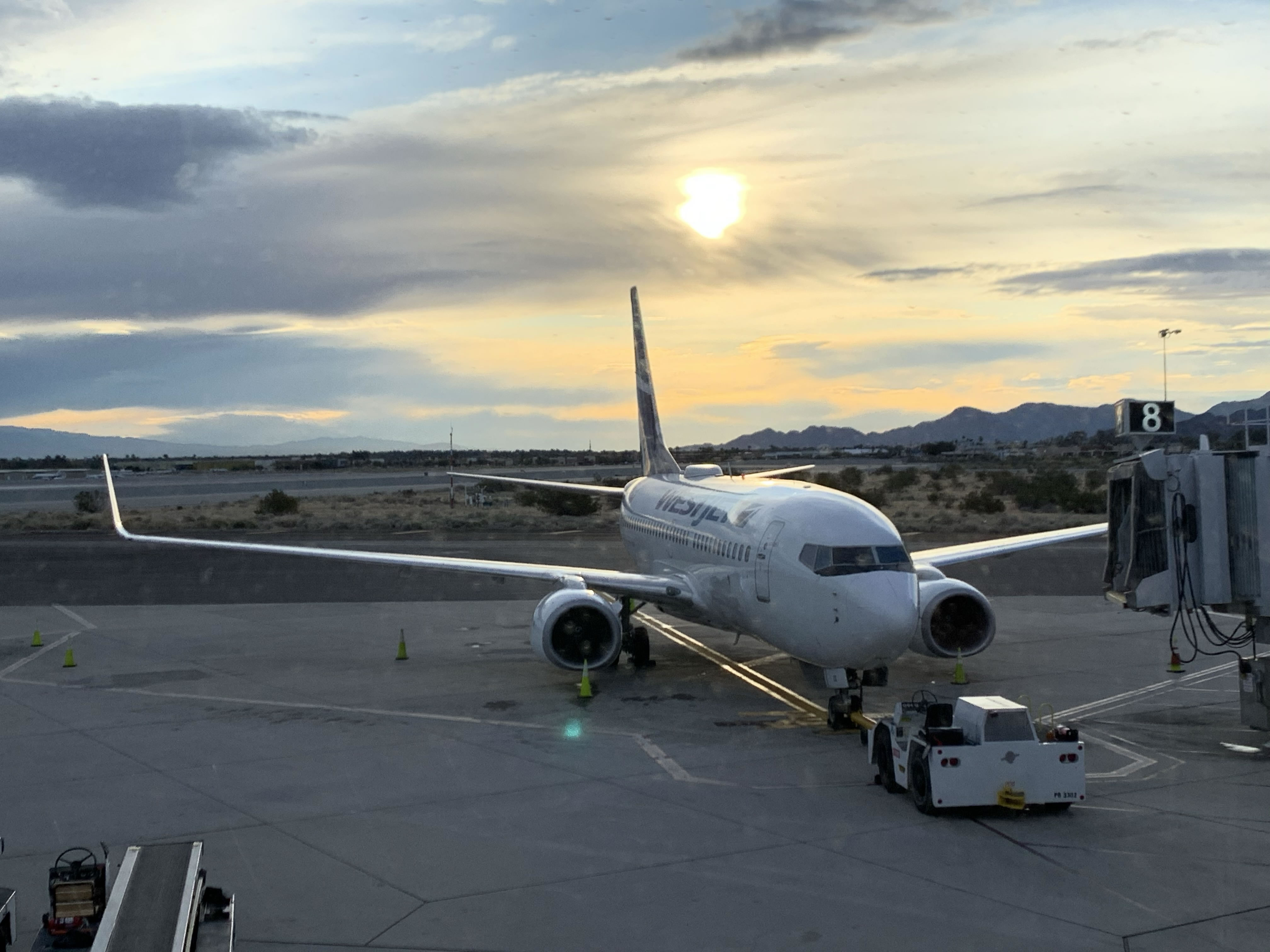 For the Rewards Canada family a lot of our vacations are spur of the moment. So when we want to get away for only a few short days we don't want to spend much of that time getting to our destination so we usually look for direct flights that aren't much more than three hours in length. And since it is winter we wanted to go somewhere warmer. That means places like Los Angeles, San Diego, Palm Springs, or Phoenix. With a trip to Phoenix already booked for later in 2020 we crossed that off the list. Then with our attendance required at a New Years Eve party in YYC we crossed San Diego off the list as the flight back into Calgary wouldn't leave us much time get home and get ready. So that left LA or the Palm Desert. We chose the latter as it tends to be more relaxing than LA. Of course this means booking at the last minute, which also means not so cheap flights when looking for four seats. Add in the fact it was during the Christmas high season and you know there aren't going to be any cheap seats. Four tickets at the last minute to any of these cities run well over $1000 per person - in economy. That's pretty pricey for these flights but that's where points and miles can come in to help. WestJet is the only airline that flies direct to PSP from YYC (unfortunately the grounding of the Boeing 737 MAX meant AC dropped the route) so that gave us two points options that we could utilize to make the price more bearable. The first was booking through WestJet and using our companion vouchers and WestJet dollars. Since my wife and I each have our own WestJet cards we have two companion vouchers that we could use. Perfect for a family of four. The second option was booking through American Express travel and utilizing the Fixed Points Travel program.
Related: Why my wife and I each got our own WestJet cards
When searching for flights on the days and the times we preferred, WestJet wanted just over $4,800 in total as they were at $1,200 and change per person. That price could be brought down to around $2,500 by using our companion vouchers and around 700 hundred WestJet dollars that my wife and I held between our accounts.
American Express Travel on the other hand had the exact same flights (dates and times) for just over $4,000 if I booked them with our Platinum Card from American Express. The reason for the price difference is that WestJet is one of the airlines that participates in the Platinum card's international airline program. The partnership provides a discount on WestJet flights - even for economy class, which is different than most of the other airlines that participate as those others only provide deals on premium class fares.

Image via American Express
When you book with Amex Travel you are provided with three options to pay for the flights: entirely with cash, pay with points for travel, the American Express Fixed Points travel program or a combination of the three. With the Fixed Points Trave Program flights in North America like those we were looking at cost 40,000 points. There is a maximum ticket value of $700 at this redemption level not including taxes and fees. Anything above the $700 has to be paid by your credit card or with the pay with points for travel option or a combo of the two.

Related: A closer look at the Membership Rewards Fixed Points Travel program

Image via American Express
Having all this info in front of me, I choose to go with the option of booking the flights via Amex Travel since they were almost $800 cheaper and use the Fixed Points Travel Program. With that redemption opportunity I redeemed 160,000 points to cover $2,800 of the flights. This left only $1289.20 that had to be paid for with the credit card but then I also applied the annual travel credit of $200 that comes with The Platinum Card to end up only paying $1089.20 in total. $1089 is a lot better than the $2500+ we would have had to spend if we went with the companion vouchers and WestJet dollars route or the straight $4,800+ for booking without any of the options afforded by the credit cards and points we had.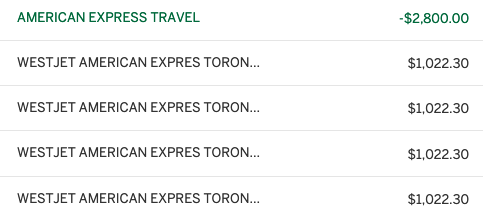 The 160,000 points for $2,800 works out to 1.75 cents per point which is the set standard for Amex's Fixed Points travel program. This translates to a 1.75% return however most of the points I redeemed were earned with 2 to 3x point multipliers, which means the actual return was over 3.5%. Then we also have to take into account that the Platinum Card saved us $800 on the fares and another $200 thanks to the annual travel credit. You can just see the value growing even more as this redemption story moves along! That $1,000 in savings paid for the annual fees on the card alone. Then add in all the other benefits on the card - lounge access, hotel elite status, points earning and redemption options and the Platinum Card is really showing its worth!
This redemptions allowed us to save our WestJet RBC World Elite Mastercard companion passes for a future Premium Economy redemption that can give us even more value than what we would have seen if we went with option one above.
But the value in booking and redeeming points with American Express Travel doesn't end with what I detailed above.
Since these flights are considered full revenue tickets that were purchased via American Express Travel they earned the accelerated 2 points per dollar that The Platinum Card awards on travel purchases - and on the full amount of the tickets - not just the difference paid for after redeeming the points and using the annual travel credit for.

As you can see from the above screen shot from my Membership Rewards account we earned 8,180 points on the purchase of these flights. If we take our redemption value from this story of 1.75 cents per point that works out $143.15 of value for the points (a 3.5% return). That's still not the end of it though! As I already mentioned, these are revenue tickets that for all intensive purchases are considered paid entirely with cash, and that's how WestJet sees it. This means each family member earned the full amount of WestJet dollars on them. All of us hold Gold Elite status which gives a 5% earn rate on the base fares - we each earned 42 WestJet dollars for these flights. That's another $168 of value!

The base fare also applied towards our annual status and milestone award voucher levels:

We were also able to call up WestJet after the flights were booked to easily apply our seat selection vouchers that come with the Gold Elite status we have. We also enjoyed our full WestJet Gold benefits on the flights - free checked bags, lounge access (in YYC at least as PSP doesn't have an accessible lounge), zone 1 priority boarding and priority luggage tags.
In the end, if you add it all up the valuations from above (the flight discounts, the points redemption, the travel credit and the points and WestJet dollars earn) the original $4,800 of flights end up only being $778.05. That's a pretty good redemption in my mind and we got to burn up some points as we do our best not to hoard them. Between my wife and I, we still sit at nearly 1 million points between our Membership Rewards and Membership Rewards Select accounts so we have lots left to use on other travels. And if you are about to comment that we could have earned more value out of the 160,000 points by transferring to Aeroplan or another programs - you're not wrong, but for us, since we still have lots of miles and points to burn, keeping the $3,800, companion vouchers and WestJet dollars in our pockets for future travel made for the perfect redemption.
Related: The True Value in Reward Redemptions
Here are the complete details of the Platinum Card from American Express:
2023 Top Ultra Premium Credit Card
Earn 80,000 Membership Rewards® points - that's $800 towards a weekend away
New Platinum® Cardmembers, earn 80,000 Welcome Bonus points after you charge $7,500 in net purchases to your Card in your first 3 months of Cardmembership
Annual Fee: $699 | Additional Card Fee: $175 for Platinum, $50 for Gold
Earn 3 points for every $1 in Card purchases on eligible dining and food delivery in Canada, 2 points for every $1 in Card purchases on eligible travel, and 1 point for every $1 in all other Card purchases

You will have access to a $200 CAD Annual Travel Credit to use towards any single travel booking of $200 or more charged to your Platinum Card and made on www.americanexpress.ca/travel or through Platinum Card Travel Service 

Take full advantage of The American Express Global Lounge CollectionTM  which unlocks access to over 1200 airport lounges worldwide. This includes The Centurion® Lounge network, Plaza Premium Lounges, and hundreds of other domestic and international lounges designed to enhance your travel experience

Enjoy flexible ways to use your points such as statement credits for any eligible purchase charged to your Card, new travel purchases booked on American Express Travel Online through the Flexible Points Travel Program, and eligible flights through the Fixed Points Travel Program

Transfer points 1:1 to several frequent flyer and other loyalty programs

Enjoy complimentary benefits that offer an average value of $550 USD at over 1,000 extraordinary properties worldwide when you book Fine Hotels + Resorts

Platinum Cardmembers can enjoy access to special events and unique opportunities

Enjoy premium benefits at the Toronto Pearson Airport such as discount on parking

You will also have access to many leading hotel and car rental companies' loyalty programs. Our partners include Marriott International, Hilton Hotels and Resorts, Radisson Hotel Group Americas, Hertz and Avis

Interest applies in accordance with your Cardmember Agreement, Information Box, and Disclosure statement if the total New Balance is not paid by the Payment Due Date each month. All payments must be received by the Payment Due Date shown on the monthly statement

American Express is not responsible for maintaining or monitoring the accuracy of information on this website. For full details and current product information click the Apply now link. Conditions apply
Continued reading and related articles:
Talk to us!
Have you used Amex's Fixed Points travel program or taking advantage of their discounts with WestJet? Tell us in the comments section below or join the conversation on Facebook and Twitter!
LATEST TOPICS & NEWS
REWARDS CANADA'S TOP FEATURES
SHARE THIS FEATURE


Rewards Canada can be found on the following social media channels:







Disclaimers:
Our goal at RewardsCanada.ca is to present readers with reliable financial advice and product choices that will help you achieve your financial goals.
Rewards Canada receives compensation from some companies issuing financial products, like credit cards and bank accounts, that appear on this site.
Unless a post is clearly marked "Sponsored", however, products mentioned in editorial articles and reviews are based on the author's subjective assessment of their value to readers, not compensation. For full details and current product information click the Apply now link / learn more link.