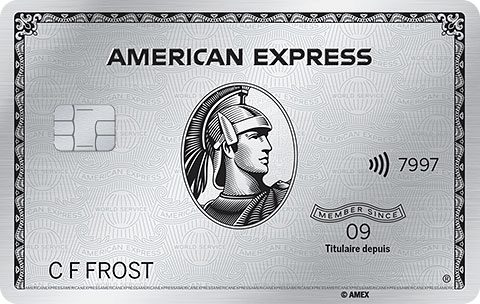 2022 Canada's Top Ultra Premium Card
The Platinum Card from American Express is a card chock-full of benefits, perks and value. It has been in the Canadian market for many years now and is a mainstay in many points and miles enthusiasts wallets as well as astute travellers looking to make their sought after trips and vacations even better!
The review of the Platinum Card from American Express is broken down into the following sections:
Overview
The Platinum Card from American Express is a card targeted towards Canadians who love to travel and want to avail of benefits that can make that travel better. From providing the best airport lounge access benefit out of any cards in Canada, hotel elite status benefits, discounts on premium class flights and so much more this card was developed with travel in mind. It is due to its long list of benefits and very good points earning and redeeming options that the Platinum Card is the best Ultra Premium card that is available publicly. That being said you don't have to be a frequent traveller to have this card and in fact many Canadians who only travel once or twice per year have this card as well as it is known for dining benefits and great Amex Offers promotions which don't require you to travel! Then when you do travel you have all those benefits to make use of.

Costs & Sign up Features
The Platinum Card from American Express has an annual fee of $699. This is one of the highest fees in Canada however it is more than made up for with all the benefits the card provides. For additional cards there are two options. You can add additional Platinum cardmembers for $175 annually and those supplementary cardholders will avail of all the same benefits as the primary cardmember like lounge access, hotel elite status etc. If you don't require that for the additional cardholders you can add an American Express Gold Rewards Card as the additional card for $50 per year.
The standard welcome bonus on the card offers 50,000 Membership Rewards Points however the card frequently has limited time increased welcome bonus offers.
Right now the Platinum Card from American Express offering a welcome bonus of up to 80,000 Membership Rewards points. The bonus is awarded when you spend $7,500 on the card in the first three months of card membership.

Earning
The card earns Membership Rewards points like other proprietary American Express cards and has category multipliers on the types of purchases:
3 Points per dollar spent on eligible dining and food delivery purchases
2 Points per dollar spent on eligible travel purchases
1 Points per dollar spent on all other eligible purchases

To see where you can earn these multipliers be sure to check out our American Express Cobalt™ Card Confirmed Multiplier Locations as many of those merchants will be the same for the Platinum Card.
Point Valuation Chart
| Spending Category | Points earned per dollar spent | Rate of return when booking your own travel | Rate of return Cash Back | Rate of return when booking Amex's Fixed Points for Travel | Rate of return when converting to airline & hotel programs |
| --- | --- | --- | --- | --- | --- |
| Dining / Food Delivery | 3 | 3% | 3% | up to 6% | 3% to 18% or higher |
| Travel | 2 | 2% | 2% | up to 4% | 2% to 12% or higher |
| All other spending | 1 | 1% | 1% | up to 2% | 1% to 6% or higher |
Redeeming
The Platinum Card from American Express participates in Amex's Membership Rewards program which is the best credit card reward program in Canada as it has so many valuable redemption options. You can redeem points for any travel you book with the card, you can redeem points for any purchase you make on the card, you can redeem via Amex's Fixed Points for Travel and you can convert your points to Air Canada Aeroplan, Air France KLM Flying Blue, British Airways Executive Club, Marriott Bonvoy and numerous other programs.
If you redeem using the Use Points for Purchases option, you will get a $10 credit towards every 1,000 points redeemed for a purchase. This means the purchases you make on this card will equate to up to a 3% return.
Moving on to the Fixed Points Travel Program, the card provides great value here as well. Being able to earn up to 3 points per dollar means you can be flying for as little as $5,000 in spending on this card and provides up to a 6% return on those dining and food delivery purchases. Here are the Fixed Points award charts: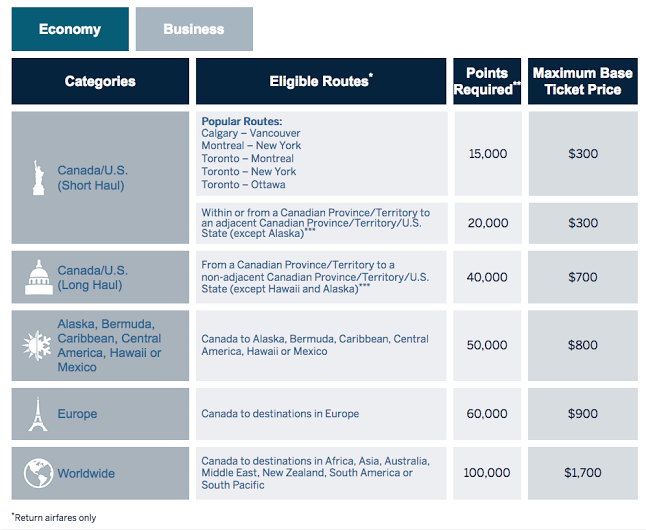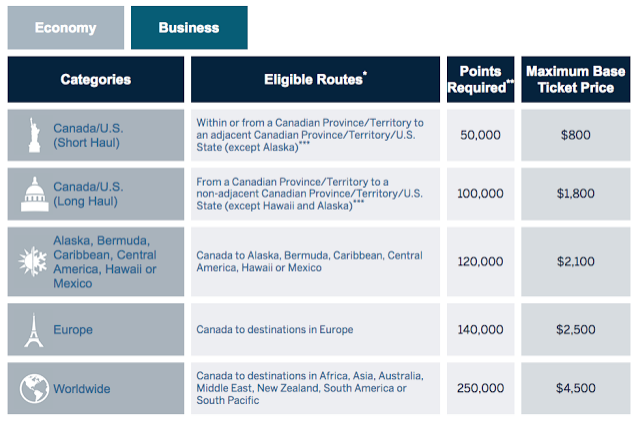 From the above you'll see you only need 15,000 points for popular short haul round trip flights. Make that spending with 3x multipliers and you have that ticket for only $5,000!
Finally, another huge and I mean huge benefit to the redemption side of this card is the ability to convert to Membership Rewards Frequent Traveller participants. You can transfer the points earned on this card to six airline programs and two hotel programs. With minimum point values of 1 cent for Marriott, 1.5 cents for Aeroplan and British Airways you are looking at returns of 3 to 4.5% for that 3x points earning on your dining! But that's a minimum - there are so many occasions where you can get 3, 4 or even more cents per points with this programs that puts the Platinum Card's return easily into double digits!
Current Membership Rewards Transfer partners and the transfer ratio:
Air Canada Aeroplan - 1 to 1
Air France KLM Flying Blue - 1 to 0.75
British Airways Executive Club - 1 to 1
Cathay Pacific Asia Miles - 1 to 0.75
Delta SkyMiles - 1 to 0.75
Etihad Airways Guest - 1 to 0.75
Hilton Honors - 1 to 1
Marriott Bonvoy - 1 to 1.2
Features and Benefits
American Express Global Lounge Collection
This is the Mack daddy card of lounge access with many different options providing access to over 1,300 business class lounges in over 130 countries around the world. The lounge access benefits for the Platinum Card are as follows
Canadian Platinum Lounge benefit: Free of charge access for the cardmember + Spouse and 2 children or one guest participating lounges in Canada. Those lounges are Executive Lounges by Swissport.
Access to Delta Sky Clubs for no charge for the cardmember who are holding an Delta flight boarding pass. Additional guests must pay an entrance fee

Access to American Express Centurion lounges and Centurion Studio lounges for the cardholder and 2 Guests
International American Express Lounges: Cardmembers have complimentary access to American Express Lounge locations and eligible guests (guest access varies by location)
Plaza Premium Lounges: Cardmembers have complimentary access to Plaza Premium Lounges along with one guest

Priority Pass Prestige Membership with one guest included per lounge visit. All additional guests are US$32 (see Priority Pass above)
Airspace lounges: Cardmembers have complimentary access along with 2 Guests
Escape lounges: Cardmembers have complimentary access along with 2 Guests
The lounge access is good for not only the primary cardholder but also for additional/supplementary Platinum Cards.
Tip: Use Amex's Lounge search to see which lounges you can access with the Platinum Card.
Annual Travel Credit
Upon approval for the card and then each year on your card's anniversary date you will receive a $200 travel credit that can be used towards any single travel booking of $200 or more charged to Card with American Express Travel Online or through the Platinum Card Travel Service at 1-800-263-1616.
Automatic Hotel and Car Rental Elite Status
The Platinum Card from American Express comes with the following Elite Status benefits:
Hilton Honors Gold Elite Status
Marriott Bonvoy Gold Elite Status
Radisson Rewards Gold Elite Status
Hertz Gold Plus Rewards Five Star Status
To receive these automatic elite statuses you'll have to log in to your Amex account and register for them. These hotel status levels provide more points on your stays in the respective loyalty programs and depending on which brand you are staying at potential room upgrades, welcome amenities, food & beverage credit and many more benefits. Considering you need to stay in the range 20 to 30 nights to earn status organically with these hotel programs you can see why this can be considered a big benefit!
You can then use that status gained from the Platinum Card to apply for status matches in other programs. We have a complete article on how you can do that:
Recommended reading: How to maximize the elite status benefits from The Platinum Card from American Express
The Hertz status provides 25% bonus points on Hertz rentals, a one car class upgrade and expedited rental service.
Fine Hotels & Resorts + The Hotel Collection
The Fine Hotels & Resorts program provides complimentary benefit at over 1,100 high end properties worldwide when you book via American Express Travel with your Platinum Card. Those benefts include a unique property benefit (typically a food and beverage, spa credit or general hotel credit), daily breakfast for two, guaranteed 4pm late check-out. room upgrade upon arrival when available, In-room Wi-Fi and Noon check-in, when available.
The Hotel Collection from American Express provides up to a $100 USD hotel credit at participating properties and a room upgrade, when available. This is available at over 600 participating hotels and resorts in over 30 countries worldwide, when booking a minimum of two consecutive nights with American Express Travel.
International Airline program
With the Platinum Card from American Express discounts are available on the base fare for qualifying International First, Business, and Premium Economy Class tickets with participating airlines. Those airlines as of July 2022 are as follows:


To receive the discount you have to book with Platinum Travel or online at American Express Travel and pay in full with your American Express Card. Even though IAP states the discount is for Premium Economy and up, when you book with WestJet, you get the discount on any WestJet fare classes except Basic Economy. So if you book Economy 'Econo' fares and up with WestJet you will always save some extra cash by booking via American Express Travel and using your Platinum Card. Read our redemption story below on how we used our Platinum Card to save on our WestJet flights.
Recommended reading: Redemption Stories: Saving $3,800 on last minute flights with the Platinum Card from American Express

Toronto Pearson International Airport Benefits
If you depart from Toronto Pearson International Airport the Platinum Card from American Express provides benefits such as a waived fee for Valet parking, a 15% discount on parking and the major benefit here: access to the Pearson Priority Security Lane in Terminal 1 and Terminal 3 so that you can bypass the long security lines!
American Express Experiences
As with all American Express Cards the card comes with American Express Experiences which includes Front Of The Line® Advance Access, Front Of The Line® Reserved Tickets, Front Of The Line® E-Updates, Special Offers & Experiences for all Cardmembers and Social Access for all Cardmembers.
There are also By Invitation Only event packages curated exclusively for Platinum Cardmembers
Amex offers
As with all American Express Cards the Platinum Card from American Express receives Amex Offers. These exclusive limited time offers sent out to cardmembers to receive statement credits or bonus points for using their card at select merchants. Depending on your shopping habits these offers alone can provide enough savings in a year to cover the annual fee on the card if not more! You can learn more about this feature in Rewards Canada's Guide to American Express Canada 'Amex Offers'
NEXUS Statement Credit
One of the more recent additions to the Platinum Card from American Express is a NEXUS Statement credit. You can recaive up to $100 CAD in statement credits every four years when NEXUS application or renewal fees are charged to your Platinum Card.
Insurance
The Platinum card comes with a very strong insurance package that includes the following:
Out of Province/Country Emergency Medical Insurance (For under age 65)
Trip Cancellation Insurance
Trip Interruption Insurance
Flight Delay Insurance
Baggage Delay Insurance
Lost or Stolen Baggage Insurance
Car Rental Theft and Damage Insurance
Hotel Burglary Insurance
$500,000 Travel Accident Insurance
Purchase Protection Plan
Buyer's Assurance Protection Plan