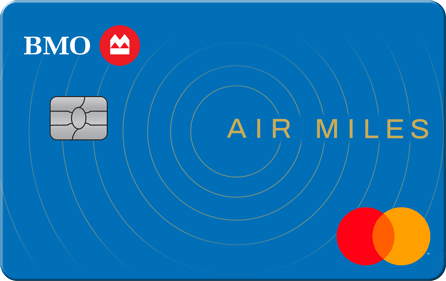 The BMO AIR MILES Mastercard was the first AIR MILES co-brand card to receive the Rewards Canada review treatment! It was a constant top 5 finisher in our annual Top Travel Rewards Credit Card rankings for Travel Points Cards with no annual fee for many years but that shifted when we made a new category for coalition co-brand cards which this card falls into now. Don't be swayed however if you don't see the card on our charts as it is one of the best no fee AIR MILES cards inthe market

Overview
The BMO AIR MILES Mastercard is one of a handful of no fee BMO credit cards for the AIR MILES collectors. It is perfect for those just starting out with the program or with credit cards in general. It also a good option for those looking for an additional card for their credit card portfolio that carries no annual fee. The card makes it easy to earn AIR MILES at an average rate and comes with a decent sign up bonus.

Sign up Features
The BMO AIR MILES Mastercard currently offers a 800 AIR MILES Reward Miles bonus when you are approved for the card. We value a AIR MILES Reward Mile in the $0.11 to $0.15 range when redeeming for travel which means the sign up bonus translates to rougly a $88 to $120 value.


Costs
The BMO AIR MILES Mastercard has no annual fee for the primary or secondary cards. The interest rate on the card is 19.99 % for purchases and 22.99% for cash advances which is in line with most of the cards at this level. They are running a limited time offer of a 1.99% introductory interest rate on Balance Transfers for 9 months*. 1% fee applies to balance amounts transferred*

Earning
The BMO AIR MILES Mastercard earns 2 AIR MIlES Reward Mile for every eligible $20 at participating AIR MILES Partners an then 1 Mile for every $20 spent everywhere else. The card offers a couple of Reward Mile accelerators as well, you'll earn more miles on purchases at Shell, National Car Rental and Alamo Rent A Car.
Redeeming
Being a co-brand card, redemption is actually done via AIR MILES not via BMO. This is where the relative strength of the AIR MILES program comes through to make the BMO AIR MILES Mastercard worthwhile for some people as they can earn even more AIR MILES on top of credit card spend via the vast amount of shopping partners that the program has. AIR MILES offers numerous redemption options but of course based on the name, the primary redemption option which most people dream about are flights. Reality is however that roughly only 10% or less of actual redemptions in the program are for actual flights. The remainder are for other travel related redemptions (hotels, car rentals, attraction tickets), merchandise or AIR MILES Cash. The majority of AIR MILES Flight redemptions are on Air Canada or WestJet however they also offer flights on American Airlines, United Airlines, Alaska Airlines, Lufthansa, Alitalia, Calm Air, Canada North and Central Mountain Air at their lowest redemption levels. Other airlines are available but cost more AIR MILES than what is published on the AIR MILES website. Redeeming AIR MILES Reward Miles for flights nets an average return of 11 to 15 cents per AIR MILE Reward Mile. If you look at what this card's base earn rate of 1 Reward Mile for every $20 means you'll achieve a rate of return of 0.55% to 0.75%.

AIR MILES also lets you redeem for lots of other travel options like hotels, car rentals, cruises and more where you pay with miles and then cash for taxes/fees. Hotels seem like a so-so deal but we have found some really good deals for car rentals. . Then you have non-travel redemptions and this is what AIR MILES seems to have become more famous for as of late. From merchandise to tickets for attractions there isn't much that you can't redeem for!

Finally you have the AIR MILES Cash option. This is different from the redemptions above which are called AIR MILES Dream Rewards. When you log into your AIR MILES account you can set a percentage of all the reward miles you earn to go into your Dream Balance and your Cash balance. AIR MILES Cash works just like cash at participating AIR MILES sponsors like Sobeys, Safeway, Rona, Shell and more. The Cash option has a set redemption value of $10 for 95 AIR MILES Reward Miles. As you can see the Cash Option has a lower rate of return based on our numbers as those same 95 miles would get you on average $12.35 towards a flight.

Features and Benefits
The BMO AIR MILES Mastercard offers only two insurance benefits. Extended warranty protection and purchase protection. These two benefits are standard on most cards whether or not they have an annual fee. Extended warranty extends the manufacturers warranty for items bought with the card while purchase protection reimburses you for items you purchase on the card that may become damaged, lost or stolen within 90 days of purchase.


What is good about this card
The best thing about the BMO AIR MILES Mastercard is the current sign up bonus of 800 AIR MILES Reward Miles. Since the card has no fee you are essentially getting those miles for free.

The accelerated earn rate at AIR MILES partners is nice to have as well as miles accelerators for Shell, National and Alamo..


What is not so good about this card
The regular earn rate of only 1 AIR MILES Reward Miles for every $20 is on the low for a no fee card. Ranging between 0.55% and 0.75% per dollar spent means you could be losing out as other no fee travel cards that earn up to 1.75% while others earn a flat 1%. Granted, BMO is taking into account that you will be double dipping and earning AIR MILES Reward Miles at AIR MILES sponsors by swiping your loyalty card but nothing stops you from doing that with any of the other credit cards as well.

The features and benefits of this card are somewhat weak as well as more and more no-fee cards have been adding things like CDW Car Rental Insurance, Travel Accident Insurance and more.
Conclusion
For newcomers to the miles and points game, students, first time credit seekers or those looking for a no-fee AIR MILES card to add to their credit card portfolio the BMO AIR MILES Mastercard can be the right choice. The nice sign up bonus that comes at no charge to you is the best part of this card. If you are neck deep in the AIR MILES program but have an American Express AIR MILES card as your primary card than this card can make a good back for those merchants that don't accept Amex like Costco. However if you have well established credit, travel at least once a year, or are looking to rake in rewards as fast as you can there are other options that are better for you. Whether it is an AIR MILES card like the BMO AIR MILES World Elite Mastercard, the American Express AIR MILES Platinum Credit Card or roughly 50 other credit cards from other travel reward programs out of the 80 plus in our market.
Related Links:
BMO AIR MILES Mastercard on bmo.com
Rewards Canada's All Travel Rewards Credit Card Comparison including the BMO AIR MILES Mastercard
Rewards Canada's Travel Points Only Credit Card Comparison including the BMO AIR MILES Mastercard

Other cards to consider if you are looking at this card:
American Express Air Miles Platinum Credit Card
BMO Air Miles World Elite Mastercard
BMO IGA AIR MILES Mastercard
BMO Sobeys AIR MILES Mastercard
mbna Rewards Platinum Plus Mastercard
RBC Rewards+ Visa Card
Scotiabank American Express Card


Continued reading and related articles:
Talk to us!
Care to comment? Do you agree or disagree with us? Tell us what think about the BMO AIR MILES Mastercard in the comments section below or join the conversation on Facebook and Twitter!
LATEST TOPICS & NEWS
REWARDS CANADA'S TOP FEATURES
SHARE THIS FEATURE


Rewards Canada can be found on the following social media channels:







Disclaimers:
Our goal at RewardsCanada.ca is to present readers with reliable financial advice and product choices that will help you achieve your financial goals.
Rewards Canada receives compensation from some companies issuing financial products, like credit cards and bank accounts, that appear on this site.
Unless a post is clearly marked "Sponsored", however, products mentioned in editorial articles and reviews are based on the author's subjective assessment of their value to readers, not compensation. For full details and current product information click the Apply now link / learn more link.

Sponsored advertising. The Toronto-Dominion Bank (TD) is not responsible for the contents of this site including any editorials or reviews that may appear on this site. For complete information on this TD credit card, please click on the Apply Now button.