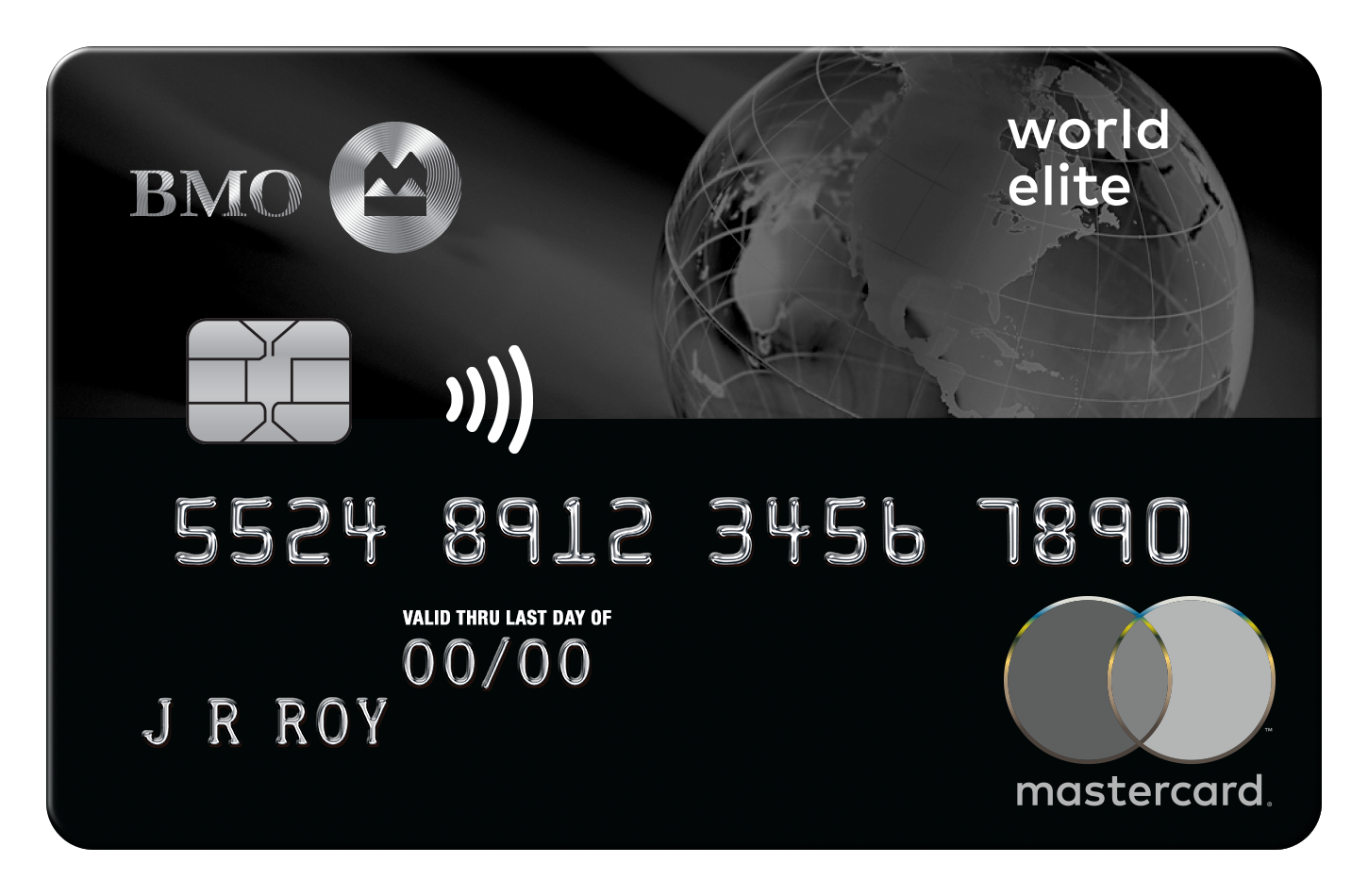 In the middle of March 2010 BMO came out with a new Mastercard offering to compete with the Visa Infinite cards issued by other banks in Canada. Until then BMO has only offered Gold or Platinum versions of the various Mastercards they issued. One can assume BMO came out with this card for several reasons. The first is that BMO needed to keep its higher end clientele from jumping ship from their current line of cards to the premium Infinite cards offered by banks like CIBC and RBC. The second reason would be to try and pull some of the current Visa Infinite cardholders away from those other banks, particularly if they are BMO clients to start with.
On January 15, 2018 the card underwent some changes which are reflected in this update of the review.
Overview
The World Elite tag is Mastercard's premium card offering much like Visa's Infinite/Signature branding and is a step up from the World Mastercard. To the best of our knowledge, the BMO World Elite was the first World Elite card offering in Canada. With World Elite comes extra benefits and enhancements like Concierge service, extra insurance benefits, exclusive concert/theatre packages and more. These features are what bring the card in-line with the other premium cards in Canada. Much like the RBC Avion Visa, the BMO World Elite Mastercard allows you to redeem for any travel in any class (flights, hotels, cruises etc.) via BMO's own travel agency.

Costs & Sign up Features
The BMO World Elite comes with a heftier $150 primary card annual fee versus the average $120 for many comparable cards including Visa Infinite cards. Currently the card has a limited time offer where you will have the annual fee waived in the first year. The card offers a 35,000 point welcome bonus after spending $3,000 on the card in the first three months which is worth $250 in travel with the newly revised redemption rate of 140 points = $1. Supplementary cards run $50 which is the same for almost all of the Infinite/Platinum/Gold travel credit card offerings from other banks. The interest rate on the card is 19.99% which is in line with its competitors but most people who have this card will be paying off their monthly balances in full.

Earning
The card earns BMO Rewards points and earns those points as follows
3 Points per dollar spent on travel, dining and entertainment purchases (up to $50,000 annualy)
2 Points per dollar spent on all other purchases
Redeeming
On the redemption side, BMO originally made it tough to find out what the redemption ratios were for travel unless you are an actual cardholder. This was changed in 2013 when they set the redemption rate at 100 points = $1 towards travel. However this changed once again on January 15, 2018 when the card and rewards program were revamped. With the previous 100 points = $1 and a straight 2 points per dollar earned it was super easy to figure out the card provided a 2% return on your spending (prior to September 2013 it was 1.9%) Now with the new program it takes 140 points for that $1 in travel redemption and with modified earn rate of 3 points per dollar for travel, dining and entertainment purchases your return becomes 2.14% however the remainder of your spending at 2 points per dollar only provides a ~1.43% return. Points have to be redeemed via BMO Rewards unlike some of its fiercest competition that allow their cardholders to make their own bookings with any travel provider and redeem points against those charges. There does not seem to be a minimum amount of points that you need to redeem with BMO Rewards at one time so this card can be quite advantageous in redeeming for seat sale fares. As an example, flights between Toronto and Ottawa or Montreal often dip below $50 each way and come in under $200 with taxes which means, you could redeem as little as 28,000 points for the flights (or $9333.33 in spending) When redeeming with this card you want to try to do it online as BMO Rewards will charge you for bookings made over the phone.

Points can also be redeemed for many other non-travel items and even for any purchases made on the card (the latter comes in this month) as we have now seen from other cards like the Scotiabank Gold American Express Card, American Express' Membership Rewards and mbna Rewards World Elite Mastercard. Like most programs focused around travel rewards, when you redeem for non-travel items your rate of return drops. For example when redeeming BMO Rewards points for financial product contribution you have to redeem 15,000 for $100 which means earn a maximum return of 2% versus the potential of 2.14% for travel.
Features and Benefits
The BMO World Elite comes with a whole host of features and benefits, the majority of which are standard for cards of this level. It has the standard Travel Accident, Flight Delay and Car Rental insurance. On top of that it has Trip Cancellation and Interruption insurance as well as a really good out-of-province emergency medical insurance benefit.

The card also offers free Mastercard Airport Experiences Provided by LoungeKey membership which allows access to over 1,000 business class lounges Worldwide. Normally the pass costs US$99 per year plus your entry fee into each lounge of US$27. The difference with the BMO World Elite is that it also gives you four complimentary lounge access passes valued at a total of US$108.

Related: Rewards Canada's Guide to Business Class Lounge Access

What is good about this card
By far the best feature of this card is the lounge access benefit of covering the annual membership fee and giving you 4 free lounge visits. This provides well over $200 in value but you'll want to be sure you travel at least once per year via an airport that has LoungeKey lounges to make sure you can take advantage of them!

The earn rate for dining, entertainment and travel is pretty good at 2.14% but you have to look at the redemption side to see if this rate is worth it for you. The
The sign up bonus is another strong point, 35,000 points is worth a minimum of $250 towards travel which is really decent especially when the card is running a first year free promotion.

The card also has a very strong insurance package including trip cancellation and up to 21 days of out of province emergency medical coverage.

What is not so good about this card
The fact you have to redeem points via BMO Rewards is probably this cards biggest downfall. Other cards, that provide equivalent or even higher returns let you book travel with whomever you want. Add into this the fact that many of readers have said that BMO Rewards customer service when booking travel isn't very good or that their online booking engine doesn't find the best deals make us a little leary about ranking it higher in our annual travel rewards credit card rankings.

Also the earn rate outside of dining, entertainment and travel is lower than many of this cards competitors so you really have to weigh the benefits outside of points to see if it is worth earning a little bit less with this card. Finally the annual fees are higher than many comparable cards, $150 for the primary card and $50 for the supplementary card put this card anywhere from $30 to $80 more expensive than comparable cards. Granted the card does offer the first year free during limited time promotions or you can have the fee waived if you have a higher end bank account with BMO.
Who should get this card
Consumers who bank at BMO and want to keep all financial products with one bank (especially if your accounts give you that card for free
Consumers who spend a lot on Dining, Entertainment and Travel and are willing to deal with BMO Rewards for travel bookings
Consumers who want a strong insurance package and are willing to take on lower rewards for it
Conusmers who travel at least once per year and can make use of the Priority Pass lounge benefit without having to shell out higher annual fees for other cards that have a similiar benefit.

Conclusion
Overall this card lost a little lustre early in 2018 when the BMO Rewards program was revamped. Unless you can funnel all your spending in the three categories that earn 3 points per dollar you have a lot of options out there that earn better rewards and let you have a lot more flexibility with how you book travel. The card continues to be strong however on the benefits side with insurance package and Priority Pass option which really make the card pay for itself. Throw in the limited time offerings of the first year free and really you could just get the card for the sign up bonus (that's $250 for free) and the Priority Pass benefit ($200+ for free), use them up and then move on to another card.



Related Links:
BMO World Elite Mastercard on BMO.com
Rewards Canada's Most Popular Credit Cards Comparison including the BMO World Elite Mastercard
Rewards Canada's Travel Points Credit Cards Comparison including the BMO World Elite Mastercard
Other cards to consider if you are looking at this card:
American Express Cobalt Card
American Express Gold Rewards Card
mbna Rewards World Elite Mastercard
National Bank of Canada World Elite Mastercard
Royal Bank Visa Infinite Avion
Scotiabank Gold American Express
TD First Class Infinite Visa

Talk to us!
We would like to hear your thoughts on the new BMO World Elite Mastercard by commenting below!


Rewards Canada can be found on the following social media channels: