Once you click through the city of your choice you'll be presented with a list of destinations that Aeroplan knows there is availability for travelling to in the next 14 days on the Fixed Mileage Redemption level: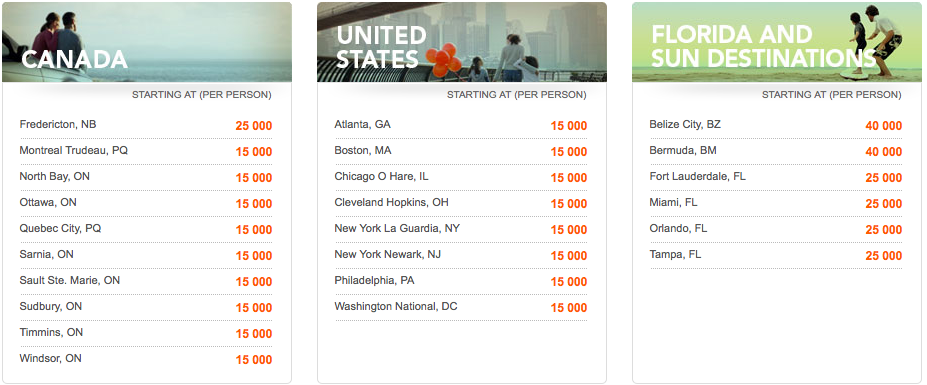 Then you can go search for the destination you like to see what flight options are available. Most of the Last Minute options are typically within North America but as you can see some dream destinations like Bermuda do show up!

With AIR MILES click on the Dream Rewards option under Use Your Miles on the Airmiles.ca site then once on that page click on the Travel tab. Slightly below and to the left of AIR MILES' booking widget you'll be presented with the following last minute options: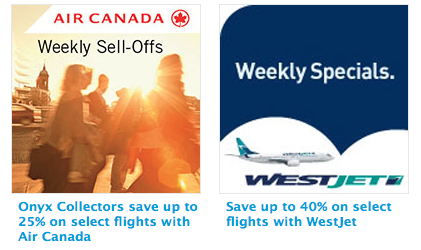 Click on these options to see what last minute flight destinations are available. AIR MILES offers typically run longer than Aeroplan's as they can be valid for up two months. AIR MILES' differs in that their offers provide actual mileage discounts, so not only are you potentially saving money by using miles for these options, you are in fact also using less miles!
Finally many frequent flyer programs release award space on flights last minute when they see flights aren't selling out. For example, Lufthansa's Miles & More program typically doesn't release first class award seats until 14 days before the departure date. So if you have flexibility you can travel to Europe in style without having to book nearly a year ahead.
Event and Day Passes:
Looking to take the family to an amusement park or trip to the zoo? Programs like AIR MILES, Aeroplan, and American Express Membership Rewards offer great family day passes for a reasonable redemption values to attractions across the country. From the Vancouver Aquarium with Aeroplan, amusement park tickets with AIR MILES to simply going out to a movie with Cineplex passes from Membership Rewards, there are numerous options for you to use points to save you money on these 'staycation' ideas.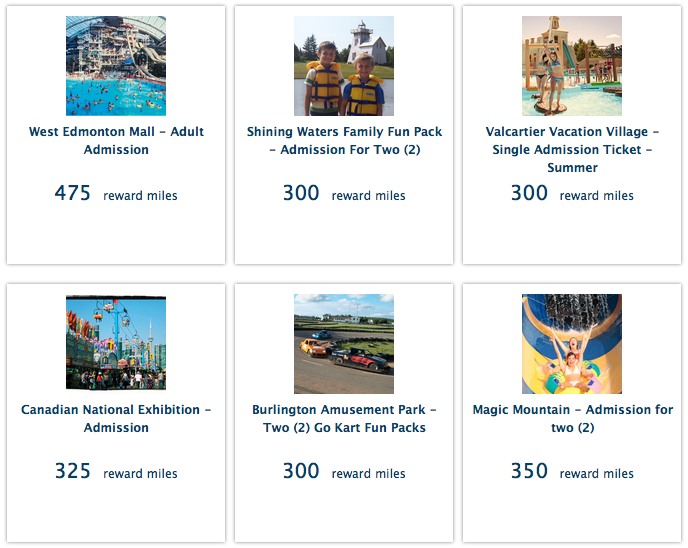 Hotel Stays:
In many parts of Canada you only have to drive an hour or two from your hometown to feel like you are in a total different country. You don't need to fly somewhere to make it feel like your on vacation, simply by staying at a nice hotel in the mountains can make dreams come true. Even staying in your hometown, you can try beating the heat by the pool of your favorite hotel. Many hotel programs if they show they have regular rooms available, you'll be able to redeem your hotel frequent guest points from programs like Best Western Rewards, IHG Rewards Club or Marriott Rewards right up to the day you want to stay. Some like IHG Rewards Club have offers that can make those rewards come at a great discount. They run a promotion called PointBreaks which offers up rooms at select hotels across the globe for only 5,000 points per night. When you compare this to the regular requirement of 10,000 to 50,000 per night, you can see the potential in it!

Kelowna is popular summer getaway spot for many living in Western Canada, and an example of the PointBreaks has the Holiday Inn West Kelowna for only 5,000 points versus $126:



Related: Rewards Canada's Guide to Canadian Hotel Frequent Guest Programs
Car rentals:
Road trip anyone? Rent a minivan and take the family on a road trip to the closest coast. Nothing like the sweet smell of the sea to put you in a summer vacation state of mind. And some of the best point deals can be found on extended car rentals. In our experience we looked at some last minute car rental options with AIR MILES that provided huge value. In fact the dollar return per point was higher than what you would get with using those same Reward Miles for a flight. The other option is not to go the points route but walk up or call up a local car rental office the morning you want to travel, they usually have the discretion to offer great rates on a car that otherwise would just sit in their lot for that day or weekend.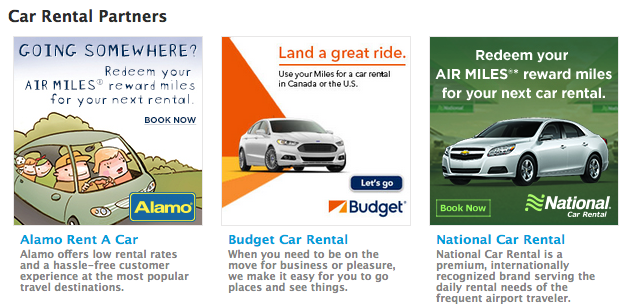 Use Points for that last minute travel after you come home
Finally there are some proprietary credit card programs that let you redeem points for travel expenses after you have actually travelled. So if is 10am on Saturday morning and you want to get the heck out of Dodge and not waste anytime online trying to find hotels or flights that you can use your points at you can use one of these credit cards to buy those services. Doesn't matter if you book online or simply drive five hours and walk up to a hotel and book it right there and then. When the charge shows up on your account you go online or call up customer service and redeem your points against that charge. The beauty in this option is that you are not limited to a specific hotel, car rental company or even airline. Whatever deal you find you can book it. In fact you can take any of the options listed above (except for attractions perhaps as some may not appear as a travel charge) and use these types of points for them.

Rewards Canada has great summary of these cards and programs in our feature called Not all Travel Points and Hybrid Credit Cards are created equal are created equal which lists the cards that allow you to do this and also how long you have after the charge posts to redeem your points for it.



Care to comment on our Last Minute Travel Tips using Points & Miles? Have you taken advantage of any these options yourself? Share you views and experiences by commenting below or join the conversation on Facebook and Twitter!

Rewards Canada can be found on the following social media channels: