Share this feature:
---
---
---
LATEST TOPICS & NEWS
---
REWARDS CANADA'S TOP FEATURES
---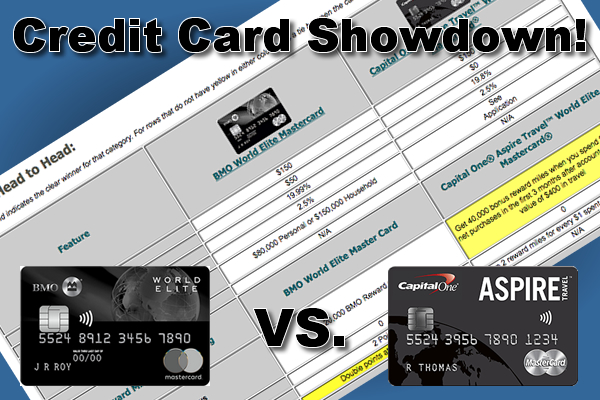 A few weeks ago we released a case study which has proved to be extremely popular and inadvertently brought us to this feature! The case study brought about some questions not in the comparison of what was actually presented in it but rather in two of the fixed return travel cards and how they fare against each other. This has lead us to resurrect our Credit Card Showdown feature which has been dormant for several years now!

Past credit card showdowns:
The two cards in question are the BMO Rewards World Elite Mastercard and the Capital One® Aspire Travel™ World Elite Mastercard®. Questions arose in the comments of the Case Study and also via email to us. What you'll see in this showdown is that the cards are evenly matched in many regards but there are several categories where one card comes out ahead of the other that makes it the clear winner in this showdown.

Annual Fees / Sign Up Bonus

In the straight line comparison below you'll see that both cards have a primary card fee of $150 per year. No clear winner there however when you look at supplementary cards, the BMO card charges $50 per card whereas Capital One® does not charge a fee for supplementary cards which puts it ahead.

For the sign up bonus, this is where there is a big difference, Capital One's offer is 40,000 miles which equates to $400 in travel whereas BMO offers 20,000 points or $200 in travel. Even if and when the BMO card offers up their first year free offer on this card you are still $50 behind Capital One®.
Interest Rate:

Capital One has the slight edge here although 19.8% to 19.99% is really negligible.

Now onto the primary factors people get travel rewards cards, the rewards and the benefits.
Point Earning & Redemption
Points earning is simple on these cards. The BMO Rewards Word Elite MasterCard awards 2 points per eligible dollar spent while the Capital One® Aspire Travel™ World Elite Mastercard® awards 2 miles per dollar. Either way on either card that equates to a 2% return on your spending when you redeem for travel.

Seems like a tie right? Unfortunately not when it comes to the redemption. Capital One trumps BMO here. The BMO Rewards card requires you to redeem your points via BMO Rewards, either online or by phone. We have learned anecdotally from our readers and even our contract PR guy that BMO Rewards doesn't always find you the best travel deals that you can find elsewhere. It typically takes numerous calls to the rewards centre to have them find the same offers elsewhere. As well since you are redeeming your points at the time of booking (partial or full redemption is offered) you have no option to redeem points after the fact. What does that mean? First of all, Capital One allows you to buy your travel anywhere. That means you can book that good deal you find on one travel website and not have to deal with calling in to a rewards centre to have them try to find the deal. You also don't have to have all the points or no points at all when you book as you have up to 90 days after the travel charge posts to your account to redeem points against it. That's right, that amazing deal you just booked for $350 is purchased on your Capital One® Aspire Travel™ World Elite Mastercard® for the straight $350. That charge will show up on your account within a day or two and then you can decide if you want to redeem points for it all the way up to 90 days after. You can redeem 35,000 points if you have that amount to cover the full charge or you can redeem 5,000 points for a $50 credit. Doesn't matter what you chose, it's all up to you.

Further Reading: Not all Travel Points and Hybrid Credit Cards are created equal

Benefits
The last factor to look at when comparing these cards are the benefits that come with the cards. This section is easy as both cards are almost equal except for a couple stand out categories. The first category that stands out is Travel Medical Insurance, both cards are comparable for those aged up to 64 years however for those 65 and up the Capital One card takes the cake. Capital One also offers price protection which the BMO card does not. The one area that the BMO Rewards Word Elite MasterCard does stand out is business class lounge access. The card waives your annual fee on a basic Priority Pass membership which is worth US$99 (although you can get it cheaper through our 20% off special offer) and provides four free lounge access passes each year you have the card. Each pass is valued at US$27 each, combine that with the card covering the annual fee and this benefit is worth US$207 or over C$250.
Further Reading: Rewards Canada's Guide to Business Class Lounge Access
Conclusion
Based on the comparison chart below and our research over the years the clear winner in this comparison which we hope answers everyone's questions from the case study is the Capital One® Aspire Travel™ World Elite Mastercard®. The main sticking points that keep the BMO Rewards Card from coming out on top are the supplementary card fee, the lower sign up bonus and the restrictions on booking travel only via BMO Rewards. True, the Priority Pass can provide decent value but lounge access isn't for everyone. In the first year of card ownership the Capital One card's sign up bonus almost makes up for that value difference but if your primary goal is that Priority Pass membership and the lounge visits then BMO is the way to go. In every other situation we have to clearly pick the Capital One® Aspire Travel™ World Elite Mastercard®


The Cards Head to Head:
Yellow background indicates the clear winner for that category. For rows that do not have yellow in either column it is a tie between the cards.
Feature

Annual Fee

$150
Limited Time: $150 annual fee waiver in the first year*

$150

Supp. Card Fee

$50

$0

Interest Rate

19.99%

19.8%

Foreign Exchange Transaction Fee

2.5%

2.5%

Minimum Income

$80,000 Personal or $150,000 Household

See
Application

Minimum Credit Limit

N/A

N/A

Reward Miles/Points Earning

BMO World Elite Master Card

Capital One® Aspire Travel™ World Elite Mastercard®

Welcome Bonus

20,000 BMO Reward points

Get 40,000 bonus reward miles when you spend $1,000 on net purchases in the first 3 months after account opening – a value of $400 in travel

Renewal Bonus

0

0

Earning Ratio

2 Points/$

Earn 2 reward miles for every $1 spent – on all purchases

Bonus Features

Double points at National Car Rental

N/A

Redemption/Exchange Options

BMO World Elite Master Card

Capital One® Aspire Travel™ World Elite Mastercard®

Miles/Points deposited to

BMO Rewards

Capital One®

Travel Agency Redemption Value

100 points = $1

100 points = $1

Exchange Options

N/A

N/A

Redemption Centre

BMO Elite Rewards

Any Travel Provider

Benefits

BMO World Elite Master Card

Capital One® Aspire Travel™ World Elite Mastercard®

Common Carrier Travel Accident Insurance

up to $500,000

Yes

Flight Delay Insurance

Yes

Yes

Delayed, Lost, Stolen and/or Damaged Baggage Insurance

Yes

Yes

Trip Cancellation Insurance

Yes

Yes

Trip Interruption Insurance

Yes

Yes

Travel Medical Insurance

21 days up to 64 years old
No coverage for 65+

22 days up to 64 years old
8 days for 65+ years old

Auto Rental/Loss Damage Insurance

Yes

Yes

Purchase Protection

Yes

Yes

Price Protection

No

Yes

Extended Warranty Plan

Yes

Yes

Free Companion Air Ticket

No

No

Business Class Lounge Access

free membership in Priority Pass + four complimentary VIP lounge visits per membership year

No

Priority Check In

No

No

Hotel Burglary Insurance

No

No

Travel Concierge Service

Yes

Yes

Enhanced Hotel/Dining Services

Yes

No

Overlimit Extended Purchasing

No

No

Link to Apply

Notes:

N/A

N/A
Related: BMO World Elite Mastercard Review / Capital One® Aspire Travel™ World Elite Mastercard® Review

Talk to us!
What do you think of this showdown? Do you agree with it? Do you hold either card and are thinking of switching now that you see them head to head? Tell us in the comments section below or join the conversation on Facebook and Twitter!

Rewards Canada can be found on the following social media channels:










"The interest rates, fees, rewards details, benefits and other details of the Capital One product(s) described in the article may have changed since the time of publication. Please consult the product information pages on the Capital One website for accurate product details. In the event of any conflict between the product details in this article and the Capital One website, the details on the Capital One website shall prevail."