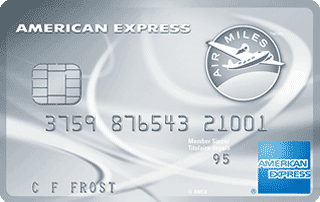 The strongest earning of all AIR MILES credit cards, the American Express®  AIR MILES* Platinum Credit Card has been Amex's mainstay for this co-brand relationship for well over 10 years. The card seems to have fallen of the radar of many Canadians over the past few years however. This not due to the anything American Express has done but rather their partner AIR MILES. The AIR MILES program went through the big expiring miles debacle in 2016 and for the past couple of years have been losing major partners left, right and center. Despite this the program is still a major player in the Canadian loyalty industry with a large repertoire of reward options and no card can get you to those rewards faster than this card.
The review of the American Express AIR MILES Platinum Credit Card is broken down into the following sections:
Overview
The American Express AIR MILES Platinum Credit Card is a card targeted towards Canadians who want to earn lots of AIR MILES on their everyday spending. It is one of three credit cards for the AIR MILES program that American Express offers. The Platinum falls in between the American Express AIR MILES Credit Card and the AIR MILES Reserve Credit Card and takes hints from the ever famous Cobalt Card with its earn rates.

Costs & Sign up Features
The American Express AIR MILES Platinum Credit Card has an annual fee of $120. This was pretty standard for a premium card but is now actually on the lower end of fees for a premium card. Additional cards (aka supplementary cards) are $50 per year.
The standard welcome bonus on the card offers 2,000 AIR MILES Rewards Miles and rarely sees increased welcome bonus offers.

Earning
The card earns AIR MILES Reward Miles with excellent accelerated earn rates for popular everyday spending and a strong base earn rate for all other purchases:
Earn 1 Mile for every $5 in Card purchases, up to $30,000 annually, on eligible food & drinks, (such as eligible restaurants, coffee shops and stand-alone grocery stores), and eligible gas & transit (such as local commuter transportation including ride sharing services and taxi) in Canada.
Earn 1 Mile for every $10 in Card purchases everywhere else.

To see where you can earn these multipliers be sure to check out our American Express Cobalt™ Card Confirmed Multiplier Locations as many of those merchants will be the same for the AIR MILES Platinum Credit Card.
Mile Valuation Chart
We value AIR MILES Rewards Miles at 10.5 cents on average. This is the rate you get when you redeem Cash Miles (95 miles to $10) and travel can vary with flights coming in equal to, higher or lower than that. Car rentals can come in better than that and redeeming for vacation packages with Red Tag Vacations works out to 11 cents per mile.
| Spending Category | Earn Rate | Average Rate of return |
| --- | --- | --- |
| Eats / Drinks / Gas / Transit | 1 Mile per $5 spent | 2.1% |
| All other spending | 1 Miles per $10 spent | 1.05% |
Redeeming
There are multiple redemption options in the AIR MILES program which include travel, cash back, merchandise, and more.
Travel
This redemption category underwent big changes in 2021 when AIR MILES revamped their flights program and as such technically changed all the co-brand cards including the BMO AIR MILES Mastercard. There were both positive and negative to the changes to the flight program. On the positive side was opening up the ability to redeem miles for flights worldwide, that is you can now redeem for flights that don't originate in Canada. Want to fly from Los Angeles to Miami? You can now redeem your miles for those sort of flights. As well you can now redeem miles for all fare classes - not just economy. You can use your miles for economy, premium economy, business and first class flights. This all comes with more availability, the old version of AIR MILES flights was limited to a certain amount of seats per flight on select airlines, now there are more airlines available and if you can pay cash for a seat you can redeem miles for it.
On the negative side was the change to dynamic pricing. That is, the fixed mileage amounts for travel were done away with and now the required miles closely follow the cash price of a ticket. This change meant a lot of the outsized value members used to be able to extract from the AIR MILES program was gone. In the old version of AIR MILES flights we valued each mile at 11 to 15 cents each when redeemed for flights. Many times you could exceed 15 cents and even get value in the 20 cents or higher range. Now with the revised program we value them between 9 and 10.5 cents. AIR MILES told us all flight redemptions should get at least 10.5 cents in value however in my experience in looking for flights it typically falls below that. On occasion we have seen some flights provide value above 10.5 cents but not by much and they have been few and far between. That was the trade off - the new flights program provides more availability and flexibility for a lower value per mile.
In general however I feel most collectors are happy with the changes due to the increased flexibility in the new flights program.
You can redeem AIR MILES Reward Miles for vacation packages through AIR MILES' partnership with Red Tag Vacations and this is one of the stronger travel redemption options in the program. This partnership allows you to redeem 909 miles for $100 (and multiples thereof) towards vacation packages booked via Red Tag Vacations. That works out to 11 cents per mile of value which bumps up the rate of return on the American Express AIR MILES Platinum Credit Card to 1.1% to 2.2%.
You can also redeem AIR MILES Reward Miles for hotels and car rentals. Both of these have varying redemption rates where you can see values below that 10.5 cent average for Cash Miles but you can also see values higher than that. In the past some car rental redemptions provided big returns of 20 to 30 cents per mile and in one of my latest searches on June 7, 2022 I found a value of 14 cents per mile for a week long rental in Los Angeles.
Cash back
The Cash Miles option as AIR MILES calls is set in your AIR MILES account so that you can redeem miles for a cash discount at select AIR MILES partners in store. The rate is 95 miles for a $10 credit. There are also some eVoucher options that allow you to redeem at the same rate (or multiples of that 95 miles to $10) and some of those partners include DoorDash, Spotify and Uber Eats.
The 95 miles to $10 credit provides you with a value of 10.5 cents per mile.
Merchandise
This is really what AIR MILES has become famous for. Years ago when AIR MILES did reveal statistics on redemptions, flights made up less than 10% of all the rewards redeemed for by AIR MILES members. What were most members redeeming for? Merchandise. I don't think a day goes by without me seeing some on Twitter happily announcing some sort of merchandise they redeemed for with their AIR MILES. Merchandise is something AIR MILES does well.
In fact, I even redeemed for some merchandise in late October 2022 - yes I know... don't shoot me but AIR MILES had discounted some merchandise and being AIR MILES Gold dropped the mileage requirement even lower for those Christmas presents. In the end, to compare, I took the lowest cash cost I could find for these items, added in shipping and taxes and this merchandise redemption worked out to a really decent 11.4 cents per mile! So while much of the points and miles world (including ourselves) scoffs at the idea of redeeming for merchandise - when it comes to the AIR MILES program their merchandise rewards can provide good value.

Features and Benefits
Annual Travel Redemption Benefit
The American Express AIR MILES Platinum Credit Card has an Annual Travel Redemption Benefit where cardmembers will receive a rebate when they redeem for select travel options with AIR MILES.
Once per calendar year, when an eligible Cardmember uses Dream Miles with the AIR MILES Reward Program to book their first single flight or package vacation through airmiles.ca or vacations.airmiles.ca, they can get Bonus Miles equivalent to 25% of the net number of Miles used (up to a maximum of 750 Bonus Miles).
American Express Experiences
As with all American Express Cards the card comes with American Express Experiences which includes Front Of The Line® Advance Access, Front Of The Line® Reserved Tickets, Front Of The Line® E-Updates, Special Offers & Experiences for all Cardmembers and Social Access for all Cardmembers.
Amex Offers
As with all American Express Cards the American Express AIR MILES Platinum Credit Card receives Amex Offers. These exclusive limited time offers sent out to cardmembers to receive statement credits or bonus miles for using their card at select merchants. Depending on your shopping habits these offers alone can provide enough savings in a year to cover the annual fee on the card if not more! You can learn more about this feature in Rewards Canada's Guide to American Express Canada 'Amex Offers'

Insurance
The American Express AIR MILES Platinum Credit Card has a minimal insurance package that includes the following:
Car Rental Theft and Damage Insurance
$100,000 Travel Accident Insurance
Purchase Protection Plan
Buyer's Assurance Protection Plan