2023 Top No Fee Travel Rewards Credit Card
In its current form the American Express Green Card has only been around since 2021 however it has a longer history than that. The Green Card as it is known right now emerged from the Choice Card from American Express which the issuer had just brought back in late 2020 as new card after a short stint in our market about a decade prior to that. American Express decided to change the Choice Card to the Green Card as the latter is Amex's iconic and legacy card. Years upon years ago there used to be a Green Card from American Express here in Canada and if I'm not mistaken it was the only card from them! Worldwide the Green Card is still the symbolic icon for the brand so it only made sense to have it return to Canada.
Overview
The American Express Green Card is the only no annual fee Membership Rewards card in the issuer's card portfolio and is a great entry level option for those looking to get started with Canada's best loyalty currency. It provides a host of reward options from travel to cash back and more and when compared to many no annual fee cards in Canada it does so with great value.

Costs & Sign up Features
Being a no fee card, the American Express Green card has no monthly or annual costs associated with it!
Right now the American Express Green Card comes with a bonus of 10,000 Membership Rewards points when you charge $1,000 on the card in the first three months of membership. Those 10,000 points are worth a minimum of $100 towards travel or cash back.

The interest rate on the card is 20.99% on purchases. 21.99% on cash advances and balance transfers. Like all American Express card there are no minimum annual income requirements set out for the card

Earning
The card earns Membership Rewards points that are categorized as Membership Rewards Select points which means they technically cannot be combined with points earned on The Platinum Card or Gold Rewards Card but they can be combined with those earned on the Cobalt Card. We say technically as you can call into Amex to have them combined. Points are earned as follows:
1 Point per dollar spent on all eligible purchases

Point Valuation Chart

| Spending Category | Points earned per dollar spent | Rate of return when booking your own travel | Rate of return Cash Back | Rate of return when booking Amex's Fixed Points for Travel | Rate of return when converting to airline & hotel programs |
| --- | --- | --- | --- | --- | --- |
| All spending | 1 | 1% | 1% | up to 2% | 1% to 6% or higher |
Redeeming
The American Express Green Card participates in Amex's Membership Rewards program which is the best credit card reward program in Canada as it has many valuable redemption options. You can redeem points for any travel you book with the card, you can redeem points for any purchase you make on the card, you can redeem via Amex's Fixed Points for Travel and you can convert your points to Air Canada Aeroplan, Air France KLM Flying Blue, British Airways Executive Club, Marriott Bonvoy and numerous other programs.
If you redeem using the Use Points for Purchases option which is for any travel or really any purchases you make on the card, you will get a $10 credit towards every 1,000 points redeemed towards that purchase. This means the 1 point per dollar earn rate on this card equates to a 1% return. That's an average to good flat rate return for a no fee card but there is higher potential value to be had with the other redemption option. You have up to 12 months after the charge posts to redeem points for it as well!
Moving on to the Fixed Points Travel Program, the card provides good to very good value here as well. When redeeming via the Fixed Points Travel Program you can receive up to 2 cents per point in value which means your return on spending can be as high as 2% with the Green Card! Here are the Fixed Points award charts: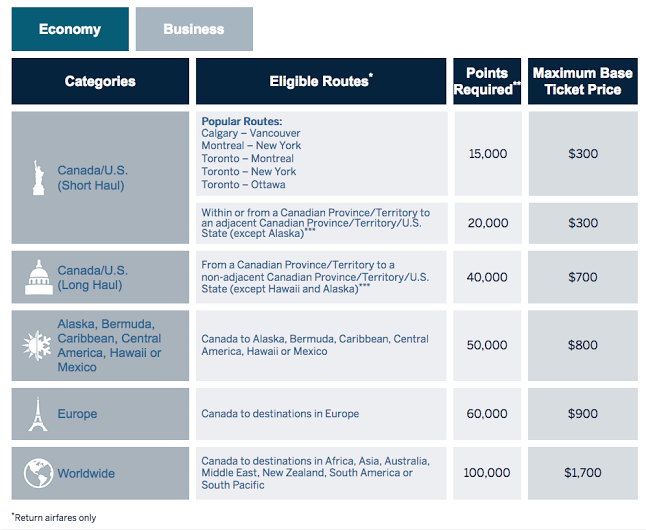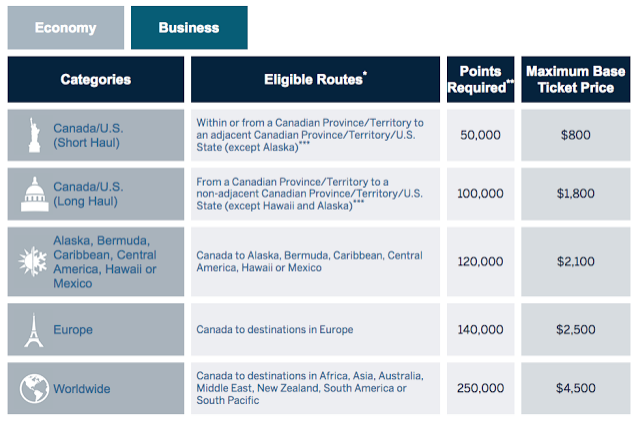 The 2 cents in value comes from the first option of popular routes where you can redeem 15,000 points for a ticket that has a value of up to $300 before fees and taxes. Ideally, you want to redeem right as close to that $300 level as possible to maximize your value here. If your ticket goes over or to cover the taxes and fees you can then use the first redemption option of 1,000 points for $10. For example if the ticket costs $310 before taxes and fees you could redeem 16,000 points to cover that cost. And if there are $75 in taxes and fees you could either pay for it or redeem an additional 7,500 points to cover it. Your choice. All of the the above redemption options on the charts are best redeemed at or near that maximum ticket cost which in turn provides a 1.5 to 2% return on your spending. That's a great return for a no fee card.
Finally, a major benefit on the redemption side of this card is the ability to convert your points to Membership Rewards' Frequent Traveller participants. As of August 16, 2021 the Green Card gained access to all of American Express' transfer partners including Air Canada Aeroplan, Air France KLM Flying Blue and British Airways Executive Club and that's what helped propel this card from being the second best No Fee Travel Rewards Card in Canada to the best. This change was on top of the hotel transfer partners that the card already had. With minimum point values of 1 cent for Marriott, 1.5 cents for Aeroplan and British Airways you are looking at returns similar to the other redemption options already mentioned. But that's a minimum - there are so many occasions where you can get 2, 3, 6 or even more cents per point with these programs and it is that outsized value combined with all these redemption options that squarely places this card at the top of the no fee list. If you are looking for a no fee card for earning Aeroplan points (and really, any of Amex's transfer partner's miles or points) this is the card you should get.
Recommended reading: Clash of the Credit Cards! American Express® Green Card vs. CIBC Aeroplan® Visa* Card
Features and Benefits
As with all American Express Cards the card comes with American Express Invites which includes Front Of The Line® Advance Access, Front Of The Line® Reserved Tickets, Front Of The Line® E-Updates, Special Offers & Experiences for all Cardmembers and Social Access for all Cardmembers.
Since it is a no fee card there is no travel insurance coverage offered however it does provide your standard purchase assurance and extended warranty coverage.
Insurance
Since it is a no fee card there is no travel insurance coverage offered however it does provide the following purchase insurance:
Purchase Protection Plan
Buyer's Assurance Protection Plan (Extended warranty)