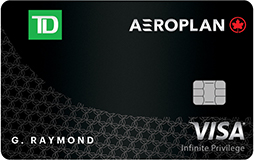 The TD® Aeroplan® Visa Infinite Privilege* Card was recently voted as the best Ultra Premium credit card in Canada by readers of Rewards Canada in our 2022 Canada's Choice awards. Now it receive the Rewards Canada review treatment!
The review of the TD Aeroplan Visa Infinite Privilege Card is broken down into the following sections:
Overview
The TD® Aeroplan® Visa Infinite Privilege* Card is a card targeted towards Canadians who love to travel with Air Canada and want to avail of benefits that can make that travel more enjoyable. From providing the airport lounge access including Maple Leaf Lounges in North America to Priority Boarding and the ability to earn an annual companion pass, this card was developed with the Air Canada traveller in mind. That being said you don't have to be a frequent Air Canada traveller to have this card - if you fly Air Canada even just several times per year the card could make sense for earning more Aeroplan points and taking advantage of the travel benefits for your flights.

Costs & Sign up Features
The TD Aeroplan Visa Infinite Privilege Card has an annual fee of $599. This may seem high however it is more than made up for with all the benefits and earning potential the card provides. You can add additional cardholders for $199 annually and those supplementary cardholders will avail of all the same benefits as the primary cardmember like lounge access etc.
Right now the TD Aeroplan Visa Infinite Privilege Card is offering a welcome bonus of up to 115,000 Aeroplan points. The bonus is awarded as 20,000 points when you make your first purchase card and then 60,000 Aeroplan points when you spend $7,500 within 180 days of Account opening. You can earn an additional 35,000 points when you spend $12,000 within 12 months of Account opening. This offer is available until September 5, 2023. This offer is not available for residents of Quebec. For Quebec residents, please click here.
Income requirements for the card are $150,000 annual personal income or $200,000 annual household income.

Earning
The card earns Aeroplan points and earns those points as follows
2 Points per dollar spent on Air Canada Purchases (includes Air Canada Vacations)
1.5 Points per dollar spent on eligible gas, grocery, travel and dining purchases
1.25 Points per dollar spent on all other eligible purchases

The card also provides the ability to earn status points and segments that help you qualify for Air Canada Elite Status. You'll earn 1,000 Status Qualifying Points and 1 Status Qualifying Segment for every $5,000 spent on the card.
Point Valuation Chart
Spending Category
Points earned per dollar spent
Effective Rate of return (Travel) *
Air Canada
2
3% to 10+%
Gas, grocery, dining, travel
1.5
2.25% to 7.5+%
All other spending
1.25
1.88% to 6.25+%
* This is a very low minimum valuation. In most cases you should be able to easily pull more value than this especially if you redeem for business class or first class flights.
Redeeming
This is where the strength of the Air Canada Aeroplan program comes through and makes the TD Aeroplan Visa Infinite Privilege Card shine. Aeroplan offers numerous redemption options but being a frequent flyer program the primary redemption option is reward flights on Air Canada and Aeroplan partner airlines. Overall you can redeem Aeroplan points to well over 1,300 destinations Worldwide which is one of the reasons Aeroplan is so popular.
The new Aeroplan program has done away with their standard award charts (Classic Flights) that were the norm with the program since its inception in the 1980s. That being said, for travel on Air Canada, they do provide a range of points you could expect to redeem for flights on Air Canada with the claim that approximately 80% of redemptions will fall in that range but 20% could end up being less or more than what is published. Essentially what Air Canada has done is made the old Market Fare awards (any available seat at any time for a dynamic range of points) as their standard redemption model now for Air Canada flights. Flights on partner airlines will still follow a fixed price reward chart model. You can see all the redemption values in this PDF here.

What hasn't changed in the Aeroplan program is the ability to redeem for Economy, Premium Economy, Business and First Class flights. With the latter three tending to provide outsized value when you compare to any other loyalty program in the market. Speaking of premium flights, just in case you didn't know you can redeem Aeroplan points to fly in Etihad's ultra luxurious Apartment first class seats. And the great news with the TD Aeroplan card (or any Aeroplan co-brand card) is that you receive preferred award pricing when you redeem points for flights. This discount varies by route, date, time etc. but we have seen it in the 10 to 30% range. The discount gets slightly bigger if you have Air Canada elite status but that only adds a few percentage points to the overall discount - the biggest portion does come from having the credit card.
On top of all this the new Aeroplan program no longer has to those dreaded carrier surcharges that could run into hundreds and sometimes thousands of dollars. While the surcharges have been done away on all airlines Aeroplan does charge a reasonable $39 fee for booking flights on partner airlines. The removal of the surcharges does however translate into an average higher cost in points for a lot of the redemption options albeit in many of our searches the increase in points is much less than what you used to have to pay for those surcharges.
We didn't want to make this review go on forever so we have kept the redemption section to a very top level description however it you want to learn more about redeeming for flights with the Aeroplan program we recommend reading the following articles:
Finally you are also able to redeem Aeroplan points for non-flight rewards including hotels, car rentals, Air Canada Vacations packages, gift cards (soon to be electronic only so you'll get them right away!), merchandise (the catalog is being expanded greatly thanks to partnerships with new retailers) and more.

Features and Benefits
The TD Aeroplan Visa Infinite Privilege Card is full of benefits and additional features that complement and go beyond the Aeroplan program. Some have already been mentioned - the preferred pricing on Aeroplan reward flights is one such benefit. As well as the elite status earning portion of the card and now will take a look at more of the benefits.
First Checked Bag Free on Air Canada flights
Probably the most popular benefit that has been added to all Aeroplan co-brand cards is the first checked bag free benefit. It is provided for the cardholder and up to 8 companions on the same reservation and it waives the fee associated with basic and standard economy class fares. This saves the cardholder $30 per bag on flights in Canada, to the U.S., Mexico & Caribbean. It will also save $70 per bag if you buy the cheapest economy basic fares to Europe. (Pricing was current as of November 2, 2022)
Share Air Canada Travel Benefits with additional cardholders
If you choose to add the fee based additional cards at $199 each those cardmembers will receive all the same Air Canada Travel Benefits as the primary cardholder. Note: the Priority Pass benefit is not extend to additional cardholders.
Airport Lounge Access
The card provides access to over 1,300 business class lounges in over 130 countries around the world. The lounge access benefits are as follows
Maple Leaf Lounges: Cardmembers have complimentary access for themselves and one guest to Maple Leaf Lounges (including the Air Canada Cafe) in North America. Access is available with a same day ticket on a departing Air Canada or Star AllianceTM flight.

Visa Airport Companion Program hosted by Dragonpass - Includes six (6) free visits annually. After you use up the 6 free visit you can pay US$32 per person to access lounges
Priority check in / boarding / baggage
The card provides Priority Check In for the cardmember and up to 8 guests on the same reservation. Priority Boarding falls into the Zone 2 Category for Air Canada flights and Priority Baggage will see your luggage come out first at your destination.
Priority airport standby
By having the TD Aeroplan Visa Infinite Privilege Card should a seat becomes available on a full-capacity flight, you'll have priority access over other travelers with the same Aeroplan status and fare type
Priority airport upgrades
Elite or Super Elite status Cardmembers will receive higher priority when requesting eUpgrades by holding the TD Aeroplan Visa Infinite Privilege Card.
Annual worldwide companion pass
An Annual Worldwide Companion Pass is awarded after the primary cardmember spends more than $25,000 on net purchases in the 12 months prior to their Card anniversary date.
The pass can be used for travel to anywhere Air Canada flies with companion paying only $99 for flights in Canada & Continental U.S., $299 for Hawaii, Caribbean, Central America and Mexico, $499 for Africa, Europe, Middle East and South America, $599 for Asia, Australia and New Zealand. Taxes and fees are extra on top of those amounts
Rollover status qualifying miles
Primary Cardmembers who also hold Aeroplan Elite Status can roll over up to 200,000 Status Qualifying Miles (SQMs) beyond the status level for which they've qualified, from the prior qualification year to qualify for status the next year.
Rollover eUpgrade credits
Primary Cardmembers who also hold Aeroplan Elite Status and re-qualify for the next year, can roll over up to 50 unused eUpgrade credits, to be used during the following status year.

NEXUS Statement Credit
With the TD Aeroplan Visa Infinite Privilege Card you can receive up to $125 CAD in statement credits every four years when NEXUS application or renewal fees are charged to your Card.
Visa Infinite Privilege benefits
Visa Infinite Privilege Airport Benefits Receive exclusive perks at Toronto City Airport Terminal, Vancouver Airport, Ottawa Airport and Montreal-Trudeau International Airport
- Priority Security Lanes at International and Domestic checkpoints (Toronto, Vancouver, Ottawa, Montreal-Trudeau)
- Priority airport taxi and limo lane (Vancouver) - Access to dedicated premium parking spots (Vancouver, Ottawa)
- Up to 20% off parking (Ottawa, Vancouver, Montreal-Trudeau)
Visa Infinite Luxury Hotel Collection provides benefits like room upgrades, complimentary Wi-Fi and breakfast, late checkout, and so much more at over 900 Visa Infinite Luxury Hotel Collection properties around the world.
Visa Infinite Dining Series - Each event includes multi-course meals, drink pairings and an interactive experience. You'll get to taste dishes from some of the country's top chefs and restaurants as they guide you through each course.

Wine country benefit from wineries across Ontario and British Columbia including complimentary tastings and tours. You can also get access to online offers like complimentary shipping and savings on wine purchases.
Get golf perks with Troon Rewards® through your Visa Infinite card and automatically receive Silver Status. You'll save 10% on golf fees, merchandise, and lessons at over 150 courses around the world.
Access to private movie events and at-home offers as part of the Visa Infinite Screening Series. In the fall, get special perks at the Toronto International Film Festival®.

Visa Infinite Privilege cards include a Complimentary Concierge service that can offer help with anything like the perfect travel itinerary, restaurant recommendations, finding the perfect birthday gift, and more
RSVP Rewards Diamond Status: Enroll in the Visa RSVP Rewards Benefit and automatically receive Diamond status delivering benefits at 60+ participating Sandman, Sandman Signature and Sutton Place Hotels from coast-to-coast in Canada and beyond.
Insurance
The TD Aeroplan Visa Infinite Privilege Card comes with a very strong insurance package that includes the following:
Out of Province/Country Emergency Medical Insurance (31 days under 65, 4 days 65+)
Trip Cancellation Insurance
Trip Interruption Insurance
Flight Delay Insurance
Baggage Delay Insurance
Lost or Stolen Baggage Insurance
Car Rental Theft and Damage Insurance
Hotel Burglary Insurance
$500,000 Travel Accident Insurance
Purchase Protection Plan
Buyer's Assurance Protection Plan
Mobile Device Insurance