Hot on the heels of our Clash of the Credit Cards where two no annual fee cards that offer Aeroplan points went head to head we figured it would be perfect timing to also put together the Ultimate No Annual Fee Aeroplan Credit Card portfolio. In this feature of Rewards Canada' Ultimate Credit Card Portfolios we look at the ultimate one for earning Aeroplan points all with cards that don't charge any annual fees... ever. Since we launched Rewards Canada back in 2001 we have always recommended that you should carry a Visa, a Mastercard and an American Express card in your wallet and that's what these Ultimate portfolios encompass. The reason why is that there are benefits, promotions and earning potential unique to each brand of credit card. We won't go into detail here as you can read all about it in our feature on how to Maximize your Miles and Points but in this feature we outline one card from each brand that will help you build up those Aeroplan points without having to worry about paying any annual fees. Typically in these portfolios there are various options that could be utilized however when it comes to no annual fee cards that you can earn Aeroplan points with there are only three in total and each single one just happens to be from each of the individual issuers.

What is Rewards Canada's Ultimate No Annual Fee Aeroplan Credit Card Wallet? It is the following three cards

The CIBC Aeroplan Visa Card is the obvious choice in this portfolio since it is the only no fee co-brand card for Air Canada's loyalty program. All other co-brand Aeroplan cards in the market from American Express, CIBC and TD come with annual fees. Hence you need to look at cards that allow you to convert points to Aeroplan to complete this portfolio. For American Express that's the Green Card (which until recently was known as the Choice Card) and thanks to changes to it in August of 2021 you can now convert the Membership Rewards points earned on this card directly to Air Canada Aeroplan. You no longer have to take the longer less valuable route of converting to Marriott Bonvoy first and then to Aeroplan. For the Mastercard portion of the portfolio is a long standing card in our market that actually fulfills the Mastercard role in several of these portfolios and that's the mbna Best Western Mastercard. It earns points in the Best Western Rewards program which can be converted to Aeroplan.
Recommended reading: Which credit card earns the most Aeroplan Points?
Key Benefits of this portfolio
No annual fees on any of the cards
Preferred pricing on Aeroplan reward flights
Earn Aeroplan points for in store purchases at Costco
How to maximize your Aeroplan earning with these cards
Before we jump into maximizing your Aeroplan earn with these cards let's look at how their earn rates in Aeroplan points per dollar spent (we'll discuss the conversion rates below).
TLDR: Use the Amex Green Card for all purchases unless Amex isn't accepted then use the CIBC card. Only use the Best Western Card at Costco
Right away from the chart you can see that the card that gives you the best earn rates is the American Express Green Card. Since the card earns a flat 1 Membership Rewards points per dollar that equates to 1 Aeroplan point per dollar as MR points convert 1:1 to Aeroplan. Your second choice of card to pull out would be the CIBC Aeroplan Visa Card and I would only pull it out for places that don't take American Express. So the CIBC card becomes your go to card for places like the Loblaw family of grocery stores, Wendy's (if you don't use the app) and other retailers that don't accept American Express. Since this card earns Aeroplan points directly there is no conversion rate however it's earn rates are 1 point per dollar for Air Canada, Gas and Grocery purchases. All other purchases are 1 Aeroplan point for every $1.50 spent hence the 0.67 points rate listed in the chart. Likewise if you are shopping where the place only accepts Mastercard (which is pretty much only Costco) you would pull out your Best Western Mastercard for those purchases. You don't really want to use it anywhere else since its Aeroplan point earn rate is really low compared to the other cards. Best Western Rewards points convert to Aeroplan at a rate of 5 to 1 so it earns a very meager 0.2 Aeroplan points per dollar spent except on Best Western purchases. Now it does match the Amex card for Best Western stays but I'd still put any Best Western stays on the Amex card as there are no direct benefits for using the BW card at a BW hotel. There is also one additional reason to try to funnel as much spending onto the Amex Green Card beyond earning the most points and that's its other redemption options. In the world of points and miles it is always good to keep a stash of points in a flexible or hybrid rewards program which Amex Membership Rewards is. By doing so you are not limiting yourself to one program (even though we are focusing on Aeroplan here) as you can redeem for travel via Membership Rewards, use your points for statement credits and even convert to other airline and hotel programs. Essentially you're keeping your options open with the Amex Green Card.
Additional benefits from the cards in this portfolio:
As these are no fee cards there aren't a lot of benefits afforded to them but there is one that we need to highlight. That benefit is Aeroplan Reward Flight Preferred Pricing. All Air Canada Aeroplan co-brand credit cards (so the ones the earn Aeroplan points directly) provide the Aeroplan member with discounted pricing on flights when redeeming points. The discount can be as high as 15% so if you are redeeming for a flight that would cost a basic member 50,000 points it could only end up costing you 42,500 points. The discount does vary but the good news is you simply have to have an Aeroplan co-brand card to get the discount. The CIBC Aeroplan Visa Card fits the bill of that co-brand card so you can maximize your earn with the American Express Green Card and extract more value out of each one of those points thanks to the discount from the CIBC card. The CIBC card also offers really good car rental CDW insurance coverage so keep that in mind if you do rent cars. Finally, the mbna Best Western Mastercard provides you with automatic Gold Elite status in Best Western Rewards. It doesn't get you much but it's better than having nothing. Also if you spend $10,000 on the BW card they'll give you Diamond Elite Status (which again doesn't do too much)
Earn yourself 24,000 Aeroplan points for free with this portfolio:
All three of these cards do have welcome bonus offers and since they have no annual fees those bonus points come to you for free albeit there are some spending requirements. The American Express Green Card offers 10,000 welcome bonus points when you spend $1,000 on the card in the first three months. The CIBC Aeroplan Visa Card also awards 10,000 points but that's awarded on the first purchase with no spending requirement. Finally the mbna Best Western Mastercard offers 20,000 Best Western Rewards points on the first purchase which translates to 4,000 Aeroplan points. So if you do end up getting yourself this Ultimate No Annual Fee Aeroplan Credit Card Portfolio you'll have a nice little stash of 24,000 points to get you to those flight rewards sooner.
Here are further details on these three cards:
2023 Top No Fee Travel Rewards Credit Card
Get the Card that lets you live in the moment while getting ready for the future. The American Express® Green Card lets you go for it with every swipe or tap of your Card

As a new American Express® Green Cardmember, you can earn a Welcome Bonus of 10,000 Membership Rewards® points when you charge $1,000 in purchases to your Card in the first 3 months of Cardmembership.  That's $100 towards groceries or concert tickets
Annual Fee: $0 | Additional Card Fee: $0 | Annual interest rate 20.99% on purchases and 21.99% on funds advances; Missed payment applicable rates, 23.99% and/or 26.99%
Earn 1x the points on Card purchases

Charge an eligible purchase to your Card and redeem your Membership Rewards points for a statement credit (All eligible purchases: 1,000 points = $10 statement credit)

With American Express Experiences and Front Of The Line®, American Express Cardmembers get access to amazing events in Canada

Transfer points 1:1 to several frequent flyer and other loyalty programs

American Express is not responsible for maintaining or monitoring the accuracy of information on this website. For full details and current product information click the Apply now link. Conditions apply

---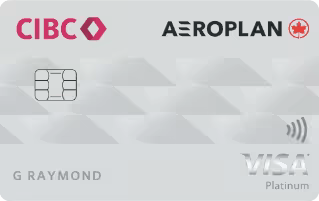 CIBC Aeroplan® Visa* Card

Annual Fee $0 Additional Cards (Up to 3): $0
Annual interest rate 20.99%† on purchases and 22.99%† on cash advances and 22.99% † on balance transfers
$15,000 household annual income †

• Earn 10,000 Aeroplan points on your first purchase

• 1 point for every $1 you spend on gas, groceries and with Air Canada directly, including through Air Canada Vacations®
• 1 point for every $1.50 you spend on all other purchases

• Get 3 months of free Uber Pass
• Purchase Security and Extended Protection Insurance
• Common Carrier Accident Insurance
• Car Rental Collision and Loss Damage Insurance





†Conditions Apply


---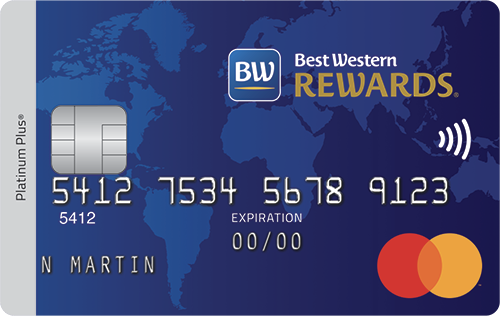 mbna Best Western Mastercard®
This card is no longer available to new applicants. MBNA will continue to support the card for existing clients.
---