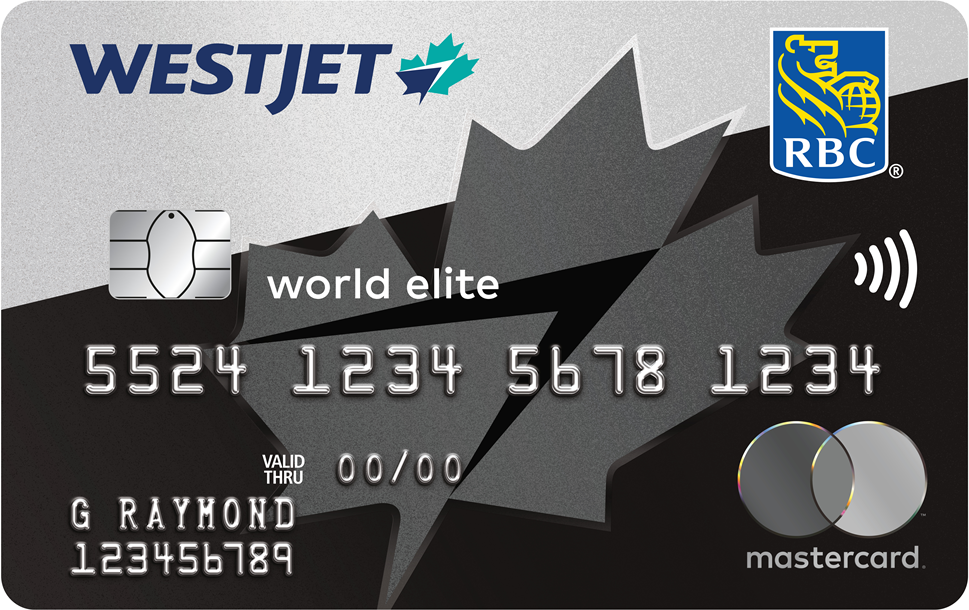 Ranked as the number two airline credit card in Canada, the WestJet RBC World Elite Mastercard was last reviewed by Rewards Canada in 2016, six years after it was introduced in 2010 and since it has been another six years the review is due for an update! The card for Canada's second largest airline has proven very popular with Canadians as it was one of the first cards to offer an annual companion pass and first checked bag free benefit. In fact in our discussions with many readers and the general public many actually get the card for those two reasons rather than for earning the actual WestJet dollars with the card.
Read our old review here: WestJet RBC World Elite Mastercard Review (Old 2016 version)
Overview
The is the co-brand card for the WestJet Rewards frequent flyer program. The card was launched in 2010 with RBC and has always been a decent travel rewards card option for WestJet travel. It is the ideal card for individuals who travel on WestJet regularly and check bags as well as for couples or families who travel on WestJet at least once per year. There is one other versions of the card, the WestJet RBC Mastercard which is more of an entry level card with a lower annual fee that has lower earn rates and doesn't provide as many benefits.

Costs & Sign up Features
The WestJet RBC World Elite Mastercard comes with a $119 primary card annual fee which is now on the lower end as we have seen more of these premium cards bump up their annual fees. Supplementary cards are only $59 each which is higher than most competing cards that charge $50 for each additional card but lower than its most direct competitor the TD® Aeroplan® Visa Infinite* Card.
Typically, the standard welcome bonus offer on this card is 250 WestJet Dollars however right now the welcome bonus on the card offers up to 450 WestJet Dollars. With this limited time welcome bonus you'll earn 250 WestJet dollars on your first purchase with the card and an additional 200 when you spend $5,000 in the first three months.
The interest rate on the card is 19.99% on purchases. 22.99% on cash advances and balance transfers. These rates are equivalent to or below many cards at this level. As it is a World Elite Mastercard, the card does have higher annual income requirements of $80,000 personal or $150,000 household.

Earning
The card earns WestJet dollars and earns those dollars as follows:
2% back in WestJet dollars on flights or packages with WestJet or WestJet Vacations
1.5% back in WestJet dollars on all other eligible purchases
The card had a new earn benefit added to it in 2021 called Status Lift. Status Lift is a response to the 2020 changes to the Aeroplan co-brand cards which started offering elite status qualifying points when you hit certain spend levels on the cards. Status lift works the same way, you will be awarded with $500 in WestJet elite status qualifying spend for every $15,000 spent on the card between January 1 and December 31 each year. You can earn up to $1,500 in qualifying spend each year ($45,000 in card spending) which on its own is half of the requirement for Silver elite tier status.
Point Valuation Chart
| Spending Category | Percent earned per dollar spent | Effective Rate of return (Travel) |
| --- | --- | --- |
| WestJet & WestJet Vacations | 2% | 2% |
| All other spending | 1.5% | 1.5% |
Redeeming
As this is a co-brand airline card you guessed it, the dollars you earn on this card are redeem for flights on WestJet through the WestJet Rewards program. WestJet's program works more like a cash back program rather than your traditional frequent flyer programs which have or had set mileage award charts. One WestJet dollar is equivalent to one Canadian dollar and you can redeem them when you have as little as 15 WestJet dollars in your account. When you redeem you are buying an actual ticket from WestJet (not an award ticket like your traditional frequent flyer programs) for cash and then applying WestJet dollars towards that ticket as a discount. So if you buy a ticket for $450 and have 125 WestJet dollars you can apply that amount to the ticket and end up paying $325 plus any taxes and fees. Just like virtually all frequent flyer programs you cannot use WestJet dollars toward the taxes and fees portion of the tickets.

WestJet Rewards also has a flight redemption option called Member Exclusive Fares. These are sort like WestJet's take on the traditional frequent flyer reward chart as you need to have the full amount of dollars to redeem for them. When they were first introduced they provided excellent value (such as $99 one way in Canada) and you could also redeem for flights on partner airlines like Qantas. However more recently WestJet revamped this redemption option and the potential outsized value it provided has disappeared. The new incarnation of Member Exclusives Fares is akin to a small discount on the fare you would normally pay if you were just using cash. Sure a discount is great but the competitiveness of this option when compared to other programs is no longer there. At the time these were changed WestJet also removed the option to redeem for travel on their partner airlines. There are still ways you can use WestJet dollars on airlines like Air France, Delta and Qantas and that is to book a WestJet codeshare on those airlines, in those cases you can redeem WestJet dollars towards the fare.
Finally you can also redeem your WestJet dollars for vacation packages booked via WestJet Vacations.

Features and Benefits
This is the area where this card shines as it has some great features and benefits that are particularly useful to those who fly with WestJet. Two of those key benefits are the first checked bag free and the annual companion voucher and these are what make this card popular. I remember being at my kid's sporting events and the other parents on the team telling me that's why they have this card. Some get it for the free bags others for the companion fare and of course, for some it is for both of those benefits.
When you hold the WestJet RBC World Elite Mastercard, you and up to 8 guest travelling on the same reservation can each check your first bag for free. That is at least a $30 savings per person per direction of flight. If you have a family of four and you all check bags in both directions on a round trip that's $240 in savings right there. The crazy thing is you don't even have to purchase those actual flight tickets on your WestJet RBC World Mastercard! So long as you are a cardholder, which will be identified by your WestJet Rewards number you can take advantage of this benefit.

The second and potentially most valuable benefit that this card comes with the annual Companion Voucher. That's right it's annual - not just limited to a one time welcome bonus like this card's biggest competitor and not with an annual spend requirement to earn it like others. You get it each year when you pay your annual fee on the card and it can provide some amazing value. Prior to March 2016 this offer was limited to Canada and the Continental U.S. but that was expanded to be able to use on any WestJet operated flight. The way it works is that when you purchase one ticket with WestJet you can get a companion ticket for as a little as $119. If you don't have this card right now and get it by March 7, 2022 your first companion voucher will waive that fee for Canada, Continental U.S., Hawaii or Mexico as part of the current welcome bonus (As detailed above). After that or if you already have this card here are the annual companion ticket options (prices don't include taxes, fees and charges):
Canada and the Continental U.S. for $119
The rest of WestJet's network for $399
What does this mean? Well, it means it can save a boat load of money when you travel as the beauty of the voucher is that it works on any economy fare class including Premium at anytime with no blackouts. So you could book a more expensive Premium Fare to Hawaii and get your companion in Premium as well for only $399 + taxes and fees! Or it can provide huge savings on last minute travel when fares tend to skyrocket (this is typically when we here Rewards Canada have used them as a lot of our travel is not planned very far in advance)
Here is an example of economy class flights between Toronto and Kahului, Maui in May 2022:


The cost of two tickets without the voucher


The cost of two tickets with the voucher

In the above example the voucher provides a $565 savings. Not bad considering the card only costs you $119 per year and then you have to take into account the card will save you on your bag fees on this flight as well!
One more example, here is Calgary to London Heathrow in Premium Economy on their Boeing 787 Dreamliner: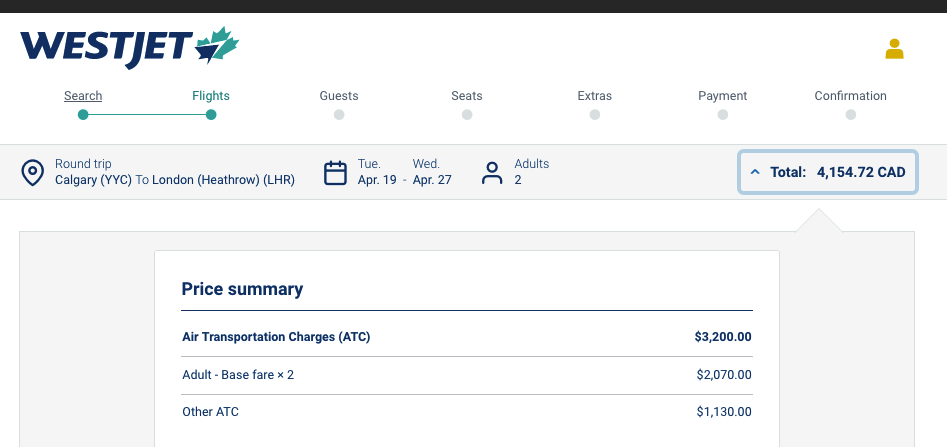 The cost of two tickets without the voucher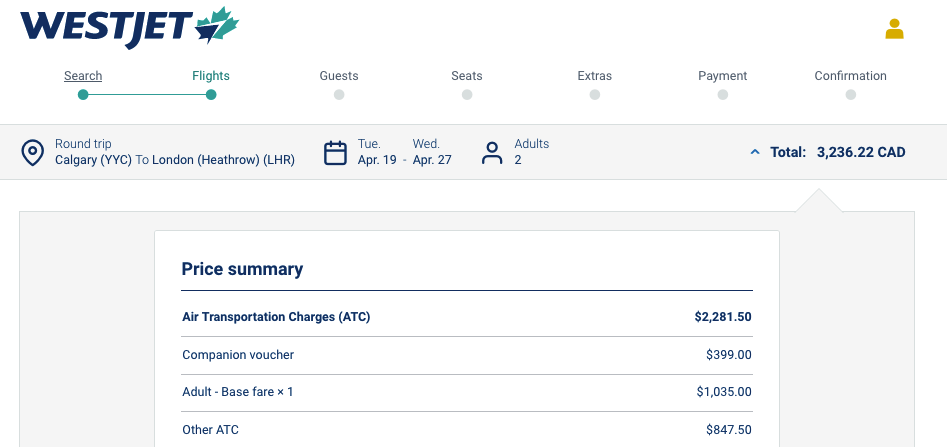 The cost of two tickets with the voucher

Here you have $918.50 in savings just from the voucher. That's over seven years of annual fees saved in one fell swoop on this card and you still get this voucher each and every year.
If you are a family of four or more, and do fly WestJet, Rewards Canada recommends that two people in the family each get their own card (not a supplementary card but rather own account) as that would provide you with two companion vouchers to use each year. To learn more read the following article:
Recommended reading: Why my wife and I each grabbed our own WestJet RBC World Elite Mastercards
WestJet also provides the option to exchange your annual round-trip companion voucher for 4 business class lounge vouchers.
The card also has a strong insurance package that places it in the middle of the road with its competitors. It includes emergency medical insurance (15 days for those 64 and under; 3 days for 65+), travel accident insurance, trip interruption insurance, hotel and rental car insurance. Plus it also has extended warranty and purchase protection. Some key insurances it is missing compared with competing cards are baggage insurance and trip cancellation insurance.
As with the majority of World Elite Mastercards in Canada, the card offers Mastercard Airport Experiences Provided by LoungeKey. This means you get free membership in LoungeKey which is a lounge access program that is pretty much the same as Priority Pass (they are both run by the same company) While the card covers your annual membership it does not cover the actual lounge visit fees which are currently US$32 per person.

Finally another benefit to be aware of with this card is unlimited free Wi-Fi through Boingo at over 1 million hotspots worldwide for up to four devices and this includes Wi-Fi on WestJet and several other airlines.