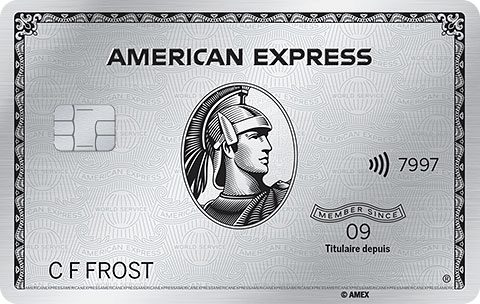 Here is one of those non-point or miles hacks to consider if you travel at least a few times per year. If you travel lots chances are you hold elite status with at least one or a couple of hotel chain frequent guest programs so this may not apply to you. But what if you only travel semi-frequently and can't hit those 25, 50 or more nights required from various programs. Or maybe you just got hired on with a company and will travel lots in 2019 but won't get hotel status until later in the year or in 2020? Or maybe your company books the lowest rates for each of your trips and has you with a different brand every time so that you can't hit those stay or point level requirements in each program for status? Then what do you do? You get yourself The Platinum Card from American Express.
The card has some of the most exceptional benefits of any card in Canada but also comes with a somewhat hefty annual fee of $699. That being said you can easily make use of the $699 with the annual $200 travel credit (use it for one of those hotel stays or for flights etc.), the airport lounge access (see our Guide to Business Class lounge access here) and tying in with this post, it gives you elite status with four hotel frequent guest programs that can then be extended to other programs that match status. In the end you should hold some sort of elite level status with a minimum of nine hotel chains, one airline program, one cruise program and one car rental program!

To being with, The Platinum Card from American Expresscomes with the following Elite Status benefits:



Here are just some of the benefits you get with each of the above programs: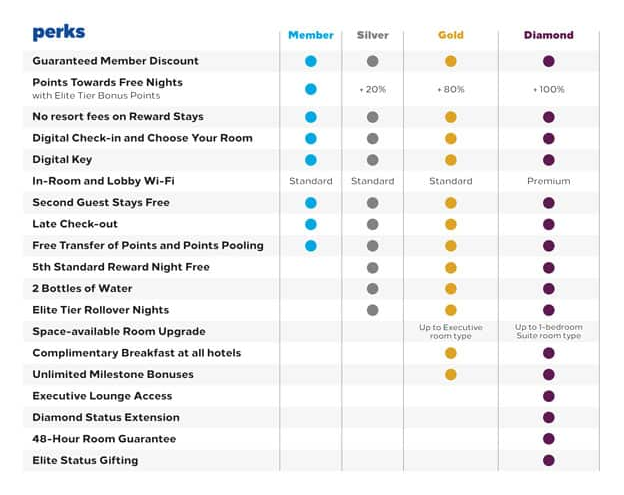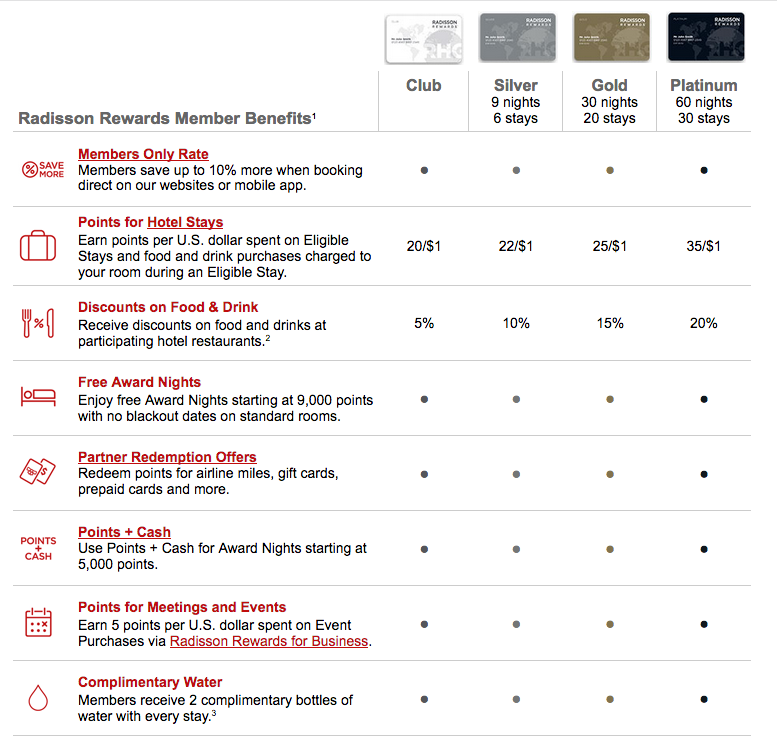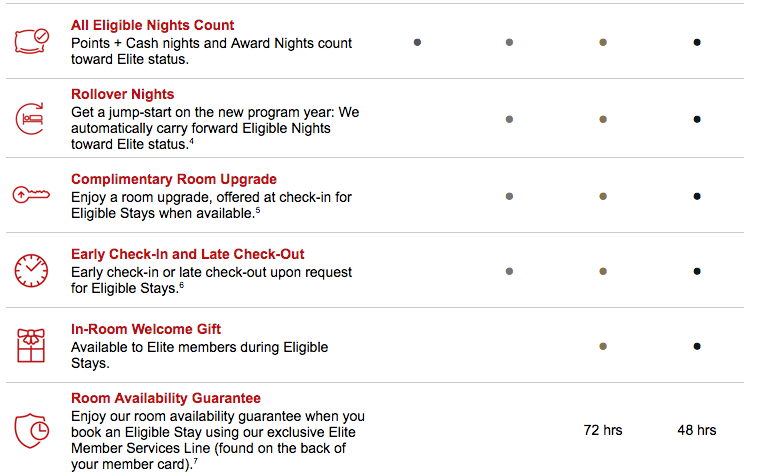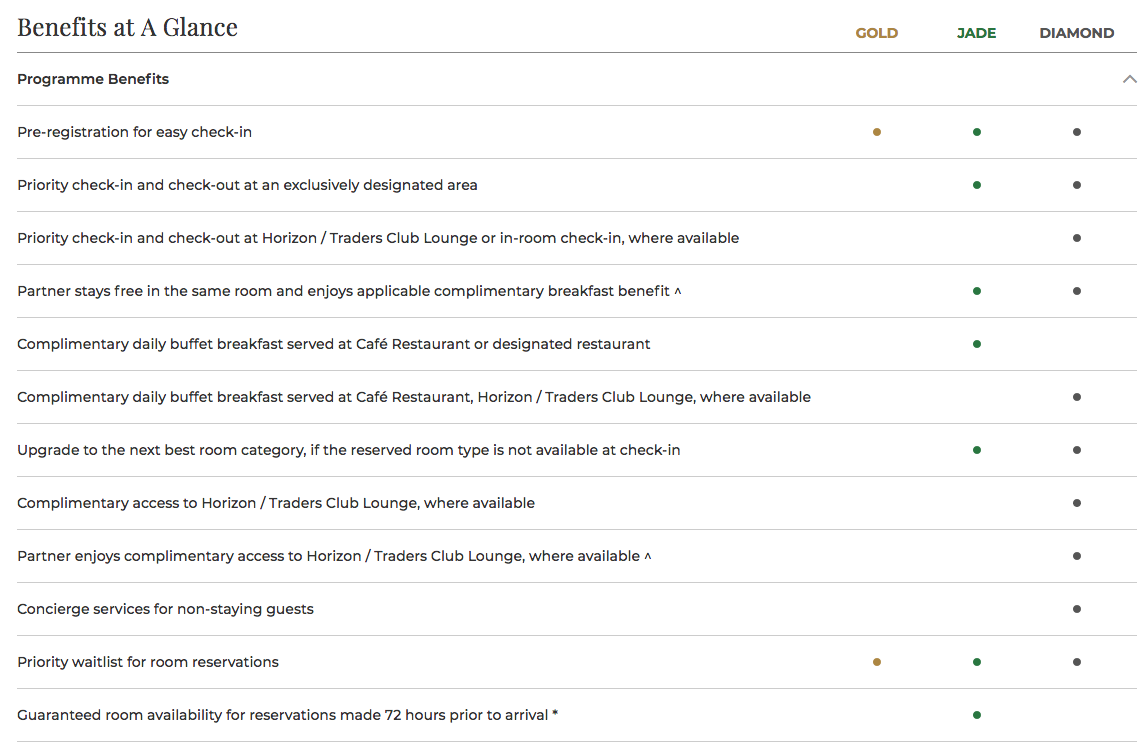 That's it for the four hotel elite and one car elite statuses that come as a benefit with the Platinum Card - but it doesn't stop there.
When you receive your Platinum card, register for all the above elite hotel offers. Once you have confirmed you have elite status with the above four program you are then set to take advantage of them to get you even more elite statuses. First, Shangri-La Hotels has two reciprocal loyalty program partnerships that will get you one more hotel elite status level and even one airline elite level:
Shangri-La has a partnership with Singapore Airlines that is called Infinite Journeys and this provides Shangri-La Jade members with automatic Silver status in KrisFlyer program. There is also a fast track where you only have to take three Singapore Airlines flights within four months of registering to get KrisFlyer Gold status.  Find out more about Infinite Journeys here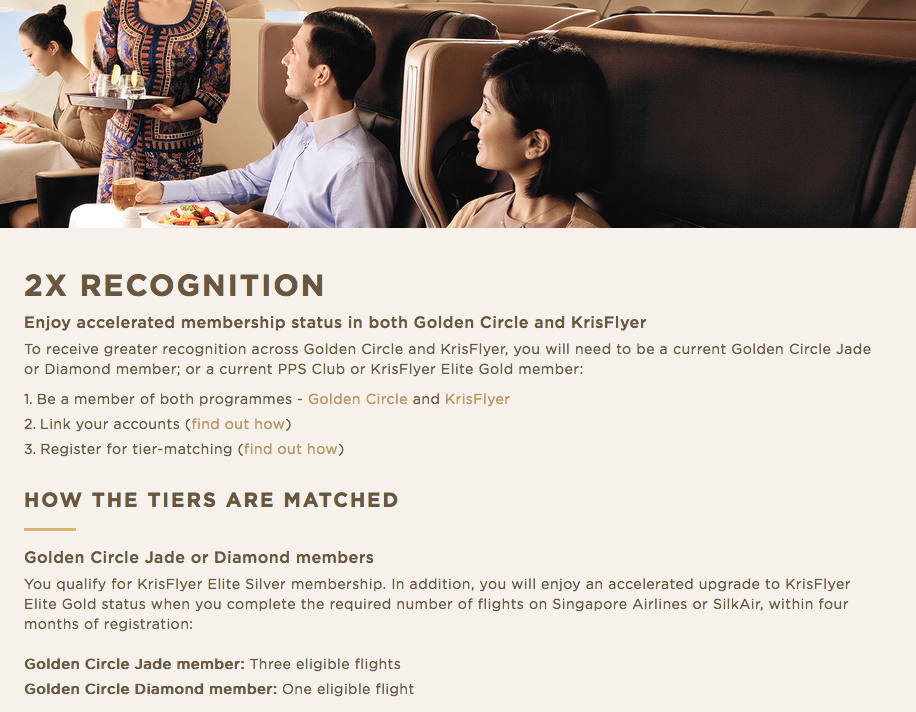 Now Silver Elite status with Singapore Airlines is the 'entry-level' tier in their program and it doesn't get you too much - it provides 25% bonus KrisFlyer miles on Singapore Airlines & Silk Air flights as well as complimentary standard seat selection. Not to mention, Singapore Airlines doesn't even fly to Canada anymore. It also translates to Star Alliance Silver - not much again in benefits however now that you have an airline elite status in your pocket you can use that to try to status match to other airline's elite status. We'll discuss more about status matching below!
Shangri-La also has a partnership with Taj Hotels that offers reciprocal benefits in each other's programs. The partnership is called Warmer Welcomes and provides Shangri-La Jade members with automatic Gold status in Taj Hotels Inner Circle Program. There are some other benefits included in this partnership. Find out more about Warmer Welcomes here (Thanks for HFP for the details on this one!)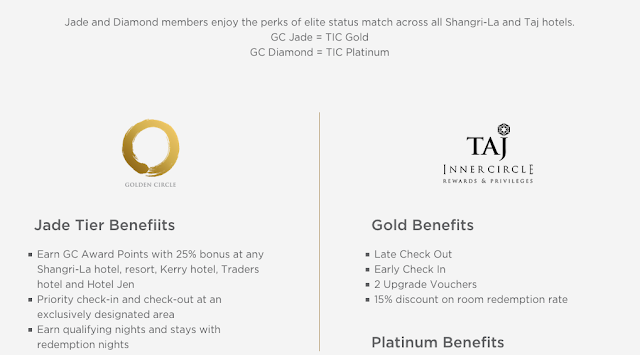 The next step in your journey of garnering elite status via your Platinum Card once you have at least one or more of the four statuses in place that come with the card is to take advantage of status match offers that other hotel loyalty programs provide:
1. Best Western Rewards Status Match

Best Western has had one of the longer running status match offers and it is very easy to get.  Simply put, the Elite Level Status Match No Catch promotion will match your other hotel reward program status with, you guessed it, no catch. The level you get depends on what Best Western thinks the equivalent level is in their program. For example, years ago my Hyatt Platinum status gave me Best Western Diamond status. As of today, I would use the Marriott Gold as reports from Statusmatcher.com show most people getting Best Western Diamond Select as their match. As a comparison, Hilton Honors Gold tends to only get you Diamond. program to match since that one technically needs 25 nights to achieve versus SPG's 25 nights so Best Western may see you as more frequent guest deserving a higher status. Learn all about Best Western's Status Match No Catch here.

Here are the benefits of the levels you could be matched to: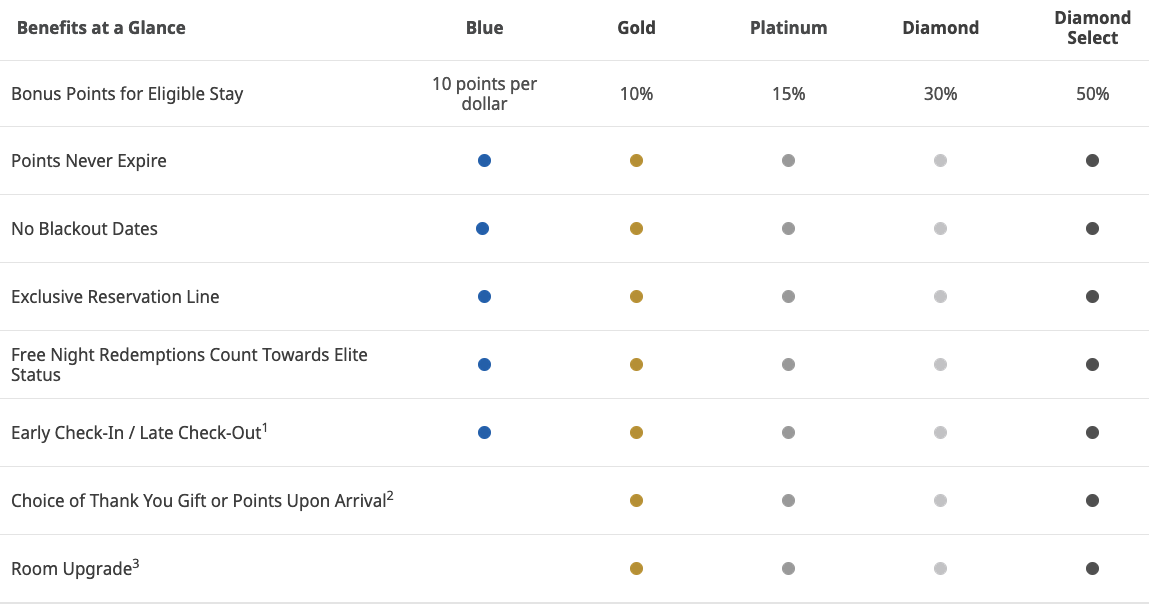 2. Wyndham Rewards & Caesars Rewards Status Match
Wyndham Rewards is another hotel chain loyalty program that offers an Elite Status Match. Match from your best status above to get WR status for stays at Ramada's Days Inn's etc. Wyndham's status match lasts for only 90 days so I wouldn't apply for it until two weeks before you have a planned stay at one of their hotels. If you complete 7 qualifying nights within those 90 days of having you status matched you will get that elite status until December 31 of the following year. Hilton, Marriott or Radisson Gold should get you Wyndham Rewards Diamond according to Statusmatcher.com.Learn more about the Wyndham Rewards status match here
Here are the benefits of the levels you could be matched to: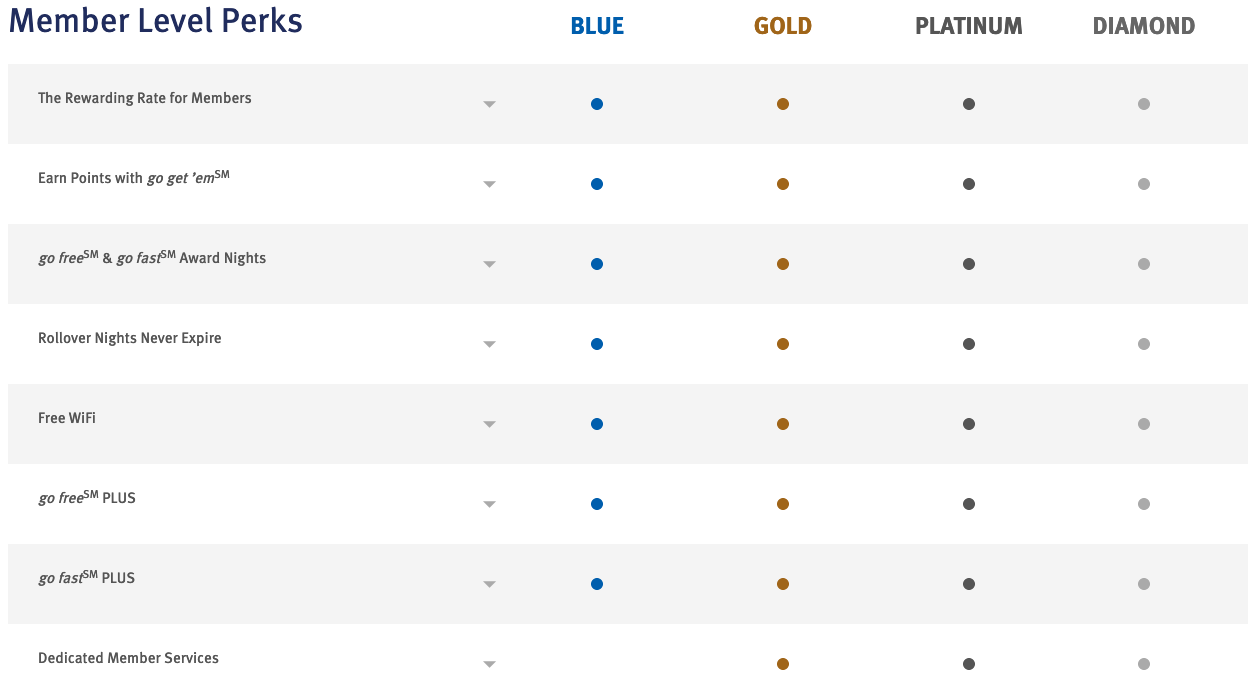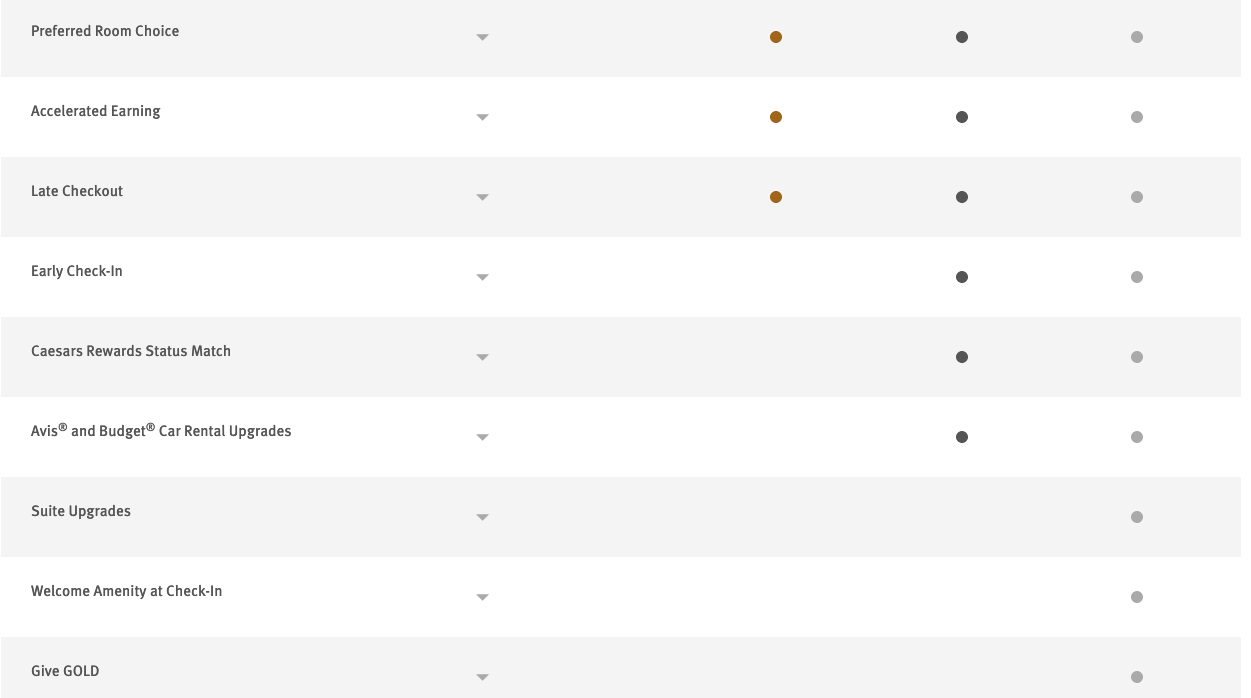 As you can see you can also get elite status with Caesars Rewards if you have Platinum or Diamond status with Wyndham Rewards, so there you go one more status to add under your belt. Learn more about the Caesars Rewards status match here.
3. Sonesta Hotels Travel Pass Status Match
This small chain with hotels in the U.S., South America, Caribbean and Egypt will Elite Status Match to preferred and elite status levels in other hotel programs. Both Marriott Gold and Hilton Gold have been matched to Sonesta's top Elite level. Learn more about the Sonesta Status Match here

Some Sonesta Travel Pass benefits: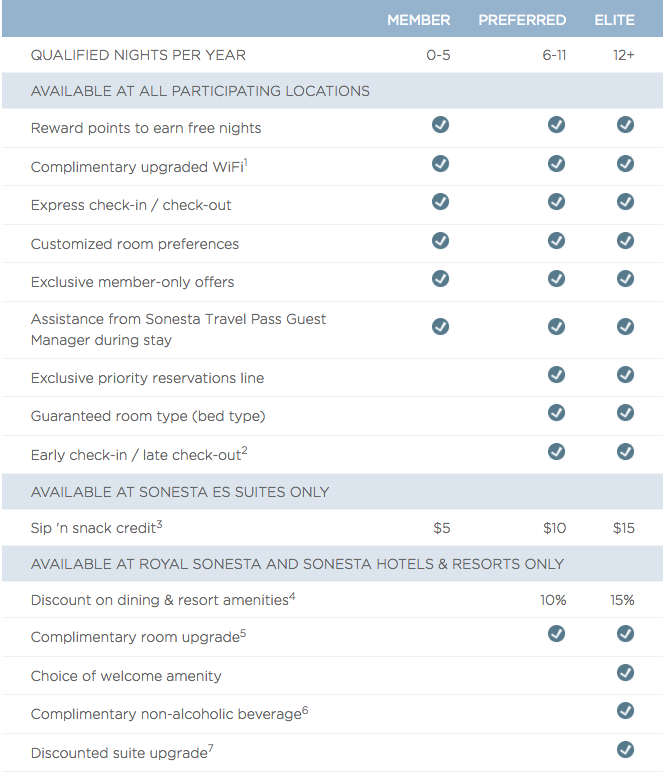 4. Preferred Hotel Group iPrefer
Not well publicized, the Preferred Hotel Group iPrefer program also offers status matches - they only state this in their FAQ. Seeing they only have two levels, you should be matched to Elite status as you see below. Learn more about the iPrefer status match here

And the benefits from the elite status levels: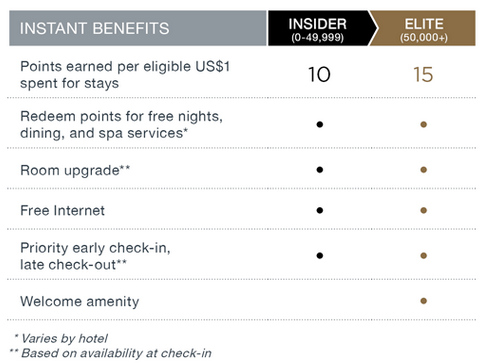 You can then also try other hotel programs like Voila Hotel Rewards or the Millennium & Copthorne Hotels My Millennium program who seem to be good at matching programs (sourced from Statusmatcher.com)
There is also one more hotel status match offer that used to be easy to get but as of September 2019 they added a one stay component. That status macth offer is for Choice Hotels and they now require you to have one stay at a Cambria Hotel property before applying for the status match.
5. Choice Hotels Privileges Status Match
This is an offer that has been around for a few years but was only opened up to Canadian residents in 2018. After you submit your details including proof of your other status you'll receive an answer in 7-9 days as to what level they will match you to. Statusmatcher.com shows both Hilton and Marriott Gold members getting Choice Privileges Platinum status. Learn all about Choice Privieges' Status Match

Here are the benefits of the levels you could be matched to: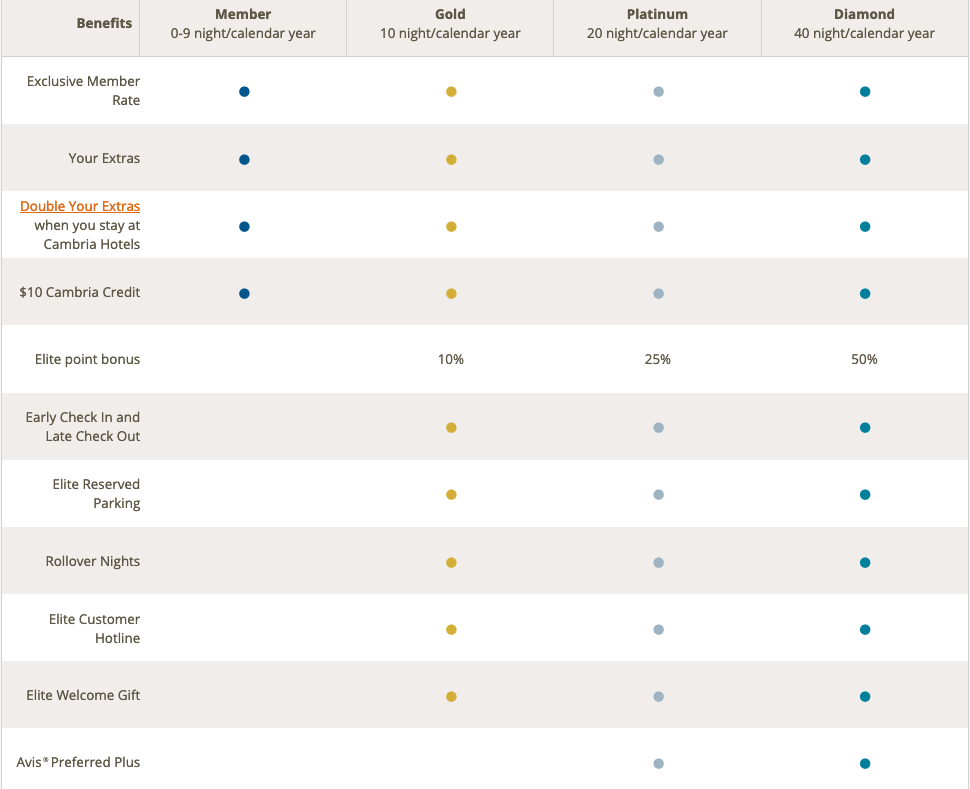 you can see here as well, that if you are matched to Platinum or Diamond you'll also get Avis Preferred Plus which is Avis' highest elite level.
We're not done yet! There is one match status match offer to let you know about and that is a cruise program status match!
MSC Cruises Voyager Club Status Match
Per the comment from Andrew P. in our post from 2016,  MSC Cruise will status match in their Voyager Club to hotel programs as long as you register 14 days prior to your cruise date.  Learn more about MSC's status match here!

National Car Rental Executive Elite status (limited time offer until Feb 29, 20)
National Car Rental is giving all American Express card holders the opportunity for free Executive Elite status within their Emerald Club program. Simply sign up / register by February 29, 2020  Learn more about National's free elite status offer here!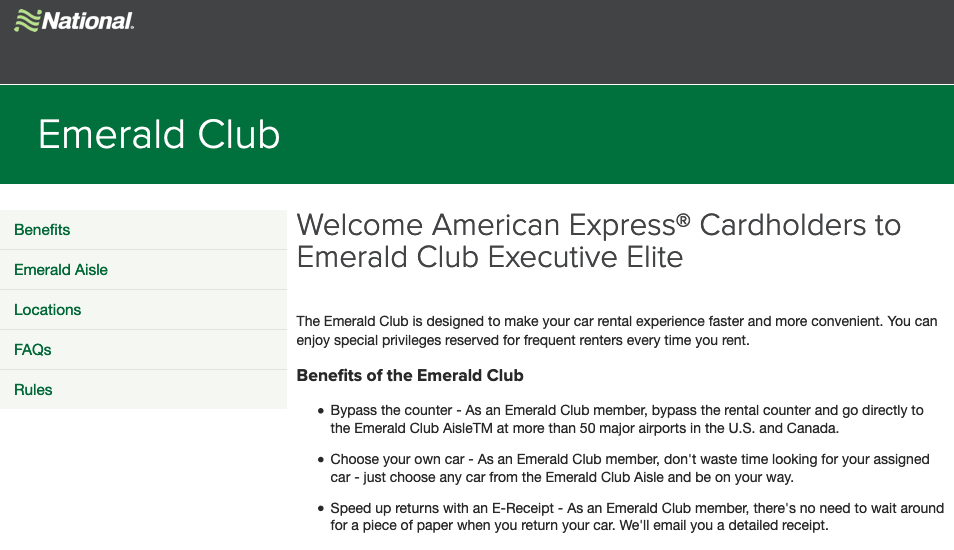 Its not only you who can get status!
Now what makes the card even better, is that if you add a supplementary Platinum Card ($175) that additional card holder is offered all the same benefits. So your spouse or significant other or even maybe your adult children who still live at home can all get the same elite status offers that are listed above! We've done this in the Rewards Canada household and it makes for great travel for your loved ones when they don't travel with you as they don't have to rely on you for those special status benefits! And for only $175 its a great deal! Not to mention the supplementary cardholder also gets the lounge access and other associated benefits with the card.

Here are the details of the card:

The Platinum Card®
The Platinum Card®

Card Type: Charge
Annual Fee: $699 Additional Card Fee: $175 for Platinum, $50 for Gold

• Unlock special experiences with the Platinum Card
• New Platinum® Cardmembers, earn 25,000 Welcome Bonus Membership Rewards® points when you charge $2,000 in purchases to your Card in the first three months of Cardmembership
• Earn 3 points for every $1 in Card purchases on eligible dining in Canada, 2 points for every $1 in Card purchases on eligible travel, and 1 point for every $1 in all other Card purchases
• You will have access to a $200 CAD Annual Travel Credit to use towards any single travel booking of $200 or more charged to your Platinum Card and made on www.americanexpress.ca/travel or through Platinum Card® Travel Service
• Take full advantage of the American Express Global Lounge Collection™ which unlocks access to over 1200 airport lounges worldwide. This includes The Centurion® Lounge network, Plaza Premium Lounges, and hundreds of other domestic and international lounges designed to enhance your travel experience
• Enjoy complimentary benefits that offer an average value of $550 USD at over 1,000 extraordinary properties worldwide when you book Fine Hotels & Resorts
• Platinum Cardmembers can enjoy access to special events and unique opportunities
• Enjoy premium benefits at the Toronto Pearson Airport including security bypass, complimentary valet car service and discount car care and parking
• You will also have access to many leading hotel and car rental companies' loyalty programs. Our partners include Marriott International, Hilton Hotels and Resorts®, Radisson Hotel Group Hotels and Resorts, Hertz® and Avis®
• As a Charge Card, the balance must always be paid in full each month. 30% annual interest rate applies to balances not paid in full. Payments must be received and processed by the date of the next monthly statement to avoid interest charges
• American Express is not responsible for maintaining or monitoring the accuracy of information on this website. For full details and current product information click the Apply now link. Conditions apply

And that's all she wrote! I know this is a long read but in the long run these steps can ensure your travels are just that much better - even if it is just a little bit like complimentary water bottles or a lot like an upgrade to an ocean view suite! Whatever it is, chances are you wouldn't have received it without these status levels!

Continued reading and related articles:
Talk to us!
Do you have any other tips for getting elite status via those provided by the card? Have you matched to any of the above hotel chains, airlines or other programs thanks to the Platinum Card? Tell us in the comments section below !

Rewards Canada can be found on the following social media channels:






Disclaimers:
Our goal at RewardsCanada.ca is to present readers with reliable financial advice and product choices that will help you achieve your financial goals.
Rewards Canada receives compensation from some companies issuing financial products, like credit cards and bank accounts, that appear on this site.
Unless a post is clearly marked "Sponsored", however, products mentioned in editorial articles and reviews are based on the author's subjective assessment of their value to readers, not compensation. For full details and current product information click the Apply now link / learn more link.

This feature was not sponsored. The views and opinions expressed in this review are purely my own.