RBC Offers is a program run by Royal Bank of Canada whereby they offer exclusive offers to people who hold their credit cards. These are the same as the famous Amex Offers that launched years ago and were revamped in 2019. These offers work the same way in that you have to be targeted for them and they vary by card and cardmember. The offer can be a discount, a statement credit or even bonus points. RBC offers do tend to be updated with regular frequency and from my experience there are not always emails alerting you to new offers. The best bet to find them all is to log in to your account to see offers are available. You can also check this page frequently as we try to put all the offers here. What follows here is our summary of current RBC Offers followed by a guide to and tips for making the most of RBC Offers.
Related: Rewards Canada's Guide to American Express Canada 'Amex Offers'

Current RBC Offers
| | | | |
| --- | --- | --- | --- |
| Merchant | Offer Details | Known cards to have this offer | Expires |
| | Avion Exclusive! Earn 8X RBC Rewards points on menswear when you spend $350 or more at Harry Rosen and pay with your eligible RBC Avion Visa card*. Simply load this offer before you shop! | | Jan 30, 21 |
| | Get a 10% statement credit when you spend $250 or more and pay with your eligible RBC card | | Jan 30, 21 |
| | Pay with your RBC credit card to receive $35 off and style fee waived on your first Style Plan box. This offer is only available to new Style Box plan members | | Jan 31, 21 |
| | Get $30 off at Venque online with promo code RBC30 when you spend $100 | | Jan 31, 21 |
| | Spend $100 at ASOS before February 28, 2021 and get a $20 statement credit when you pay with your eligible RBC card*. Limit one offer per client. | | Feb 28, 21 |
| | Get 35% off your eligible purchase, by using the promotional code RBC35 and pay using your eligible RBC Credit Card | | Feb 28, 21 |
| | Spend $200 at Kit and Ace before January 31, 2021 and get a $20 statement credit when you pay with your eligible RBC card | | Feb 28, 21 |
| | Get a discount of 40% when you purchase a 3, 6 or 12-month Digital or Workshop + Digital commitment plan. | | Feb 28, 21 |
| | Receive a $5 statement credit when you spend a minimum of $100, using your eligible RBC Royal Bank Card. | | Mar 19, 21 |
| | Get a $50 statement credit when you spend $499.00-$999.99 and pay with an eligible RBC Royal Bank credit card. Get a $100 statement credit when you spend $1,000 or more and pay with an eligible RBC Royal Bank credit card. | | Mar 30, 21 |
| | Use the RBC promo code SANDL15 to receive 15% off your next order at State & Liberty. | | Mar 31, 21 |
| | File for free with H&R Block's 2021 "Do it Yourself" Tax Software or save 20% on paid software packages*. Need some help? You can also save 20% on eligible assisted tax filing services when you upload your documents from home or, subject to public health guidelines, drop them off at an H&R Block office | | Apr 14, 21 |
| | Enjoy a discount of 20% on eligible TurboTax online services when you pay with your eligible RBC credit card | | Apr 30, 21 |
| | Get a $10 statement credit when you rent a box for $99 on dresst.ca | | May 31, 21 |
| | $35 off 1-800-GOT-JUNK services with promo code RBC35 | | Jun 30, 21 |
| | Save $20 on your next oil change appointment at your local Certified Service dealer | | Dec 31, 21 |
| | Get 15% off the cost of any Ownr service using the link on your RBC account from now until December 31, 2021 | | Dec 31, 21 |
| | Get 5% off at Hotels.com + Hotels.com Rewards. Book your hotels.com stay here (link has the RBC discount) | | Ongoing offer |
Key to the cards:
For more details on or to apply for any of the RBC Cards listed above please visit Rewards Canada's RBC offers page.
How to find and register for the offers
For most offers you should receive an email from RBC to know that you are eligible to register for them. However you can also check to see what offers you are eligible for by signing in to your RBC account online

or via the RBC mobile app. Here is a quick guide on how to find and register for the offers.
RBC Account Online
Once you log in to your account online, you'll see a navigation menu front and centre:

Click on the Offers For You button to access RBC Offers

This will take you to your offers screen where you have a summary of your savings to date followed by featured offers and then by scrolling down you'll see all available offers: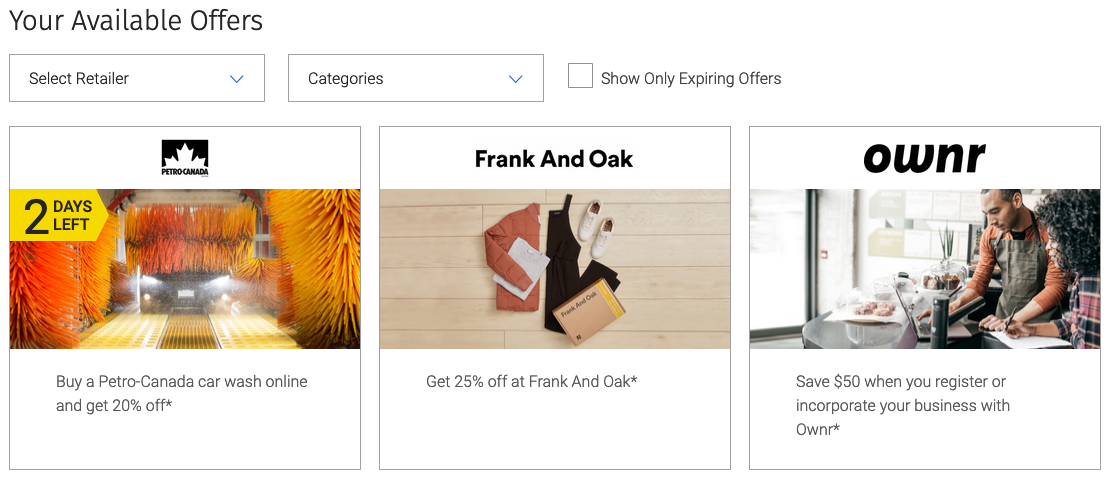 Simply click on one of the available offers and you'll receive a pop up that provides instructions on how to avail of the offer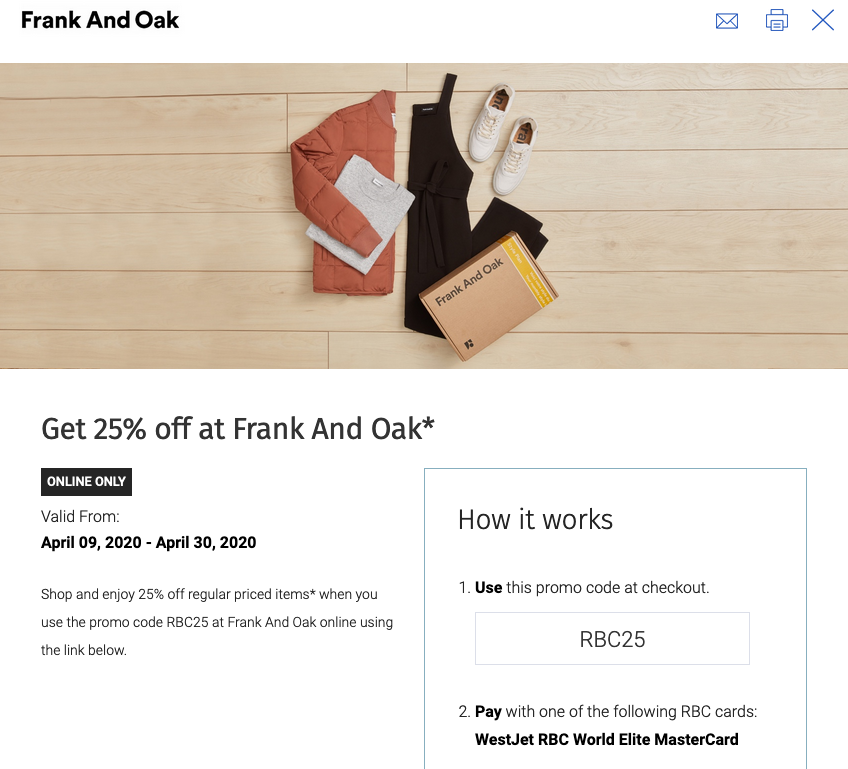 The instructions and action will depend on the offer. You may simply have to click the link provided, use the promo code and the proper card for the purchases or you may have to actually register your card for the offer. The latter is usually required for statement credit offers.
Below the Your Available Offers section you can see which offers you have registered for in the Your Lloaded Offers section:

RBC Mobile App
Once you log in to your account on the RBC mobile app simply scroll down your screen to the offers section or one the 'More' button on the bottom right and tap on Explore Offers to see your available offers. Click on whichever offer interests you to learn of the details and to register if necessary. You can also tap on 'Loaded' to see what offers you have already registered for. That's all it takes!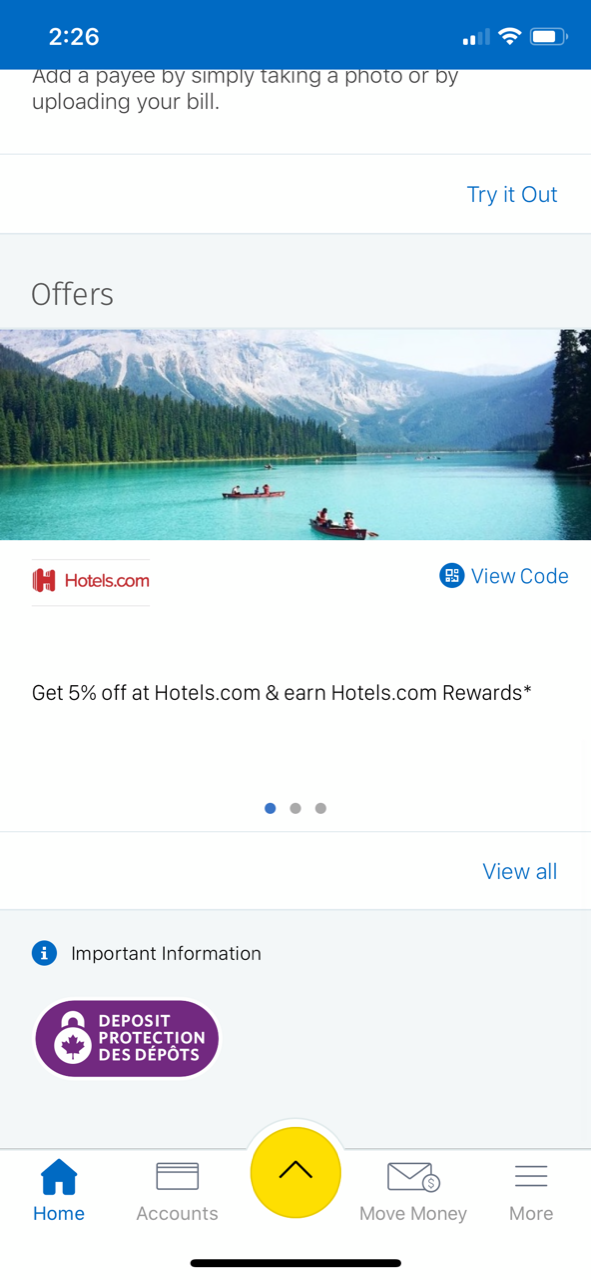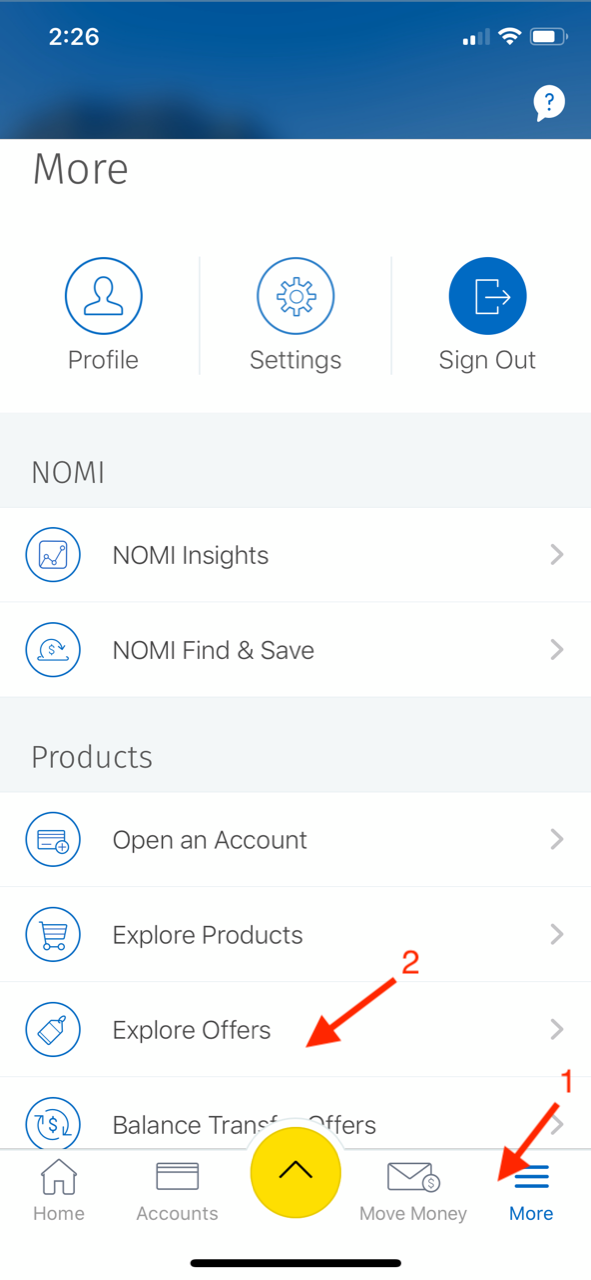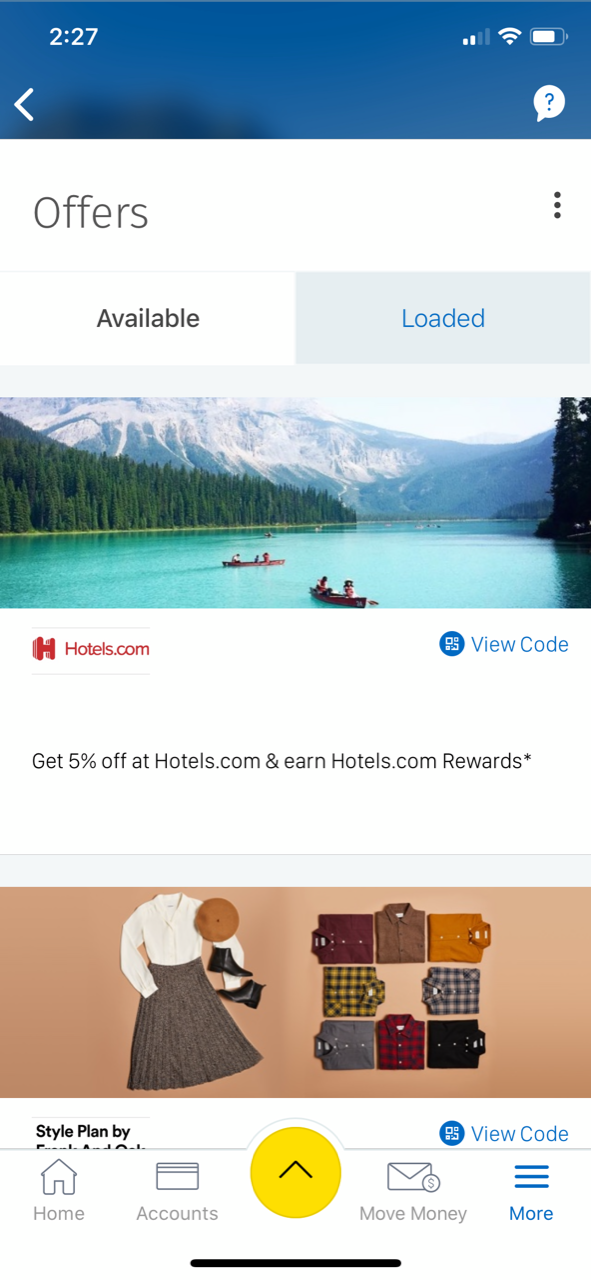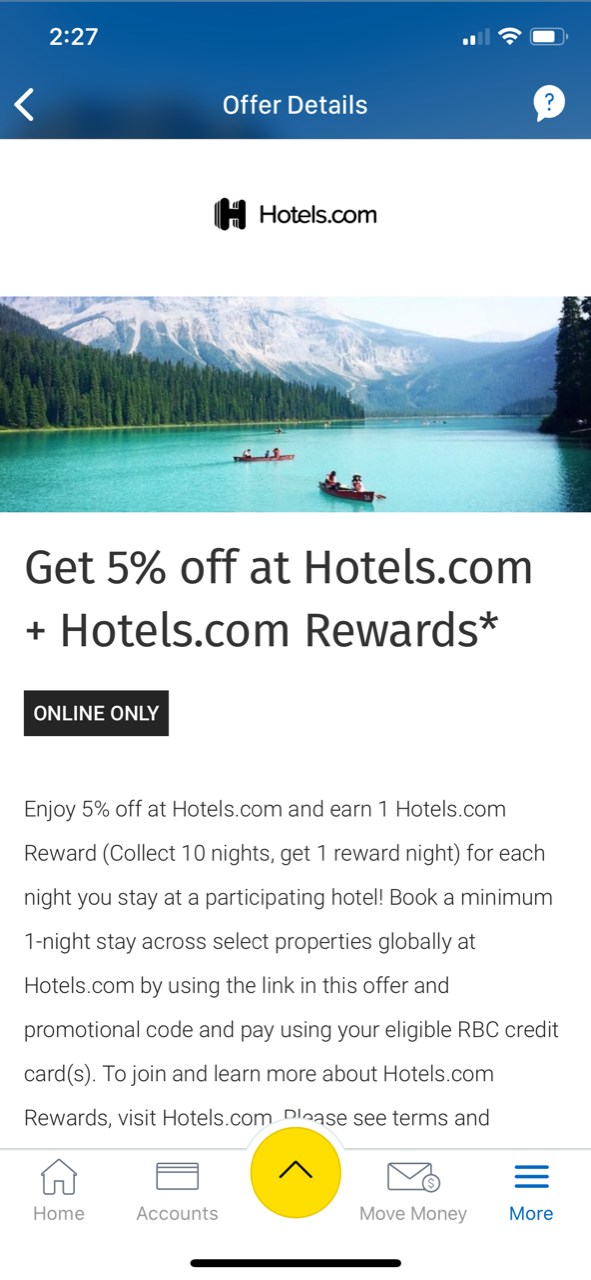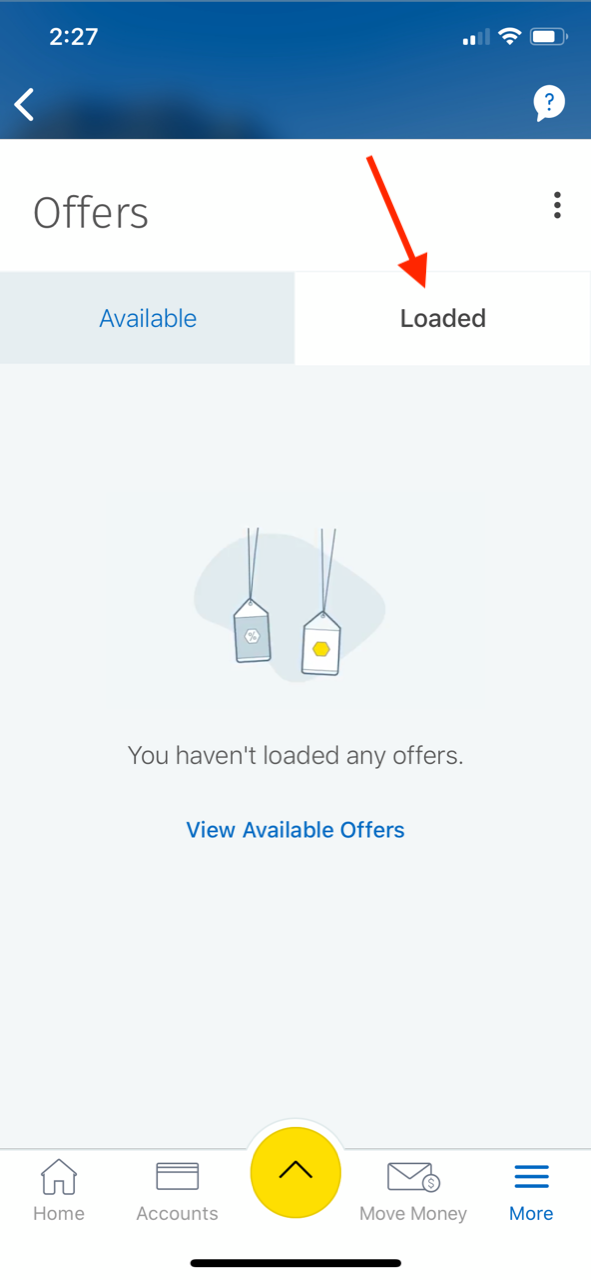 RBC Offers Tips
If you carry more than one RBC card and receive an offer on multiple cards you can ask the retailer to split your payment if the purchase total is high enough for multiple statement credits.
Use your cards regularly to get offers sent to you. Cards that aren't being utilized, i.e. just sitting in a drawer won't have offers sent to them.
Do RBC Offers actually work?
If you are wondering if the offers work properly and are worth taking advantage of here is a screenshot showing my savings to date:

RBC card of the month:
Talk to us!
Let us know in the comments if you come across a new RBC offer that is not listed above or you have an offer we do list but came to card that is not mentioned and we'll add it as soon as possible. Also feel free to let us and our readers know of how you have taken advantage of these offers, how much you have saved or if you have any other tips on how to maximize these offers! Tell us in the comments section below or join the conversation on Facebook and Twitter!

Recommended reading and related articles:
LATEST TOPICS & NEWS
REWARDS CANADA'S TOP FEATURES
SHARE THIS FEATURE


Rewards Canada can be found on the following social media channels:







Disclaimers:
Our goal at RewardsCanada.ca is to present readers with reliable financial advice and product choices that will help you achieve your financial goals.
Rewards Canada receives compensation from some companies issuing financial products, like credit cards and bank accounts, that appear on this site.
Unless a post is clearly marked "Sponsored", however, products mentioned in editorial articles and reviews are based on the author's subjective assessment of their value to readers, not compensation. For full details and current product information click the Apply now link / learn more link.