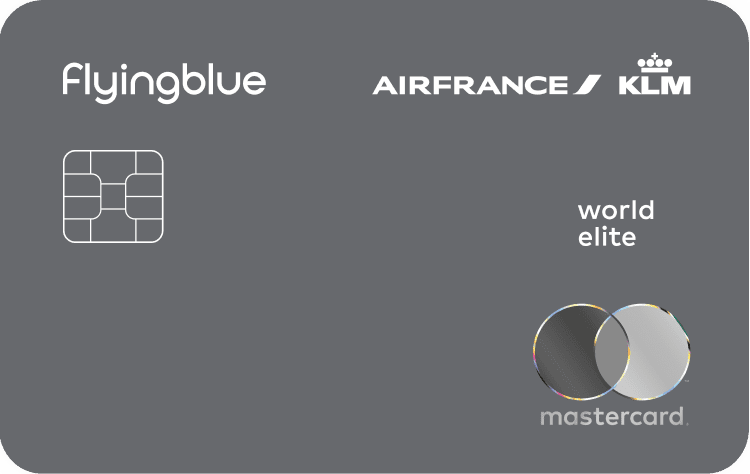 Having launched in the fall of 2022, the Air France KLM World Elite MasterCard® powered by Brim Financial is one of the newest rewards credit cards in Canada. If you are someone who flies with Air France or KLM on a regular basis or fly regularly across the Atlantic you'll want to consider having this card in your wallet.
The review of the Air France KLM World Elite Mastercard is broken down into the following sections:
Overview
The Air France KLM World Elite Mastercard is a card targeted towards Canadians who fly with Air France and/or KLM. It has an amazing benefit that provides accelerated mileage earning on Air France and KLM flights plus provides extra status XP to help cardholders reach that coveted next elite status level in the Flying Blue program.
Costs & Sign up Features
The Air France KLM World Elite Mastercard has an annual fee of $132. This fee is the middle of the road when compared to other cards of this level which charge between $120 and $150 per year. You can add additional cardholders for $50 annually per card.
Interestingly enough the card does not come with any welcome bonus miles. Instead the welcome bonus is 30 bonus XP which are the elite qualifying points for the Flying Blue Program. You can definitely tell how they are trying to target frequent Air France KLM flyers with that bonus! The current welcome bonus also includes no annual fee on the primary card for the first year.
Income requirements for the card are $80,000 annual personal income or $150,000 annual household income.

Earning
The card earns Flying Blue Miles as follows:
2 Flying Blue Miles per dollar spent on on food and drinks (restaurants, bars)
1 Flying Blue Miles per dollar spent on all other eligible purchases
Up to 30 Flying Blue Miles per dollar spent with Brim merchant partners

There is also one additional earn rate that is actually a benefit for just having the card and that is earning an extra 5 Flying Blue Miles per Euro spent on tickets with Air France or KLM. You do not have to actually purchase your flights with the card, you can use any payment method and as long as your Air France KLM World Elite Mastercard is linked to your Flying Blue number you'll earn those 5 extra miles.
Point Valuation Chart
Spending Category
Miles earned per dollar spent
Effective Rate of return (Travel) *
Food and drinks (restaurants, bars)
2
3% to 10+%
All other spending
1
1.5% to 5+%
* This is a low minimum valuation. In most cases you should be able to easily pull more value than this especially if you redeem for business class or first class flights.
Redeeming
As with any airline co-brand credit card this is where the strength lies as frequent flyer programs can and do provide an opportunity to receive outsized value per mile. This is particularly the case when redeeming for business or first class flights but with Air France KLM Flying Blue you can also receive outsized value for economy class redemptions.
You can redeem for reward tickets on the two airline's flights out of Vancouver, Calgary, Edmonton, Toronto, Ottawa, Montreal and Quebec City or anywhere the airlines and their partners fly in the world. Those 30+ partners include WestJet, Delta Airlines, Korean Air and all the SkyTeam Alliance airlines.
Air France KLM Flying Blue uses a dynamic redemption model which means the amount of miles you redeem for flights will vary based on the cash price of tickets. They do however publish the starting point for each region as follows: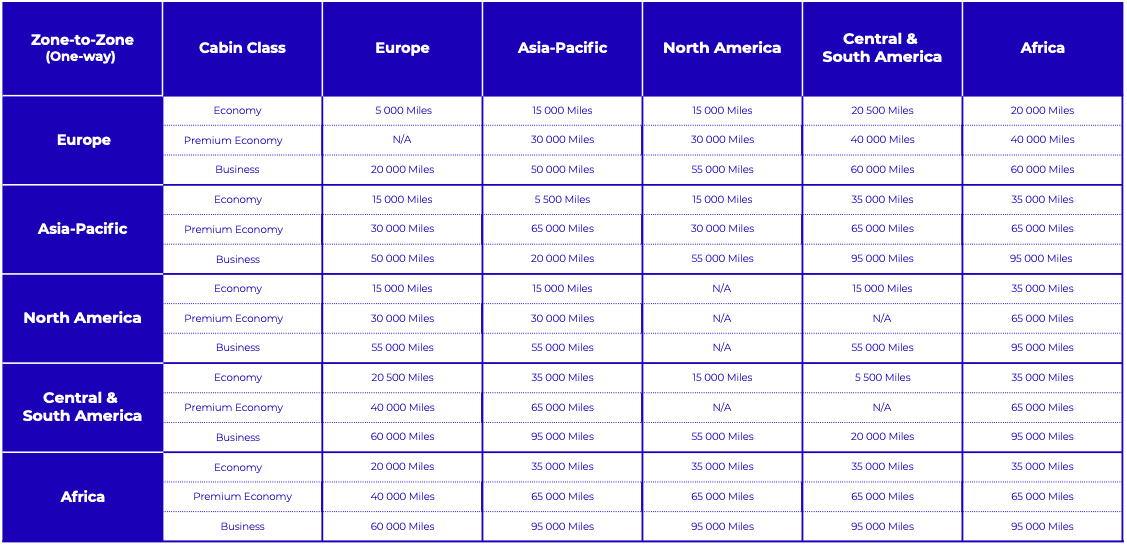 From the chart you can see economy class flights from North America to Europe start at only 15,000 miles and these include your first checked bag! This is the minimum redemption level for flights between Eastern Canada and Europe (as well as Turkey and North Africa) while rewards start at 20,000 miles one way from Western Canada. In our research there tends to be a good amount of availability at those lowest levels. Overall this means you only need 30,000 to 40,000 Flying Blue miles for a round trip economy class flight. The same thing on Aeroplan? You are looking at 60,000 to 70,000 miles round trip - and you have to pay for your checked bags unless you have an Aeroplan co-brand credit card.
Confirmed! Air France KLM Flying Blue's 15,000/20,000 mile Transatlantic redemptions are here to stay
Read more here
Business class reward flights start at 55,000 miles from Eastern Canada to Europe if you redeem on KLM. Air France flights will start at 70,000 miles which is the same as Aeroplan.
In general with frequent flyer programs you should expect to receive a value of 1.5 to 2 cents when redeeming for economy class fights and we use that as a minimum value for Flying Blue Miles. However with those great 15,000 mile offers we have often seen value go beyond 2 cents per miles. In fact, there was an example we found flying Montreal to Algiers (30,000 round trip_ that provided 4.76 cents in value - an almost unheard of valuation when redeeming for economy class!
You can also book free stopovers on Flying Blue rewards tickets flown on Air France or KLM. That pretty much means a free stopover in Amsterdam or Paris on flights out of Canada. These stopovers are available on all reward tickets – even those that are only 15,000 miles! They can utilized on both one way or round trip rewards. The only caveat right now for booking the stopovers is that you have to call Flying Blue to book you reward tickets as the option is not yet available for online bookings.
One notable feature to to also be aware of with Flying Blue are their Promo Rewards. These are monthly discounted flight rewards that let members redeem less miles on select routes. The discounts range from 20% to 50% and you can imagine the great deal you get when it is 50% off Business Class rewards! The 50% off rewards are rare but they happen and the last time we saw them from Canada was December 2022.
Outside of flight rewards you are also able to redeem Flying Blue miles for upgrades and to pay for fight extras like seats and baggage. You can also convert miles to ALL Accor Live Limitless points or redeem them for merchandise.

Features and Benefits
The Air France KLM World Elite Mastercard provides several benefits and additional features that complement the earning of Avios with the card
30XP Annually
On top of the welcome bonus XP you receive when you first get the card there are 30XP awarded annually. Silver Elite status requires 100XP so each year you'll be nearly a third of the way to that status by having the card.
5 Miles per Euro Flight Accelerator
The most enticing benefit that comes with the Air France KLM World Elite Mastercard is the 5 extra miles awarded on Air France or KLM flights. This boosts your earn on paid flights to up to 13 miles per Euro: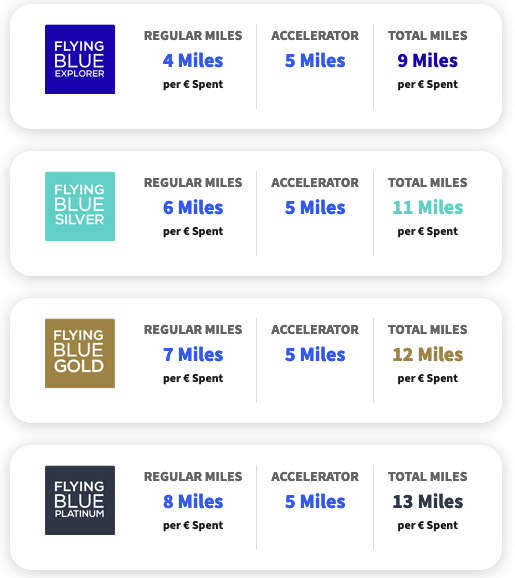 What is most enticing about this benefit is that you don't actually have to buy the flights on your actual AF KLM Mastercard. So long as you have you can pay with any method and still earn this bonus. For example if you have The Platinum Card® from American Express you can take advantage of booking flights via the International Airline Program (discounts on premium class) and you would still earn the 5 miles per Euro bonus.
World Elite Mastercard benefits
Airport Lounge Access The card comes with Mastercard Travel Pass provided by DragonPass which is a standard feature across all World Elite Mastercards in Canada. This means you get free membership in the lounge access program that is pretty much the same as Priority Pass. While the card covers your annual membership it does not cover the actual lounge visit fees which are currently US$32 per person.
Boingo Wi-Fi Boingo Wi-Fi for Mastercard Cardholders provides access to more than 1 million premium Wi-Fi hotspots worldwide at no charge. This also covers Wi-Fi on several airlines including WestJet. As of March 9, 2023 members are limited twelve 90 minute in-flight sessions per year.

Apple Music Receive 4 free months of Apple Music
Insurance
The Air France KLM World Elite Mastercard has a very good insurance coverage included on it. The coverage is as follows:
Out of Province/Country Emergency Medical Insurance (up to 15 days for hose under age 65, 3 days for 65+)
Trip Cancellation Insurance
Trip Interruption Insurance
Flight Delay Insurance
Baggage Delay Insurance
Lost or Stolen Baggage Insurance
Car Rental Theft and Damage Insurance (up to $85,000 MSRP)
Hotel Burglary Insurance
Travel Accident Insurance
Purchase Protection Plan
Buyer's Assurance Protection Plan
Mobile Device Insurance
Event Ticket Protector Insurance