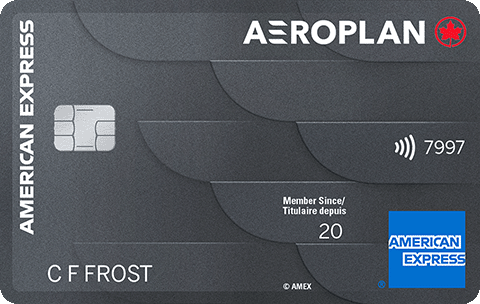 When the new Air Canada Aeroplan program launched in November 2020 the American Express Aeroplan Card was revealed as the replacement for the American Express AeroplanPlus Gold card. It is the premium (mid-level) Aeroplan card offering from Amex and is considered their equivalent of the CIBC and TD Aeroplan Visa Infinite Cards.
The review of the American Express Aeroplan Card is broken down into the following sections:
Overview
The American Express Aeroplan Card is a mid-level charge card for Canadians who like to travel on Air Canada and/or have Aeroplan as their primary loyalty program. It has great earn rates for purchasing travel directly with Air Canada and provides cardmembers with huge savings on Air Canada flights thanks to its first checked bag free benefit.
Costs & Sign up Features
The American Express Aeroplan Card has an annual fee of $120. This is now considered to be on the the lower end of the spectrum for premium cards in Canada where many now run between $130 and $150 per year. You can add additional cardholders for $50 annually per card to receive the same benefits as the primary cardholder or you can choose a $0 additional card which earns points only.
Right now the American Express Aeroplan Card offering a welcome bonus of up to 50,000 Aeroplan points. The bonus is awarded as 35,000 points when spend $3,000 on the card in the first six months of card membership and then 2,500 Aeroplan points for each monthly billing period in which you spend $500 in purchases on your Card for the first six months of Cardmembership.
Like all American Express cards in Canada this card does not have any specific income requirements.

Earning
The card earns Aeroplan points on everyday purchases as follows:
2 points per eligible dollar spent on eligible purchases made directly with Air Canada®* and Air Canada vacations®
1.5 points per eligible dollar spent on eligible Dining and Food Delivery purchases in Canada
1 point per eligible dollar spent on all other spending

The card also provides the ability to earn status points and segments that help you qualify for Air Canada Elite Status. You'll earn 1,000 Status Qualifying Points and 1 Status Qualifying Segment for every $10,000 spent on the card.
Point Valuation Chart
Spending Category
Points earned per dollar spent
Effective Rate of return (Travel) *
Air Canada
2
3% to 10+%
Dining & Food Delivery
1.5
2.25% to 7.5+%
All other spending
1
1.5% to 5+%
* This is a very low minimum valuation. In most cases you should be able to easily pull more value than this especially if you redeem for business class or first class flights.
Redeeming
This is where the strength of the Air Canada Aeroplan program comes through and makes the American Express Aeroplan Card shine. Aeroplan offers numerous redemption options but being a frequent flyer program the primary redemption option is reward flights on Air Canada and Aeroplan partner airlines. Overall you can redeem Aeroplan points to well over 13,000 destinations Worldwide which is one of the reasons Aeroplan is so popular.
The new Aeroplan program has done away with their standard award charts (Classic Flights) that were the norm with the program since its inception in the 1980s. That being said, for travel on Air Canada, they do provide a range of points you could expect to redeem for flights on Air Canada with the claim that approximately 80% of redemptions will fall in that range but 20% could end up being less or more than what is published. Essentially what Air Canada has done is made the old Market Fare awards (any available seat at any time for a dynamic range of points) as their standard redemption model now for Air Canada flights. Flights on partner airlines will still follow a fixed price reward chart model. You can see all the redemption values in this PDF here.

What hasn't changed in the Aeroplan program is the ability to redeem for Economy, Premium Economy, Business and First Class flights. With the latter three tending to provide outsized value when you compare to any other loyalty program in the market. Speaking of premium flights, just in case you didn't know you can redeem Aeroplan points to fly in Etihad's ultra luxurious Apartment first class seats. And the great news with the American Express Aeroplan Card (or any Aeroplan co-brand card) is that you receive preferred award pricing when you redeem points for flights. This discount varies by route, date, time etc. but we have seen it in the 10 to 30% range. The discount even gets slightly bigger if you have Air Canada elite status but that only adds a few percentage points to the overall discount - the biggest portion does come from having the credit card.
On top of all this the new Aeroplan program no longer has to those dreaded carrier surcharges that could run into the high hundreds and sometimes thousands of dollars. While the surcharges have been done away on all Aeroplan airline partners - the program does charge a reasonable $39 fee for booking flights on partner airlines. The removal of the surcharges did however translate into an average higher cost in points for a lot of the redemption options albeit in many of our searches the increase in points is much less than what you used to have to pay for those surcharges.
We didn't want to make this review go on forever so we have kept the redemption section to a very top level description however it you want to learn more about redeeming for flights with the Aeroplan program we recommend reading the following articles:
Finally you are also able to redeem Aeroplan points for non-flight rewards including hotels, car rentals, Air Canada Vacations packages, gift cards (soon to be electronic only so you'll get them right away!), merchandise (the catalog is being expanded greatly thanks to partnerships with new retailers) and more.

Features and Benefits
The American Express Aeroplan Card has several key features and benefits as follows:
First Checked Bag Free on Air Canada flights
Probably the most popular benefit that has been added to all Aeroplan co-brand cards is the first checked bag free benefit. It is provided for the cardholder and up to 8 companions on the same reservation and it waives the fee associated with basic and standard economy class fares. This saves the cardholder $30 per bag on flights in Canada, to the U.S., Mexico & Caribbean. It will also save $70 per bag if you buy the cheapest economy basic fares to Europe. (Pricing was current as of November 2, 2022)
Share Air Canada Travel Benefits with additional cardholders
If you choose to add the fee based additional cards at $50 each those cardmembers will receive all the same Air Canada Travel Benefits as the primary cardholder.
American Express Experiences
The American Express Aeroplan Card comes with American Express Experiences which includes Front Of The Line® Advance Access, Front Of The Line® Reserved Tickets, Front Of The Line® E-Updates, Special Offers & Experiences for all Cardmembers and Social Access for all Cardmembers.
Amex offers
As with all American Express Cards this card receives Amex Offers. These are exclusive limited time offers sent out to cardmembers to receive statement credits or bonus points for using their card at select merchants. Depending on your shopping habits these offers alone can provide enough savings in a year to cover the annual fee on the card if not more! You can learn more about this feature in Rewards Canada's Guide to American Express Canada 'Amex Offers'
Insurance
The American Express Aeroplan Card comes with an average insurance coverage package. The coverage is as follows:
Flight Delay Insurance
Baggage Delay Insurance
Lost or Stolen Baggage Insurance
Damaged Baggage Insurance
Car Rental Theft and Damage Insurance (up to $85,000 MSRP)
Hotel Burglary Insurance
Travel Accident Insurance
Purchase Protection Plan
Buyer's Assurance Protection Plan (Extended warranty)