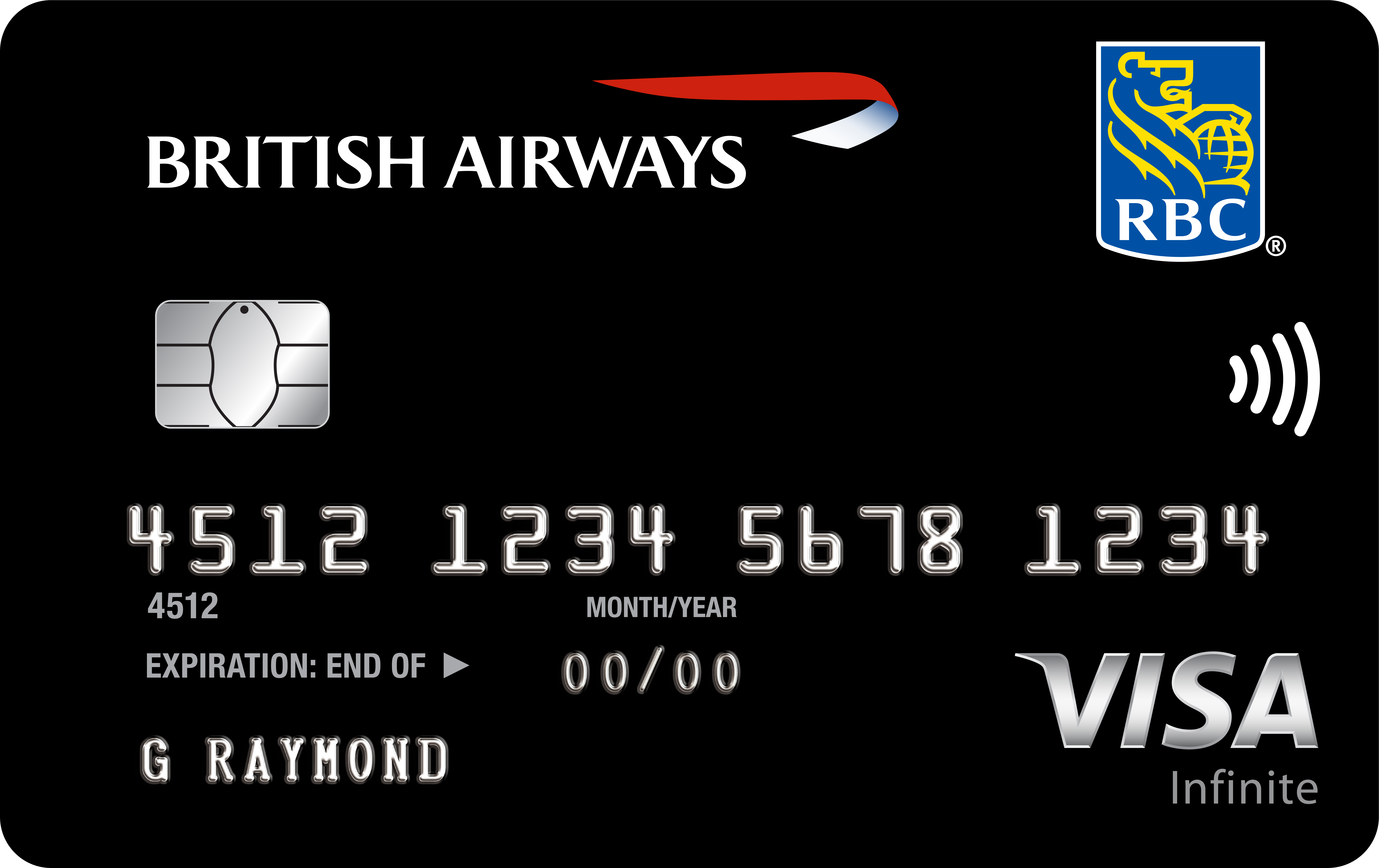 The RBC British Airways Visa Infinite Card is ranked as the 5th best airline card in Canada overall but if you are someone who flies British Airways it is the #1 card to have. Thanks to benefits that provide significant cash and/or Avios savings this card should be in the wallet of Canadians who fly with the airline at least once or twice per year.
The review of the RBC British Airways Visa Infinite Card is broken down into the following sections:
Overview
The RBC British Airways Visa Infinite Card is a card targeted towards Canadians who fly with British Airways. It has an amazing discount benefit for tickets purchased with British Airways that can easily pay for the annual fee or more in just one booking. Add in an companion award voucher for those who can spend $30,000 or more on this card annually and you have a card that is perfect for Canadian British Airways flyers
Costs & Sign up Features
The RBC British Airways Visa Infinite Card has an annual fee of $165. This is the highest annual fee found on a Visa Infinite Card in Canada not including Infinite Privilege cards. You can add additional cardholders for $75 annually per card.
Right now the card comes with a welcome bonus of up to 60,000 Avios (the currency of British Airways Executive Club) . The bonus is awarded as 15,000 Avios when you are approved for the card and then 35,000 Avios when you spend $6,000 in the first three months. You'll earn the final 10,000 points after the first year with the card as an anniversary bonus. This offer is available until Feb 28, 2023.
Income requirements for the card are $60,000 annual personal income or $100,000 annual household income.

Earning
The card earns Avios as follows:
2 Avios per dollar spent on British Airways and BA Holidays purchases
1 Avios per dollar spent on all other eligible purchases

Point Valuation Chart
Spending Category
Points earned per dollar spent
Effective Rate of return (Travel) *
British Airways, BA Holidays
2
3% to 10+%
All other spending
1
1% to 5+%
* This is a very low minimum valuation. In most cases you should be able to easily pull more value than this especially if you redeem for business class or first class flights.
Redeeming
As with any airline co-brand credit card this is where the strength lies as frequent flyer programs can and do provide an opportunity to receive outsized value per point, well, in this case per Avios. This is particularly the case when redeeming for business or first class flights but you may even find economy class flights where the value is better than proprietary credit card reward programs.
British Airways Executive Club (BAEC) offers numerous redemption options but being a frequent flyer program the primary redemption option is for flights. You can redeem Avios to travel to thousands of destinations Worldwide and you don't actually have to travel to or via the UK to take advantage of the program.
BAEC allows you to redeem Avios for economy, premium economy, business and first class flights on British Airways and 15 other airlines from around the globe. For us Canadians the most popular partner airlines are Aer Lingus, Alaska Airlines, American, Cathay Pacific, Japan Airlines and Qatar Airways. Of course you are not limited to redeeming on just those airlines however!
On average you can expect to receive a value of 1.5 to 2 cents per Avios when redeeming for economy class flights and 2 cents or more for the premium classes. In fact, it isn't unheard of to be able to get a value of 5 cents, 8 cents or more per Avios for business and first class flights. Those are the outsized values that we mentioned at the start of this section.
It also good to know the program has Peak and Off Peak award flight pricing. More days than not the program actually prices with Off Peak pricing, and a lot of those are very competitive with other popular programs for Canadians. In fact, with Off-Peak pricing you can fly to Ireland and the UK from Eastern Canada for as little as 13,000 Avios one way. Toronto to Dublin on Aer Lingus is quite possibly the most famous international economy class award redemption for Canadians as it does not incur as high of fees as going Toronto to London on British Airways.
More recently the program introduced Reward Flight Savers where you pay a lot less in fees on those British Airways awards but you do have to redeem a higher amount of Avios. We ran some comparisons and these new Reward Flight Savers still provide some great value - especially when compared to a program like Aeroplan. You can read more about this new option here:
Recommended reading: New British Airways Reward Flight Saver option offers lower surcharges!
Another cool feature with British Airways Executive Club is being able to connect your account to other Avios earning programs. Those are Aer Lingus Aer Club, Iberia Plus, Qatar Airways Privilege Club and Vueling Club. When you have accounts with some or all these airlines you can move Avios between them to take advantage of some of the individual intricacies each program has. For example Iberia tends to charge less Avios for long haul business class flights than British Airways, Qatar Airways has earning and redeeming partners you won't find with British Airways and so forth.
The program also allows you can also choose to do partial payment for award flights. That is, Cash + Avios to pay for tickets which is a great option when you don't have enough Avios to pay for an entire award flight.
Finally, you are also able to redeem Avios for upgrades and to pay for fight extras like seats and baggage. You can also redeem for hotel stays, car rentals, experiences or donate them to charity.

Features and Benefits
The RBC British Airways Visa Infinite Card provides several benefits and additional features that complement the earning of Avios with the card
10% discount on British Airways flights
The 10% off British Airways flights is the benefit that provides the most value and is the primary reason that people get this card. The discount is off the total cost of the fare (including taxes, fees, and carrier charges) for travel in any cabin from economy (World Traveler) to premium economy (World Traveler Plus) for business (Club World) or even First Class. So if you buy several British Airways tickets a year, that 10% off can provide big savings – especially if it is for business or first class. Think about a business class flight between Toronto and London that can run $5,000 or more. Ten percent of that is $500 and that alone pays for the $165 annual fee a few times over! Click here to learn more about the 10% discount
Here's an example of using the discount for business class flight between Toronto and London: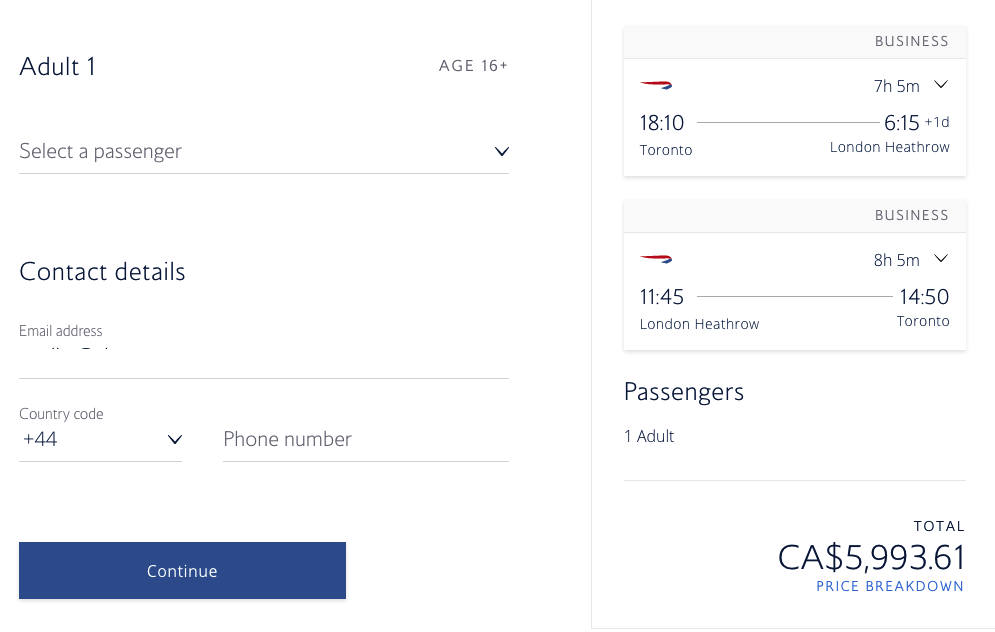 Annual award flight companion voucher
The second benefit to this card is the annual Companion Award eVoucher. Little known fact - this card was actually one of the first cards in Canada to offer a Companion Voucher! You'll receive the voucher when you spend $30,000 or more on the card in any calendar year. This voucher is used when you make an award booking which means it can save you a lot of Avios! What this means is that when you book an award ticket departing from Canada you can use the voucher when to redeem for second award ticket on the same reservation to take a companion along. All you pay are the taxes and fees for the companion fare. Just like the 10% discount this is benefit is available on all fare classes. Thinking about a business class reward that is 100,000 Avios per person? Well, with this voucher it basically becomes 50,000 Avios per person - plus taxes and fees of course!
Visa Infinite benefits
Visa Infinite Luxury Hotel Collection provides benefits like room upgrades, complimentary Wi-Fi and breakfast, late checkout, and so much more at over 900 Visa Infinite Luxury Hotel Collection properties around the world.
Visa Infinite Dining Series - Each event includes multi-course meals, drink pairings and an interactive experience. You'll get to taste dishes from some of the country's top chefs and restaurants as they guide you through each course.

Wine country benefit from wineries across Ontario and British Columbia including complimentary tastings and tours. You can also get access to online offers like complimentary shipping and savings on wine purchases.
Get golf perks with Troon Rewards® through your Visa Infinite card and automatically receive Silver Status. You'll save 10% on golf fees, merchandise, and lessons at over 150 courses around the world.
Access to private movie events and at-home offers as part of the Visa Infinite Screening Series. In the fall, get special perks at the Toronto International Film Festival®.

Visa Infinite card includes a Complimentary Concierge service that can offer help with anything like the perfect travel itinerary, restaurant recommendations, finding the perfect birthday gift, and more
RBC offers
As with all RBC cards the RBC British Airways Visa Infinite Card receives RBC Offers. These exclusive limited time offers are sent out to cardmembers to receive statement credits, discounts or bonus points for using their card at select merchants. Depending on your shopping habits these offers alone can provide enough savings in a year to cover the annual fee on the card if not more! You can learn more about this feature in Rewards Canada's Guide to RBC Royal Bank 'RBC Offers'
Partner benefits
RBC offers some exclusive benefits for all their credit cardholders with select retail partners in Canada. For the RBC British Airways Visa Infinite Card those benefits are:
Link your Petro-Points card to your new RBC credit or debit card and use it to pay for purchases at Petro-Canada to always:
Save 3 ¢/L on gas with every fill-up
Earn 20% more Petro-Points
Earn more Be Well points at Rexall
Get 50 Be Well points for every $1 spent on eligible purchases when you shop at Rexall with your linked RBC® card
Enjoy $0 delivery fees with DoorDash
Get a complimentary DashPass subscription for up to 12 months with an eligible RBC credit card – a value of almost $120
Insurance
The RBC British Airways Visa Infinite Card comes with a decent insurance package however Trip Interruption and Trip Cancellation coverage are noticeably absent.
Out of Province/Country Emergency Medical Insurance (31 days under 65, 7 days 65+)
Flight Delay Insurance
Baggage Delay Insurance
Lost or Stolen Baggage Insurance
Car Rental Theft and Damage Insurance
Hotel Burglary Insurance
$500,000 Travel Accident Insurance
Purchase Protection Plan
Buyer's Assurance Protection Plan