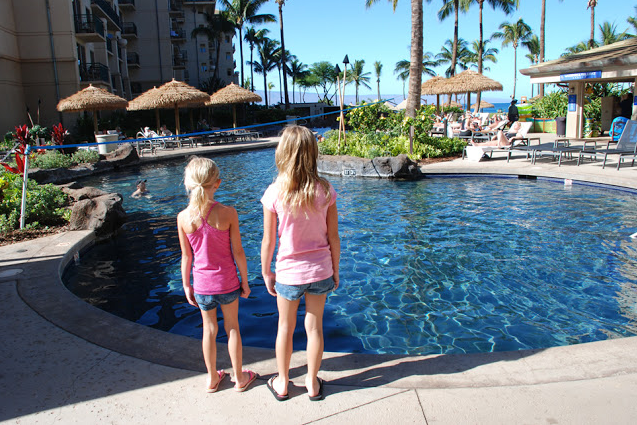 In this feature of Rewards Canada's Ultimate Credit Card Portfolios we look at the ultimate wallet for families who like to travel. We have always recommended that you should carry a Visa, a Mastercard and an American Express card in your wallet. The reason why is that there are benefits, promotions and earning potential unique to each brand of credit card. We won't go into detail here on those offers as you can read all about it in our feature on how to
Maximize your Miles and Points
but here we outline one card from each brand that will help you and your family save money on travel, have fun free nights and more. Ultimately there are various options that could be utilized for a family travel portfolio depending on your travel and spending habits but we look at one card from each issuing brand that won't totally break the bank on annual fees and provide lots of rewards, benefits beyond rewards along with some great insurance coverage.
What is Rewards Canada's Ultimate Family Travel Credit Card Wallet? It is the following three cards:
In this portfolio, 2 of 3 cards are more about the perks provided rather than the rewards earned while the third is there for the strong earn and insurance coverage. Ultimately however, all three cards do earn decent rewards for various type of travel so unlike our other Ultimate Portfolios where there is usually one primary card, this wallet allows for any of the three cards to be your primary card or you can share the wealth and use all three equally on your spending.

Earning / Spending
In terms of spreading your spending out on these cards, as we mentioned above you really could use any of the three for purchases however there are some specific category bonuses for each card where you'll want to pull out that card for that purchase. If you are buying groceries, dining out to eat or ordering Uber Eats, you'll want to put those purchases on the American Express Cobalt Card. Why? The card offers 5 points per dollar on spending in those categories! That is equivalent to a 5% return, which can only be matched by few redemptions out there with programs like Aeroplan or Marriott Bonvoy. Further more the card offers 2 points per dollar on transit, travel and gas so put those purchases on this card as well. If the places don't accept American Express you could go with either of your two other cards. Purchasing WestJet flights or WestJet vacation packages, well then it makes sense to use the WestJet RBC World Elite Mastercard since it provides 2% back in WestJet dollars on those bookings. All other purchases? It really is up to you where you'll want to funnel them but know that the WestJet card offers 1.5% on all other purchases, the American Express Cobalt is 1% and the RBC Avion Visa Infinite card can get you a return as high as 2.33% but in most cases it is somewhere between1 and 2%.
How to maximize the benefits and rewards from these cards for your family
This is the fun part of the portfolio! The perks that come with one of the three cards can help you save money on your travels and provide some extra fun perks. That card is the WestJet RBC World Elite Mastercard. Here are the perks of the WestJet card: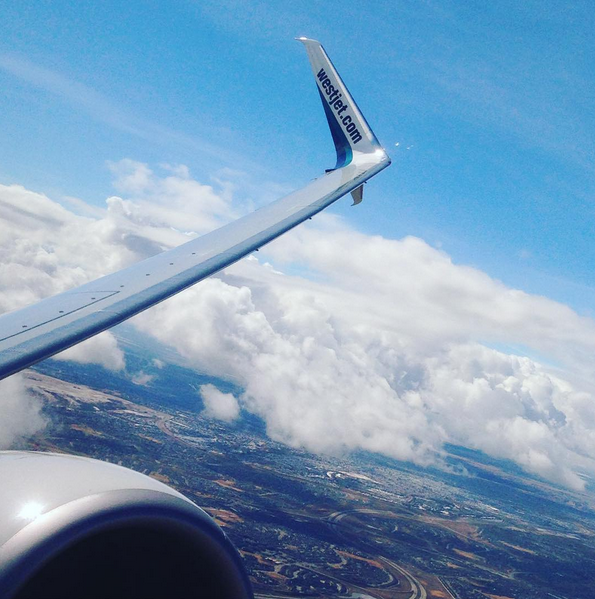 There are two major money saving benefits that come with the WestJet RBC World Elite Mastercard. The first is that it provides the first checked bag free for the cardholder and up to eight other people on the same travel reservation. With most family travel not limited to overnight trips where you may not check luggage this can be a huge cost saver. A family of four travelling to Disneyland, Disneyworld or anywhere else WestJet flies will save $100+GST/HST each direction on those flights. Take two family vacations per year? You could save yourself over $400 just on baggage fees! The second money saving benefit is the companion pass offer that comes with the card. Up until a year ago the pass was limited to flights within Canada or the lower 48 of the U.S. but that was changed to being able to use it to anywhere WestJet flies in any fare class. The pass lowers the cost of a companion ticket to anywhere from $99 to $399 depending on where you fly to and can be a huge cost saver. That family of four going to Disneyland during March Break could see fares in the $500 or more range but using the companion pass on one of those tickets means it will only cost you $99+taxes/fees saving you $400 (see our link just below on other cost savings examples with the companion pass). The companion pass voucher is awarded annually so you can save money every year and if you are that family of four you may want to explore grabbing two WestJet World Elite Mastercards, one for mom and one for dad. That way you can take advantage of two annual companion pass vouchers and if one spouse is travelling alone they'll still get the first bag free benefit.
Related: Say hello to the updated WestJet RBC World Elite Mastercard - travelling with a companion just got way better!
Rewards

On the rewards side, all three cards are great! The WestJet cards comes with that 250 WestJet dollar sign up bonus on top of the other benefits we mentioned and remember folks, this card only costs $99 per year! Not only have you got the companion voucher, the first bag free now you have 250 WestJet dollars to use on any WestJet flight since WestJet dollars are treated like really cash, buying four $500 tickets for that trip to Disneyland, you've utilized the voucher as we mentioned above to save $400 on one ticket, now you can also redeem the $250 towards the tickets so your savings have been pushed to $650 and we haven't included the bag fees saved. Chances are you'll have more than 250 dollars in your WestJet account so the savings could be even higher. Are you getting the picture on how this card is ideal for the family who travels within Canada, the U.S., sun destinations or even the U.K. Of course travelling anywhere else and you don't see the benefits but from our numerous discussion with so many families it seems like North America and sun destinations are on the top of the list for most Canadian families.
The RBC Avion Visa Infinite card earns points that can be used towards flights that can be redeemed via their Avion airline redemptoin chart which provides up to 2.33% return. Right now you can receive up to 35,000 bonus RBC Rewards points when you sign up for the card. We recommend reading our feature on How to maximize value out of the RBC Avion Airline Award Chart to learn the ins and outs of the chart. You can also convert RBC Rewards points to British Airways, American AAdvantage, WestJet Rewards and Cathay Pacific Asia Miles. The best bet is British Airways since twice per year they provide a bonus of anywhere of 30% to 50% when you do convert to BA. Here are two articles that really show effective of program British Airways Executive Club can really be:
Finally, with the American Express Cobalt card this is where you can put that 5% you earn to real good use but we'll return to that in a second. When you get the card it currently comes with an up to 30,000 point bonus when you spend $500 per month during the first 12 months. You then have the 5 points per dollar spent on Dining, Grocery and food delivery purchases so you can really make the points add up faster with this card. The redemption side for rewards with this card are another ray of sunlight. You can book any travel with anyone you want and then redeem the points against the charge. Booking the Disneyland Resort hotel or the Grand Californian for that Disneyland trip we keep mentioning? Say you book 3 nights at $350 per night and have 35,000 points on your Cobalt card? Well you can redeem those points for a $350 credit towards the $1050 charged to you card. You are essentially giving you one night free, of course if you have more points you can redeem even more or less, its all up to you. You also have the beauty of continuing to spend on the card and earn more points to redeem against that hotel stays since Amex gives you up to 12 months after the charge posts to your account to redeem the points for it.
That's it in a nutshell, the Ultimate Family Credit Card Portfolio. I could write way more than this on how to utilize these three cards but I don't want to bore you. I think what we have above gives you a pretty clear picture on how you can save your family loads of money on all those vacations that most of us want to take!
The Ultimate Family Credit Card Portfolio:
Card
Card Features



WestJet RBC World Elite Mastercard

Earn up to 450 welcome WestJet dollars
Receive 250 dollars upon approval and 200 dollars when you spend $5,000 in the first three months.
Receive a Status Lift of $500 in tier qualifying spend for every $15,000 in everyday purchases on your WestJet RBC World Elite Mastercard.

Annual $119/$399 Companion Flight when you sign up for and receive the WestJet RBC World Elite Mastercard.

Earn 1.5% back in WestJet dollars on every purchase you make with your card

Earn 2% back in WestJet dollars when you purchase WestJet flights or WestJet Vacations packages with your card

Companion flight vouchers are an annual benefit.

First bag free for the primary cardholder up to 8 people traveling on the same reservation to anywhere WestJet flies!

Companion voucher details:

Travel to Canada and the Continental US for $119 CAD
Travel to the rest of the WestJet network for $399 CAD






RBC Avion Visa Infinite

Annual Fee: $120
Additional Card Fee: $50

Get up to 55,000 bonus points (a value of up to $1,100), that's enough to fly anywhere in North America or the Caribbean! (Taxes and Fees extra) - You'll get 35,000 Welcome Points on approval and 20,000 bonus points when you spend $5,000 in your first 6 months. Apply by January 31, 2023



Earn 1 RBC Rewards® point for every dollar you spend* and an extra 25% on eligible travel purchases.
When you are ready to travel again, Avioners can book flights with points on any airline, on any flight, at any time, early or last minute, with no blackout periods or restrictions.

Avioners earn points that never expire so your points will be waiting for your next adventure.

Redeem your points for travel and more. Use points for anything from paying bills and paying your card balance to redeeming for Gift Cards and Merchandise at top brands like Apple. The RBC Rewards program gives you the freedom of choice to use your points your way, and helps you make the most as an Avioner.

Eligible RBC Rewards members can also convert points to other loyalty programs including WestJet dollars, British Airways Avios points and Hudson's Bay Rewards points.

Link your RBC card with a Petro-Points membership to instantly save 3₵ per litre on fuel at Petro-Canada stations and earn 20% more Petro-Points and 20% more RBC rewards points

Link your RBC card with a Rexall Be Well account and get 50 Be Well points for every $1 spent on eligible products at Rexall. Redeem Be Well points faster for savings in store on eligible purchases where 25,000 Be Well points = $10

Get access to RBC offers which provides access to earn points faster at specified brands

Extensive insurance including: mobile device insurance, travel insurance (trip cancellation, interruption and emergency medical) and other eligible purchases to protect you and your family

Avioners get access to luxury Visa Infinite benefits including first in line for exclusive events, and hotel and dining benefits.

Avioners no longer need 14-days to book travel using the RBC grid
Up to a 2.3% return on your spending depending on which reward ticket you book
Unwritten ability to redeem for Business Class tickets although at a lower rate of return when compared to the Avion Reward chart
Get $0 delivery fees for 12 months from DoorDash17 - Add your eligible RBC credit card to your DoorDash account to:
• Get a 12-month complimentary DashPass subscription18 – a value of almost $120
• Enjoy unlimited deliveries with $0 delivery fees on orders of $12 or more when you pay with your eligible RBC credit card

2023 Overall Top Travel Rewards Card
2023 Top Hybrid Travel Rewards Card
This is the best overall credit card in Canada!

Monthly Fee $12.99/month of Cardmembership ($155.88 annually) Additional Cards: $0
Annual interest rate 20.99% on purchases and 21.99% on funds advances

• In your first year as a new Cobalt Cardmember, you can earn 2,500 Membership Rewards® points for each monthly billing period in which you spend $500 in net purchases on your Card. This could add up to 30,000 points in a year. That's up to $300 towards a weekend getaway or concert tickets

• Earn 5x the points on eligible eats and drinks in Canada, including groceries and food delivery
• Earn 3x the points on eligible streaming subscriptions in Canada
• Earn 2 points for every $1 spent on eligible transit & gas purchases in Canada and eligible travel purchases. That's 2X the points on purchases that get you from point A to B 
• Earn 1 point for every $1 in Card purchases everywhere else. We won't tell you where to spend, we'll just reward you on your Card purchases

• Transfer points 1:1 to several frequent flyer and other loyalty programs
• Cobalt Cardmembers receive regular Perks such as bonus reward offers and access to great events
• Access Front Of The Line® Presale & Reserved Tickets to some of your favourite concerts and theatre performances and special offers and events curated for Cardmembers with American Express® Experiences
• American Express is not responsible for maintaining or monitoring the accuracy of information on this website. For full details, current product information and Terms and Conditions, click the Apply now link. Conditions Apply

Other Card Options:
There are potentially lots of other cards options but most won't provide the cost savings outside of rewards points like the list we provide above. Of course you could always consider the best overall card in Canada, the American Express Gold Rewards Card as it works just like the American Express Cobalt Card in that you can redeem for any travel and it also gives you the option of converting to Aeroplan, British Airways and several other programs. Another option is the Marriott Bonvoy American Express Card as it is strong for redeeming at Marriott hotels but also gives you the option to convert to 40+ airlines including Aeroplan. The RBC Avion Visa Platinum could be another choice for the Visa slot seeing that you can redeem for almost any flight, read our post on How to maximize value out of the RBC Avion Airline Award Chart to make the most of this card and it also gives you the opportunity to convert to WestJet dollars, American Airlines and British Airways. On the Mastercard front, there are no cards out there that compare with the WestJet card for saving you money on the travel extras like bag fees and companion fares however there are cards like the mbna Rewards World Elite Mastercard which have higher returns on the actual points for purchases at 2% for travel redemptions versus the WestJet's 1.5%. With all these other card options you need to weigh not just the earn rate but also the perks and benefits to see which combination of cards will provide the best value for your family.

Talk to us!
What do you find works best for your family? Do you use these three cards exactly as laid out above or do you use a different combination? Tell us in the comments section below or join the conversation on Facebook and Twitter!

Rewards Canada can be found on the following social media channels: