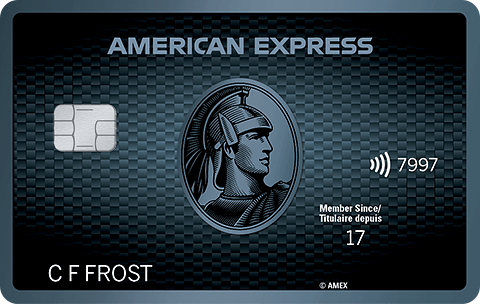 Let me start off that, yes,  there was a lot of buzz about the launch of the NEW
American Express Cobalt Card
, so the anticipation for it was big. Now American Express has officially launched Cobalt and all I can say is this is a game changing card.
Overview
The American Express Cobalt Card was the first card in Canada to offer up to a 5% return that isn't limited to the first few months of having the card. This card is targeted towards Millennials but that doesn't mean people outside of that generation shouldn't look at the card. I'm not a Millennial and will be getting the card. Same goes for my wife. There's two people outside the target market who will be grabbing the card.

Sign up Features
Right now the American Express Cobalt Card comes with a limited time sign up bonus of up to 50,000 Membership Rewards points. One might ask how can a card company avoid people taking advantage of such a big bonus with only a small monthly fee and someone cancelling the card? You make the bonus monthly, that's how! Simply putting $500 in spending on your card during a billing cycle will net you 2,500 Membership Rewards Points for the first 12 months. Ideally then you need to spend $6,000 in the first year (12x$500) to earn 30,000 points. If you miss out on $500 spending in any of those first 12 months you will miss out on the bonus for that month, so it is key you keep on top of your spending and make that $500 per month for those first 12 months. The additional 20,000 points comes when you spend $3,000 on the card in the first three months of having it.
Costs
The American Express Cobalt Card charges $12.99 per month for having it which equates to an annual fee of $155.88.

Earning
The card earns Membership Rewards points like other proprietary American Express cards and has category multipliers on the types of purchases that many Millennials make:
5 Points per dollar spent at eligible restaurants, bars, grocery stores and food delivery in Canada

3 Points per dollar spent on select streaming services purchases.
2 Points per dollar spent on eligible transit & gas purchases in Canada and eligible travel purchases.
1 Points per dollar spent on all other eligible purchases.
The above points are awarded on eligible spend. The category multipliers will be awarded on spend made globally so long as the merchant is classified/categorized with the proper merchant codes.
Redeeming
The American Express Cobalt Card comes with a modified version of Membership Rewards. It has the full Use Points for Purchases option, the Fixed Points Travel Programs and includes the hotel portion of the Frequent Traveller Participants. This means there is no direct conversion to the # of airlines that partner with Membership Rewards.
If you redeem using the Use Points for Purchases option, you will get a $10 credit towards every 1,000 points redeemed for a purchase. This means the purchases you make on food and drinks will equate to a 5% return.
Moving on to the Fixed Points Travel Program, the card provides great value here as well. Being able to earn up to 5 points per dollar means you can be flying for as little as $3,000 in spending on this card!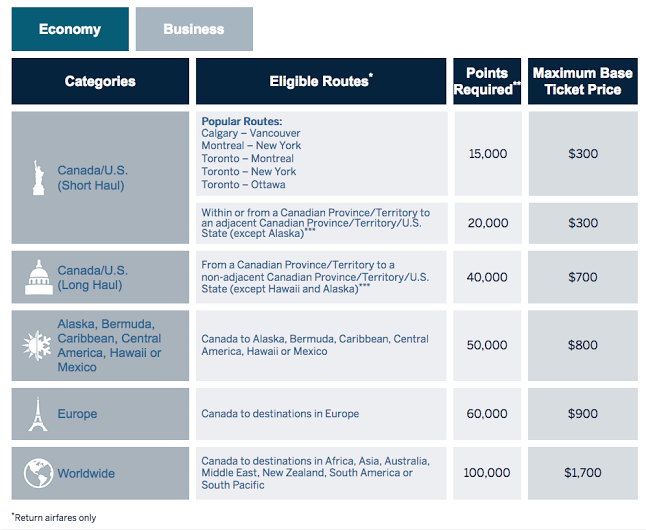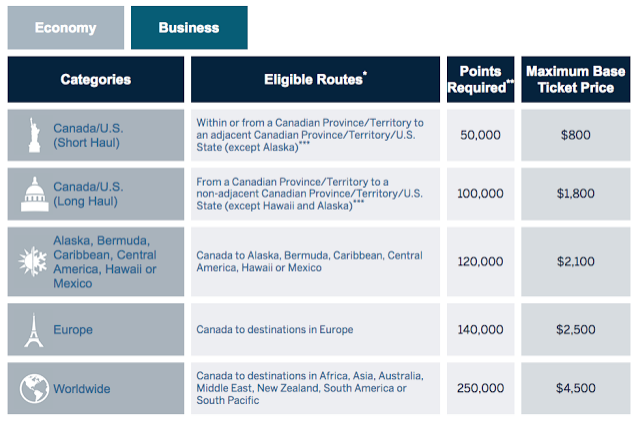 From the chart above you'll see you only need 15,000 points for popular short haul round trip flights. Make that spending with 5x multipliers and you have that ticket for only $3,000 in spending. You will not achieve that with any other card in Canada. Even business class to Europe is an amazing deal, only $28,000 in spending at 5x points gets you that round trip flight to Europe. Compare this to nearly double that for most other cards in Canada that allow you to redeem for business class. The Fixed Points Travel Program has proven to be a large success for American Express and that is just going to explode with this card!
Finally, another huge and I mean huge benefit to the redemption side of this card is the ability to convert to Membership Rewards Frequent Traveller participants. As of August 16, 2021 the Cobalt Card gained access to all of American Express' transfer partners including Air Canada Aeroplan and British Airways Executive Club. This is on top of the hotel transfer partners that card already had.With minimum point values of 1 cent for Marriott, 1.5 cents for Aeroplan and British Airways you are looking at returns of 7.5% for that 5x points earning. But that's a minimum - there are so many occasions where you can get 3, 4 or even more cents per points with this programs that puts the Cobalt's return easily into double digits!

Features and Benefits
As with all American Express Cards the card comes with American Express Invites which includes Front Of The Line® Advance Access, Front Of The Line® Reserved Tickets, Front Of The Line® E-Updates, Special Offers & Experiences for all Cardmembers and Social Access for all Cardmembers.
The card comes with a pretty strong insurance package that includes Emergency Medical Insurance (Out of province/country), Car Rental Theft and Damage Insurance, Lost or Stolen Baggage Insurance, Hotel/Motel Burglary Insurance, Flight Delay Insurance and $250,000 Travel Accident Insurance.

What is good about this card
The full time earn rate of five points per dollar spend on food and drink is absolutely to die for. This translates to a 5% return if you redeem for any travel purchased on that card. No other card provides a full time 5% return. No to mention you get the 2 points per dollar for travel, transit and gas. Once again that keeps the card at a similar or better earn rate on those categories than its competitors.
The sign up bonus is another strong point, 30,000 points is worth a minimum of $300 towards travel or even a $20 cash back equivalent if you redeem for a non-travel purchase.

What is not so good about this card
As many of you know American Express has lower acceptance than Visa or Mastercard so there will be occasions where you cannot use this card to pay for items. Depending on where you live or travel, American Express does state that they are accepted at roughly between 80 and 90% of locations that take the other two brands of cards.

The ability to convert to Membership Reward's airline partners like Aeroplan and British Airways would make this the ULTIMATE card however that's not the case so of course that's not so good for us miles and points freaks.
Lastly, some people may not like that the card does not have any Trip Interruption or Trip Cancellation insurance. While valuable when needed they are some of the least needed of insurance benefits provided by card issuers
Who should get this card
Consumers who buy a lot of food and drinks
Consumers who travel lots or takes transit on a regular basis
Consumer who want to make sure they are getting the highest possible return on select category spending
Consumers who use the Marriott or Hilton Honors programs and want to boost the balances in those programs
Consumers who make use of airline programs that are partnered with Marriott Bonvoy

Conclusion
Credit cards in Canada have been inching their way up to offering higher standard category bonuses and this card takes that to a level by a whole percent over its competition. American Express has done their research and made a card that is great for the next generation. They've taken what they already do good with, rewards, and made them even better with this card. The combination of great earning potential, a large sign up bonus, awesome redemption options and a decent insurance package make this card an all around winner. Many of our rankings, ultimate wallets and more will change or need to be updated thanks to this card, and that isn't meant as a negative thanks. It's about time a Canadian card issuer had the balls to make a card with such strong earning potential not a limited time thing, rather something to reward you all the time. If you don't have an Amex card in your wallet or even if you do, this is one you should strongly consider adding. I am. My wife is. And I know many others will. It may be targeted to Millennials but there will be many a Gen Xer and even some Gen Zers who will be getting the card, and why not? Five points per dollar on the utmost necessity of Food and Drink? It's a no brainer.



American Express Cobalt® Card
American Express Cobalt® Card
2021 Overall Top Travel Rewards Card | 2021 Top Hybrid Travel Rewards Card | 2021 Top Cash Back Card
This is the best overall credit card in Canada!

Monthly Fee $12.99/month of Cardmembership ($155.88 annually) Additional Cards: $0
Annual interest rate 20.99% on purchases and 21.99% on funds advances



• In your first year as a new Cobalt Cardmember, you can earn 2,500 Membership Rewards® points for each monthly billing period in which you spend $500 in net purchases on your Card. This could add up to 30,000 points in a year
      • 30,000 points is enough for: 
            • $300 in statement credits redeemed towards purchases charged to your Card or
            • $225 in American Express® Prepaid Cards
• Plus, you can earn a Welcome Bonus of 20,000 Membership Rewards points when you spend a total of $3,000 in purchases on your Card in your first 3 months of Cardmembership

• Earn 5x the points on eligible eats and drinks in Canada, including groceries and food delivery
• Earn 3x the points on eligible streaming subscriptions in Canada
• Earn 2 points for every $1 spent on eligible transit & gas purchases in Canada and eligible travel purchases. That's 2X the points on purchases that get you from point A to B 
• Earn 1 point for every $1 in Card purchases everywhere else. We won't tell you where to spend, we'll just reward you on your Card purchases

• Transfer points 1:1 to several frequent flyer and other loyalty programs
• Cobalt Cardmembers receive regular Perks such as bonus reward offers and access to great events
• Access Front Of The Line® Presale & Reserved Tickets to some of your favourite concerts and theatre performances and special offers and events curated for Cardmembers with American Express® Experiences
• American Express is not responsible for maintaining or monitoring the accuracy of information on this website. For full details, current product information and Terms and Conditions, click the Apply now link. Conditions Apply

Related Links:
American Express Cobalt Card on americanexpress.com
Rewards Canada's All Travel Rewards Credit Card Comparison including the American Express Cobalt Card
Rewards Canada's Hybrid Credit Card Comparison including the American Express Cobalt Card

Other cards to consider if you are looking at this card:
American Express Gold Rewards Card
National Bank of Canada World Elite Mastercard
Royal Bank Visa Infinite Avion
Scotiabank Gold American Express
Marriott Bonvoy™ American Express® Card

Talk to us!
Do you agree or disagree with us? Tell us what you think about the American Express Cobalt Card! Tell us in the comments section below or join the conversation on Facebook and Twitter!



Rewards Canada can be found on the following social media channels: