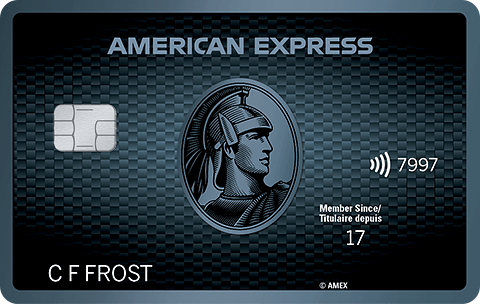 One of our readers asked us a question via the comments on our post Two months in and the American Express Cobalt is living up to its name to see if there is a published list of where you can maximize spending on the Cobalt card via the 5x Multiplier locations.

We replied that there is not a published list but would be willing to put one together with the help of our readers. You can help by commenting below to let us know what category a merchant falls under based on your spending! We split the chart below in the three earnings categories so that you can see what points you can expect to get with the card. Please note that merchants may change at any time so while a merchant may be listed in one category when you read this page it is entirely possible that they switch categories before we are able to update it.

You can also check American Express Canada's Shop Small website - it lists all their independent merchants where you can use your American Express cards at. It doesn't tell you what category they fall under but in most cases the restaurants, bars and grocery stores should fall under the Eats & Drink category.
American Express Cobalt Card resources on Rewards Canada:
Card details:

American Express Cobalt® Card
American Express Cobalt® Card
2021 Overall Top Travel Rewards Card | 2021 Top Hybrid Travel Rewards Card | 2021 Top Cash Back Card
This is the best overall credit card in Canada!

Monthly Fee $12.99/month of Cardmembership ($155.88 annually) Additional Cards: $0
Annual interest rate 20.99% on purchases and 21.99% on funds advances



• In your first year as a new Cobalt Cardmember, you can earn 2,500 Membership Rewards® points for each monthly billing period in which you spend $500 in net purchases on your Card. This could add up to 30,000 points in a year
      • 30,000 points is enough for: 
            • $300 in statement credits redeemed towards purchases charged to your Card or
            • $225 in American Express® Prepaid Cards
• Plus, you can earn a Welcome Bonus of 20,000 Membership Rewards points when you spend a total of $3,000 in purchases on your Card in your first 3 months of Cardmembership

• Earn 5x the points on eligible eats and drinks in Canada, including groceries and food delivery
• Earn 3x the points on eligible streaming subscriptions in Canada
• Earn 2 points for every $1 spent on eligible transit & gas purchases in Canada and eligible travel purchases. That's 2X the points on purchases that get you from point A to B 
• Earn 1 point for every $1 in Card purchases everywhere else. We won't tell you where to spend, we'll just reward you on your Card purchases

• Transfer points 1:1 to several frequent flyer and other loyalty programs
• Cobalt Cardmembers receive regular Perks such as bonus reward offers and access to great events
• Access Front Of The Line® Presale & Reserved Tickets to some of your favourite concerts and theatre performances and special offers and events curated for Cardmembers with American Express® Experiences
• American Express is not responsible for maintaining or monitoring the accuracy of information on this website. For full details, current product information and Terms and Conditions, click the Apply now link. Conditions Apply

Please Note:
In addition to commenting below to let us know about mulitpliers that don't show up American Express Canada has asked the following of all cardmembers:
It's best for the Cardmember to call customer service for bonusing related issues. We need the Cardmembers data to be able to source the transaction in the back end to determine if the multiplier worked.... without Cardmember data, it's hard to determine what would have happened.
This way American Express can make sure everything is working properly and if not they can get it fixed.
Confirmed Multiplier Locations
A friendly reminder that the 5x points category is now limited to $30,000 in spending annually. The card also earn 3x points on select streaming services. You will find those listed below this first section of the chart. This list is also applicable for all American Express cards in Canada that have category multipliers like the Platinum Card's 3x points on dining or for when Amex runs those awesome limited time offers for these categories on their cards.

5x


2x


1x

88 Supermarket (Vancouver)
A&W
Abbey's Creations (Calgary)
ABC Restaurants
Aladdin Cafe (Vancouver)
Aladdin's Café (Nanaimo, BC)
Ali Baba Pizza (Victoria)
Alice & Brohm
All Indian Restaurant (Vancouver)
Agra Tandoori (Burnaby, BC)
American Cheesesteak (Vancouver)
Applebees
Arctic Ventures Marketplace (Iqaluit)
Asado (Montreal)
Atelier (Ottawa)
Auntie Anne's pretzels
Babylon's Cafe (Vancouver)
Baffin Island Canners (Iqaluit)
Bagel Bar (Montreal)
Bar Burrito
Barcelos
BarChef (Toronto)
Bar Hop Brew Co
Bar Le Confessionnal (Montreal)
Baton Rouge (Quebec)
BC Place Stadium
BC Place Stadium (Centerplate)
Beard Papa's (Richmond)
Bearfoot Bistro
Bear Balls Food Truck (Calgary)
Bento Burrito Food Truck (Calgary)
BjornBar Bakery
The Black Antler
Black Heart Café (Iqaluit)
Black Sheep (Calgary)
Blanco Cantina (Calgary)
Bluhouse market and cafe
Boho (Montreal)
Bon Ton Meat Market (Calgary)
Booster Juice
Boston Pizza
Bownesian Grocer (Calgary)
Brewsters
Brickworks public house (Vancouver)
Brioche Dorée
Browns Social House
Bufala (Edgemont)
Burger King
Buy Low (Vancouver)
CB Drive Inn (Calgary)
Cactus Club
Cafe On the Square (Toronto)
The Cafe in the Ontario Science Centre
Calgary Co-Op
Calgary Co-Op Wines
The Canadian Brewhouse
Canadian Pizza Unlimited
Caramba Restaurant (Vancouver)
Carls Jr.
Camellia Tea & Coffee (Burnaby)
Cazba (BC)
Cedars Deli (Calgary)
Ceilis Irish Pub (Calgary)
Chachis
Chambar (Vancouver)
Chartwells - Langara
Cheesecake Factory
Chicken Chief (Winnipeg)
Chili Club Thai House (Calgary)
Chimec (Vancouver)
Chipotle Mexican Grill
Choices Mkt
Chop Steakhouse
Chop N Toss
Chunk'd (Calgary)
Cilantro Kitchen (Olds)
Clive Burger (Calgary)
CN Tower (360 restaurant)
Cobs Bread
CoCo Fresh Tea & Juice (Toronto)
Colonnade Pizza & Restaurant (Ottawa)
Colony Bar (Vancouver)
Community Natural Foods (Calgary)
Couche Tard
Cows (Whistler)
Dagwoods
Dalina Coffee (Vancouver)
Dapper Donut
Darumaya Japanese Grocery Store (Richmond)
The Den U of C (Calgary)
Dennys
Dippin Dots
Dirt Belly (Calgary)
Dockside Brewing Company (Vancouver)
Dominos Pizza
Donair Dude (North Vancouver, BC)
Doner Stop
Doordash
Douce Diner (BC)
Down Low Chicken Shack
Earls
East Side Marios
East Thirty-Six
Ebi-Ten (Vancouver)
Edo Japan
Eggspectation (Toronto)
Elephant Garden (Vancouver)
Everything Wine (BC)
Family Fry Guy (Calgary)
Famoso Neapolitan Pizzeria
Fantuan
Farm Boy
The Farmer's apprentice (Vancouver)
Fisherman's Terrace (Richmond)
Fixx Urban Grill (Dawson Creek, BC)
Flores & Pine (Calgary)
Flying Beaver (Richmond)
Pajo's At The Warf (Richmond)
Food Basics
Foodora Canada
Foxtrot Vineyards
Frankie's Modern Diner (Victoria)
French Door Estate Wine (Oliver)
Fresh Slice Pizza (Vancouver)
Freshii
Fresh St Market
Gabi & Jules (Vancouver)
Gabriel's Café (Nanaimo, BC)
Gabriel Pizza (Ottawa)
Giant Tiger
Glamorgan Bakery (Calgary)
Glowbal
Good Earth Cafe
GNC
Godiva Chocolatier
Grapes and Soda (Vancouver)
The Green Moustache
Gyu-Kaku Japanese BBQ (Vancouver)
Halo Churros (Calgary)
Harvey's
IGA
H-Mart
Hainan Kitchen (Richmond)
Hatching Post BBQ
Hearth Restaurant (YYZ terminal 1)
Hello Fresh
Hestia (Toronto & Montreal)
High mountain brewing (Vancouver)
Holy Falafel (Langley, BC)
Hooked Poke Bar
Hula Poke
Il Forno Fusion (Alberta)
Illy caffe (Yorkdale)
Incognito Coffee (Vancouver)
Instacart (Grocery delivery)
Izumi-Ya Japanese Market (Richmond)
J & J Wonton Noodle House (Victoria)
JJ Bean Coffee
Jack Astor's
Jam Café (Victoria)
James St Cafe (Vancouver)
Japanese Village (Calgary)
Jerusalem Shawarma
Joey
Joeys Restaurants
Jugo Juice
Juree's Thai Place (Calgary)
Just Eat
Kaylin & Hobbs (Vancouver)
The Keg
KFC
Kinjo Sushi (Calgary)
Kissa Tanto (Vancouver)
The Kitchen by Wolfgang Puck (YYC)
The Kitchen Table
Korean Grill House (Richmond Hill)
Koroush Foods (Vancouver)
Kurumucho Japanese Taco (Vancouver)
La Cage aux sports (Quebec)
La Dolce Vita (Ottawa)
La Launa Express
La Taqueria Buy Low (Vancouver)
La Taqueria Pinche
Last Straw Ale House (Calgary)
Leopold's Tavern
Les 3 Brasseurs / 3 Brewers
Lift bakery
Lift Bar & Grill
Lindt Sprungli (New Westminster, BC)
Liquor Depot (BC)
Little Fox Bakehouse (Richmond)
The Locavore
Lone Star Texas Grill
Longo's
Lotus Fine Indian Cuisine (Calgary)
M&M Foods
Ma Dang Goul Korean (Vancouver)
Macs/Circle K
Mad Radish
Mad Rose Pub (Calgary)
Madison's 12|12 (Calgary)
Madisons NYC Bar and Grill
Mama Earth Organics (Toronto)
Mandarin
Marble Slab Creamery
Marché 27 (Montreal)
Market on Millstream (Victoria)
Market on Yates (Victoria)
Martini's
Marutama Ramen (Vancouver)
Mary Browns
McDonalds
Meat and Bread


Mercola.com


The Merry Dairy (Ottawa)
Metro
Milestones
Milk & Honey Café (Vancouver)
Mill Street Brewpub
Miradoro LTD (Oliver)
Mohave Grill (Calgary)
Monogram Coffee
Montana's
Mooded Merganser
Moxies
Mr. Greek (Regina)
Mr. Mustache Tea & Dessert (Burnaby)
Mr. Shawrma (Vancouver)
Mucho Burrito
Murchie's (Victoria)
Nami
Nancy Market
Nando's
Naramata Inn
Native Tongues Taqueria (Calgary)
Natura Market
The Nest & Nectar (BC)
Nesters' Market
New Mandarin Seafood Restaurant (Vancouver)
New York Fries
Nickles Restaurant
Nightingale
Noodlebox (Vancouver)
Northmart (Iqaluit)
Nosh
Olive Garden
Olly Fresco's
One more Szechuan
Opa
Original Joe's
Osaka Teppanyaki (Vancouver)
Osoyoos AG Foods
Ottawa Bagelshop & Deli
Panago (River District Vancouver)
Paramount Fine Foods
Pasta Polo Restaurant (Coquitlam)
Pearl Hot Pot (Burnaby) (Insert card only)
Pfanntastic Pannenkoek House (Calgary)
Phnom Penh (Vancouver)
Pho boi restaurant (Burnaby)
Phoenix Bar and Grill (Calgary)
Pilot Coffee Roasters
Pinkberry
Pizza Hut
Pizza Pizza
Planet Organic Market
Poke Guys (Toronto)
Popeyes Louisiana Kitchen
Popeye's Supplements
Popina Canteen (Vancouver)
Poplar Grove Cheese
Pravda Vodka Bar
Purdys Chocolate
Purebread (Vancouver)
Pusateri's Fine Foods
Queen Anne Pub
Quesada Mexican Grill
Red Barn Market (Victoria)
Red Lobster
Red River Co-Op Gas Bar
Red Robin
Restaurant Marconi (Montréal)
Richtree (Toronto)
Ricky's
Ritual
Robba di Matti (Vancouver)
Roche Wines
Rocky Mountain Chocolate
Rogers arena food stands (Vancouver Canucks)
Romer's (Vancouver)
The Root Cellar (Saanich)
Ruth's Chris
St. Hubert Rotisserie
Safeway (Gas stations & Liquor Stores included)
Sajiva Wellness
Salt and Pepper Restaurant (Calgary)
Salt Spring Coffee Co. (Tsawwassen)
Sandstone (Hyatt Regency Calgary)
Save-On Foods
Scaddabush
Second Cup
Select Sandwich (Toronto)
7-11
Shawarma Palace (Richmond)
Shizenya (Vancouver)
Singletree Wines
Skip the Dishes
Skokis Waffle (Banff)
Small Victory Bakery (Vancouver)
Smitty's
Smoke & Oak (BC)
Snappers Fish Market (Toronto)
Sobeys (includes Sobeys Liquor)
South St. Burger
Spicy Fusion Restaurant (Fort St. John, BC)
Starbucks (including app reloads)
State & Main
Subway
Sugafina (Burnaby)
Sungiven Foods (BC)
Sunterra Market
Sura Korean (Vancouver)
Sushi Bros (Vancouver)
Sushi Itoga (Vancouver)
Sushi Shop
Sushi Tomi (Vancouver)
SUWU (Montreal)
Swiss Chalet
Symposium
Tamarind Hill
Tap & Barrel (Vancouver)
Tasty Wok (Vancouver)
TD Place Stadium Concessions (Ottawa football stadium food concessions)
Teppan Village
Thai Sa On Restaurant (Calgary)
Thierry Chocolaterie Patisserie Cafe (Vancouver)
Thomas Haas
Thrifty Foods
Tim Hortons (including app reloads)
TK Ranch (Alberta)
TOCK
Toku Japanese (Richmond)
Tommy Café (Montreal)
Tractor Foods
Trattoria Caffe Italia (Ottawa)
Tree's Organic Coffee (Vancouver)
True Confections (Vancouver)
Tsujiri
Uber
Uber EATS
Ugly Dumpling (Vancouver)
Uli's in Whiterock (Vancouver)
Umi Sushi (Vancouver)
Uncle Fatih's Pizza (Burnaby)
Uncle Tetsu (Metrotown)
Uncle Tetsu's Japanese Angel Cafe (Toronto)
Urban Fare
Vaade
Village Food Markets (Sooke)
Village Ice Cream (Calgary)
The Vintage Chophouse (Calgary)
vitamart.ca
Voila (Food delivery pick up for Sobeys Safeway)
Wayne & Freda (BC)
Weeds glass & gifts
Wendys
Wesbert Winery
White Rose Kitchen (Calgary)
White Spot
Whole Foods Market
Willow Park Wine & Spirits (Calgary)
Wimpy's Diner
Wooden Fish (Vancouver)
Wow Chicken (Calgary)
WVRST (Toronto)
Xingfutang (Vancouver)
Yang Teashop (Toronto)
Yogen Früz
Yue Restaurant (Richmond)
Air Canada
Air Transat
AirBNB
Alaska Airlines
Aloft Hotels
Altitudes Bistro on Grouse Mountain
Budget Rent a Car
Car2Go
Cathay Pacific
Circle K Gas
City of Calgary Landfills
E-Store Whistler-Blackcomb
Esso
Flair Airlines
Glacier creek restaurant (B.C.)
Grouse Mountain (B.C.)
Husky
JTB
Lime Scooter
Lyft
M&M Limousine
Niagara Falls Casino
Petro-Canada
Pinnacle Hotel
Porter Airlines
Presto
7-11 (Pay at the pump)
Safeway Gas Bar
Shell
Teo Taxi (Montreal)
TTC
United Airlines
UP Express (Toronto)
Via Rail
Whistler Balckcomb Reservation Center
Zipcar


407ETR
Abercrombie & Fitch
Aerocar Limousine Service
Aeroports de Montreal Airport Parking
Air Canada Onboard Cafe (food/beverage purchases onboard flight)
Amazon.ca
Bazile restaurant at Nordstrom (Ottawa)
BC Ferries
BC Liquor Stores
Bed, Bath & Beyond
Bell Center (Montreal)
Bird Scooters
Boathouse
Body energy club
Borderfree
Brandy Melville
CB2
Calgary Parking Authority
Canada Post
Canadian Government Offices
Canadian Tire
Cannery Brewing (BC)
Cineplex (including food)
Citipark
City of Ottawa Parking Meters
Coca Cola Vending Maching (on the 401)
Crate and Barrel
Crowfoot Liquor Store (Calgary)
Deep roots winery
Dillon's Small Batch Distillery
Dollarama
Ebar in Nordstrom
Farm Boy (Trainyards Ottawa)
Freedom Mobile
Go Daddy
H&M
Hudson YVR
Hungry Eats
Ikea cafe (Ottawa)
Impark
Jack & Jones
Kidsbooks in the Village
Lansdowne Stadium / TD Place (Ottawa football stadium - ticket purchases)
Landmark Theatres (including concessions and bar)
Lang Vineyards
Laughing stock winery
LCBO
Legends Haul Supply
Legoland Toronto (including its cafe)
Lightning rock winery
London Drugs
L'Occitane
Lyft (Toronto)
Marichel Vineyard
Meal Pal
Michaels
Milk Jar Candle Co.
The Mule - online curbside ordering (Hamilton)
Muse & Merchant Home Collection
Nespresso (Online)
Ottawa International Airport Parking
Panera Bread (Ottawa)
Park'n Fly Airport Parking
Parking Authority of Toronto
Pearson Airport Parking (Toronto)
Pier One Imports
Pocket Health
Poplar Grove (BC)
Rec Room (Toronto)
Rexall
Ripleys Aquarium Toronto (including its cafe)
Robbins Parking (Victoria)
The Rocket (Calgary)
Rogers
The Royal McPherson Theatre Bar (Victoria)
Ruby Blues Winery
Saje
SAQ, Société des alcools du Québec
Secondlife (Montreal)
Sephora
Shanghai One (Ottawa)
Shoppers Drug Mart
Sunrise Records
Target
Tinhorn Creek
Tommy Hilfiger
Toys R Us
Trend Clothing Company (Calgary)
Trimpac Meats
Tyler Harlton Wines
Unicity Taxi (Winnipeg)
UniQlo
Urban Outfitters
Vans
Wal-Mart
Wayfair.ca
Zumiez
Zwift

3 points for streaming services

Apple TV+

Apple Music
Crave
Disney+
fuboTV
hayu
Netflix

RDS
SiriusXM Canada
Spotify
TSN


5x


2x


1x

U.S. Locations
83 Degrees (Carlsbad, CA)
ABC (Hawaii)
AJ's
Ala Moana Poi Bowl (Hawaii)
Aldi
Amsterdam Ale House (NYC)
Anchor Bar (Buffalo)
AppleBees
Atomic Creamery (Newport Beach)
Back Bar (Cambridge)
Beach Plum Kitchen (Carlsbad, CA)
Beachcomber Cafe (Newport Beach)
Bellagio Patisserie

Betty's Beach Cafe (Maui)
Blaze Pizza
Bon Me (Boston)
Breakfast Republic (California)
Broken Yolk (California)
Buffalo Wild Wings
Buca Café Italiano
Bucca Di Beppo
Burger King
Carls Jr.
Cartwrights (Arizona)
Chipotle Mexican Grill

Bellagio Patisserie
Shake Shack
Pan Asian Express
Subway
Cheesecake
IN N Out Burger
IT'SUGAR
Eatwell
Cheesecake Factory
Coca-Cola Company
Compartes Chocolate (Los Angeles)
Corvette Diner (San Diego)
Cuchi Cuchi (Cambridge, Mass)
Doughnuttery (NYC)
Dukes
Dutch Bros.
Eatwell
Eggs N Things – Saratoga (Hawaii)
Fillmore Bar & Restuarant (San Francisco)
Five Guys Burgers
Fleetwood's on Front Street (Maui)
Forge Baking Company
Foundry on Elm (Cambridge)
Free Range Cafe (Newport Beach)
Fresh Juice Bar La Quinta
Fry's (Arizona)
Fuddruckers
Great Maple (California)
Gyu-Kaku Restaurant
Heavenly Island Lifestyle (Hawaii)
Honolulu Cookie (Hawaii)
Hyatt Regency Indian Wells Food & Beverage
Ihop
In-N-Out Burger
Island Vintage Shave Ice (Hawaii)
IT'SUGAR
Itaewon Gastropub (NYC)
Jimbos Naturally
Kimos (Maui)
La Colombe (NYC)
Lahaina Coolers (Maui)
Little Caesars Arena Food Concessions
Los Angeles Airport Restaurants
Louise's Pantry (Palm Springs area)
Maison Kayser (NYC)
Manny Chophouse (Florida)
Marugame Udon (Hawaii)
McDonalds
The Mission (Arizona)
Monkeypod
Nana's Green Tea (Hawaii)
Nagasaki Champion (Hawaii)
New Oasis Brazilian (Medford)
Ninth Street Espresso (NYC)
Oak Creek Brewery (Sedona)
Pan Asian Express
Panda Express
Panera Bread
P.F. Changs
Pinkberry
Ramen Onoya (Hawaii)
Ruby's Diner
Ruby Thai Kitchen
Safeway
Sam's Club
Sammy's Beach Cafe (OGG)
Sarabeths Bakery (NYC)
Shake Shack
Shichi Musubi (Hawaii)
Shoprite
Sol Cocina
Sonic Drive In
Star Noodle (Maui)
Starbucks
Subway
Super Stop N Shop
Taco Bell
The Vig (Arizona)
Tiki Juice Bar Disneyland
Times Supermarket (Hawaii)
Tin Leaf (Carlsbad, CA)
Tonto Grill (Arizona)
Trader Joe's
Uncle Tetsu Cheesecake (Hawaii)
Wendy's
Whalers General Store (Hawaii)
Whole Foods
Woody's Diner (California)
Yardhouse

U.S. Locations
Chevron
Exxon
Freehand hotel (NYC)
Frontier Airlines
Lyft
Marriott Hotels
MTA (NYC Subway)
National Car Rental
Pink Jeep Tours
Residence Inn by Marriott
Sunoco
Towneplace Suites by Marriott
Uber
Uber Eats
United Airlines
Valero
U.S. Locations
Boston Winter Village
Buy Rite liquors
CVS Pharmacy
Delta Sonic
The Fragrance Outlet
M&M'S World (NYC)
Sea World (incl. food purchases)
Starbucks (App Reload)
Total Wine & More
Zappos.com


5x


2x


1x

Worldwide Locations
AUSTRALIA
Coles
Jamie's Italian
Hard Rock
McDonalds
Starbucks
Hungry Jacks (Sydney)
TGI Fridays
Fratelli Fresh (Sydney)

BRAZIL
Pão de Açúcar
Balada Mix
Burger King
Domino's
McDonald's
Outback Steakhouse
Starbucks
Supermercado Zona Sul
Uber Eats (when not using Apple Pay)

CHILE
Dunkin Donuts
McDonalds
Subway

CHINA
Starbucks

ECUADOR
McDonalds

GIBRALTAR
Morrisons
Pizza Express

GUADELOUPE
Carrefour Geant Casino
Hotel Toubana
La Cantina Steakhouse
Thimy's Japanese Sushi

HONG KONG
Great Food Hall (Located in Admiralty, under the Conrad and near the British Consulate, unsure of other locations)
Hard Rock Cafe
Marks and Spencer Food
Pizza Express
Spaghetti House
Starbucks

JAPAN
Starbucks

MEXICO
Jack Ray
Kiosko
Muncher House
Oxxo
7-Eleven (All convienence stores, the 5x works on phone saldo/credit & gift cards)
Sierra Madre Brewing
Starbucks
Super Salads
Tim Hortons MEXICO (Yes there are about twenty Tim Hortons in northern Mexico now)
TOKS
Mega
Chedraui

PERU
McDonalds
Subway

SPAIN
Burger King
Euroski Supermarket
Asda Supermarket

TAIWAN
Carrefour (Taipei)
Dayeh Takashimaya Food Court (Taipei)
McDonalds
Mei Li Hua Food Court (Taipei)
Shin Kong Food Court (Taipei)
Starbucks (Taipei)
Sushi Express

UK
Bills
Chef and Brewer Restaurants
Coast to Coast
Costa Coffee
GiraffeWagamama
Jamie's Italian
Morrisons
Sainsburys Supermarket
Starbucks
Tesco Supermarket
TGI Fridays
Waitrose Supermarket


Worldwide Locations
Lime Scooter
Sixt Car Rental
Uber

BRAZIL
Uber Eats (Only 2x when using Apple Pay)

GIBRALTAR
Morrisons Gas
The Rock Hotel

GUADELOUPE
Esso
Total

HONG KONG
Conrad Hotel

ISRAEL
Lime Scooter

MEXICO
Uber Mexico
Westin Hotel Buffet Restaurant Puerto Vallarta (The Starbucks inside hotel was 2x also)

SPAIN
BP Gas
Repsol Gas

UK
BP Gas
Jet Gas
Shell Gas

Worldwide Locations
Marks and Spencers Food (UK)
SUICA card top-ups using Apple Pay for JR Trains (Japan)

GUADELOUPE
Club Med La Caravelle

Talk to us!
We need your help to populate the charts! Simply comment and let us know who the merchant was, where the merchant was located and what the multiplier was and we'll add it to the charts and keep it going as a master list! Tell us in the comments section below or join the conversation on Facebook and Twitter!

Rewards Canada can be found on the following social media channels: