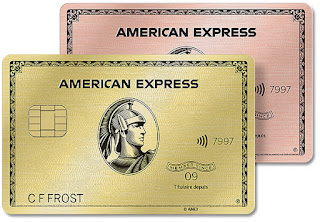 The American Express® Gold Rewards Card, which is one of the longest tenured cards in Canada, shook up the market when it received a major overhaul back in 2010. The enhancements at that time made it the top travel rewards card in Canada. A title it held from 2011 to 2017. It was knocked out of that spot by the current champ, its sibling, the American Express Cobalt® Card. With numerous changes making the Cobalt Card even better in 2021 the Gold Rewards Card seemed stuck in limbo and it needed something that would differentiate it and keep it a strong contender in the Canadian market. Those changes came in September of 2021 and it is this latest version of the card that we cover in this review.
The review of the American Express Gold Rewards Card is broken down into the following sections:
Overview
The American Express Gold Rewards Card is a card targeted towards Canadians who love to travel and want to avail of benefits that can make that travel better but don't require or want to pay for an Ultra Premium Card like the The Platinum Card® from American Express. The card offers airport lounge access membership with annual free visit passes, an annual travel credit, a NEXUS credit and pretty strong travel insurance coverage - all of which should appeal nicely to travel enthusiasts. It may not earn points as quickly as the Cobalt Card but the earn rates the card does have along with redemption options make its earn-burn capabilities very respectable.

Costs & Sign up Features
The American Express Gold Rewards Card has an annual fee of $250. This is higher than many premium cards it competes against but lower than the ultra premium cards - it kind falls into its own place in the annual fee category. That $250 fee is more than made up for with all the benefits the card provides. For additional cards the first one is free which is a rarity for almost all premium and ultra premium cards. Any additional cards after the first one are $50 per year.
The standard welcome bonus on the card offers 30,000 Membership Rewards Points however the card frequently has limited time increased welcome bonus offers.
Right now the American Express Gold Rewards Card has a welcome bonus of up to 60,000 Membership Rewards points. The bonus is awarded as 5,000 points when you spend $1,000 per month on the card in the first twelve months of card membership for a total of 60,000 points.

Earning
The card earns Membership Rewards points like other proprietary American Express cards and has category multipliers on the types of purchases:
2 Points per dollar spent at eligible gas stations, grocery stores and drugstores in Canada
2 Points per dollar spent on eligible travel purchases worldwide
1 Points per dollar spent on all other eligible purchases

To see where you can earn these multipliers be sure to check out our American Express Cobalt™ Card Confirmed Multiplier Locations as many of those merchants will be the same for the Gold Rewards Card.
Point Valuation Chart
| Spending Category | Points earned per dollar spent | Rate of return when booking your own travel | Rate of return Cash Back | Rate of return when booking Amex's Fixed Points for Travel | Rate of return when converting to airline & hotel programs |
| --- | --- | --- | --- | --- | --- |
| Gas / Grocery / Drug Store | 2 | 2% | 2% | up to 4% | 2% to 12% or higher |
| Travel | 2 | 2% | 2% | up to 4% | 2% to 12% or higher |
| All other spending | 1 | 1% | 1% | up to 2% | 1% to 6% or higher |
Redeeming
The American Express Gold Rewards Card participates in Amex's Membership Rewards program which is the best credit card reward program in Canada as it has so many valuable redemption options. You can redeem points for any travel you book with the card, you can redeem points for any purchase you make on the card, you can redeem via Amex's Fixed Points for Travel and you can convert your points to Air Canada Aeroplan, Air France KLM Flying Blue, British Airways Executive Club, Marriott Bonvoy and numerous other programs.
If you redeem using the Use Points for Purchases option, you will get a $10 credit towards every 1,000 points redeemed for a purchase. This means the purchases you make on this card will equate to up to a 2% return.
Moving on to the Fixed Points Travel Program, the card provides great value here as well. Being able to earn up to 2 points per dollar means you can be flying for as little as $7,500 in spending on this card and provides up to a 4% return on those dining and food delivery purchases. Here are the Fixed Points award charts: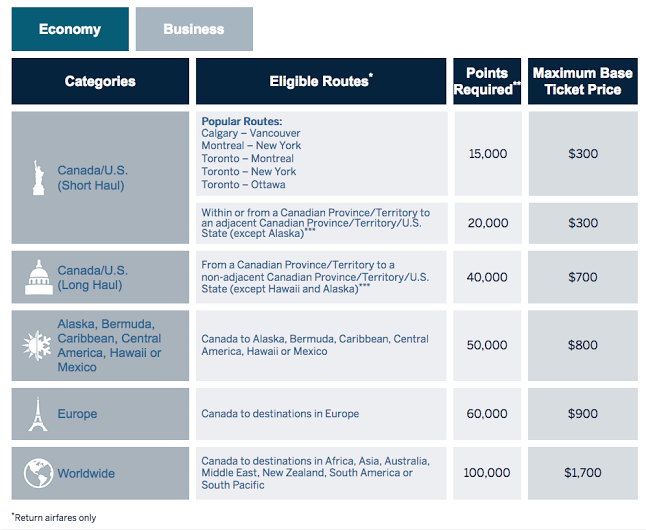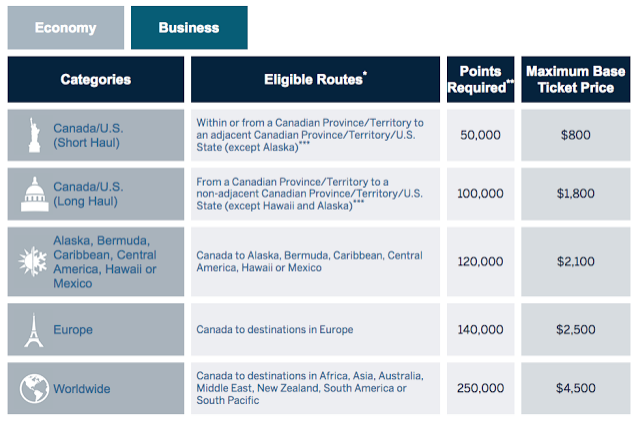 From the above you'll see you only need 15,000 points for popular short haul round trip flights. Make that spending with 2x multipliers and you have that ticket for only $7,500!
Finally, another huge and I mean huge benefit to the redemption side of this card is the ability to convert to Membership Rewards Frequent Traveller participants. You can transfer the points earned on this card to six airline programs and two hotel programs. With minimum point values of 1 cent for Marriott, 1.5 cents for Aeroplan and British Airways you are looking at returns of 2 to 3% for the 2x points earning categories! But that's a minimum - there are so many occasions where you can get 3, 4 or even more cents per points with this programs that puts the Gold Rewards Card's return easily into double digits!
Current Membership Rewards Transfer partners and the transfer ratio:
Air Canada Aeroplan - 1 to 1
Air France KLM Flying Blue - 1 to 0.75
British Airways Executive Club - 1 to 1
Cathay Pacific Asia Miles - 1 to 0.75
Delta SkyMiles - 1 to 0.75
Etihad Airways Guest - 1 to 0.75
Hilton Honors - 1 to 1
Marriott Bonvoy - 1 to 1.2
Features and Benefits
Airport Lounge Access
The American Express Gold Rewards Card offers an annual Priority Pass membership which normally costs up to US$99 per year. The membership provides discounted access to over 1,200 lounges worldwide.
The card also provides four (4) complimentary visits per calendar year for access to Plaza Premium Lounges in Canada.
Annual Travel Credit
Upon approval for the card and then each year on your card's anniversary date you will receive a $100 travel credit that can be used towards any single travel booking of $100 or more charged to Card with American Express Travel Online.
The Hotel Collection
The Hotel Collection from American Express provides up to a $100 USD hotel credit at participating properties and a room upgrade, when available. This is available at over 600 participating hotels and resorts in over 30 countries worldwide, when booking a minimum of two consecutive nights with American Express Travel.

American Express Experiences
As with all American Express Cards the card comes with American Express Experiences which includes Front Of The Line® Advance Access, Front Of The Line® Reserved Tickets, Front Of The Line® E-Updates, Special Offers & Experiences for all Cardmembers and Social Access for all Cardmembers.
Amex Offers
As with all American Express Cards the American Express Gold Rewards Card receives Amex Offers. These exclusive limited time offers sent out to cardmembers to receive statement credits or bonus points for using their card at select merchants. Depending on your shopping habits these offers alone can provide enough savings in a year to cover the annual fee on the card if not more! You can learn more about this feature in Rewards Canada's Guide to American Express Canada 'Amex Offers'
NEXUS Statement Credit
You can receive up to $50 CAD in statement credits every four years when NEXUS application or renewal fees are charged to your American Express Gold Rewards Card.
Two card colours
The American Express Gold Rewards Card is now issued as a metal card and you request to receive it in the standard gold colour or the popular new Rose Gold colour option.
Insurance
The Gold Rewards comes with a very strong insurance package that includes the following:
Out of Province/Country Emergency Medical Insurance (up to 15 days for hose under age 65)
Trip Cancellation Insurance
Trip Interruption Insurance
Flight Delay Insurance
Baggage Delay Insurance
Lost or Stolen Baggage Insurance
Car Rental Theft and Damage Insurance
Hotel Burglary Insurance
$500,000 Travel Accident Insurance
Purchase Protection Plan
Buyer's Assurance Protection Plan