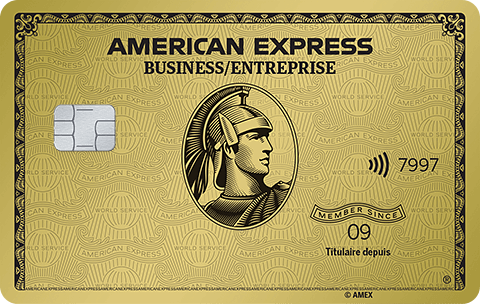 Overview
The American Express® Business Gold Rewards Card has been a mainstay in American Express' Small Business card portfolio for quite sometime now. The card underwent some slight changes in 2021 that saw its bonus earn rate structure change, had its annual fee decrease and had mobile device insurance added. So let's take a look at what this card has to offer.

Costs & Sign up Features
The American Express Business Gold Rewards Card has a $199 annual fee for the primary card and additional cards run $50 per year.
Right now the American Express Business Gold Rewards Card has an increased welcome bonus offering up to 70,000 Membership Rewards points. Those points are awarded if you spend $5,000 on the card within the first three months of having.
One of the key features of American Express' Small Business Cards is their extended period to make payments without being charged interest. In this case for the Business Gold Rewards Card you have up to 31 days which means for many purchases that gives upwards of 55 interest free days from purchase to payment. The interest rate on the card is 19.99% on on Flexible Payment Option limit and 30% on Due In Full balance. Like all American Express cards there are no minimum annual income requirements set out for the card.

Earning
Like other proprietary American Express cards the card earns Membership Rewards points. Those points are earned as follows:
1 Points per dollar spent on all other eligible purchases
10,000 bonus points when you spend $20,000 per calendar quarter on the card
Point Valuation Chart
| Spending Category | Points earned per dollar spent | Rate of return when booking your own travel | Rate of return Cash Back | Rate of return when booking Amex's Fixed Points for Travel | Rate of return when converting to airline & hotel programs |
| --- | --- | --- | --- | --- | --- |
| All spending | 1 | 1% | 1% | up to 2% | 1% to 6% or higher |
Redeeming
The American Express Cobalt Card participates in Amex's Membership Rewards program which is the best credit card reward program in Canada as it has so many valuable redemption options. You can redeem points for any travel you book with the card, you can redeem points for any purchase you make on the card, you can redeem via Amex's Fixed Points for Travel and you can convert your points to Air Canada Aeroplan, Air France KLM Flying Blue, British Airways Executive Club, Marriott Bonvoy and numerous other programs.
If you redeem using the Use Points for Purchases option, you will get a $10 credit towards every 1,000 points redeemed for a purchase. This means the purchases you make on the card will equate to a 1% return (not including any of the 10,000 points for $20,000 spending bonus)
Moving on to the Fixed Points Travel Program, the card provides great value here as well. Being able to earn up to 5 points per dollar means you can be flying for as little as $15,000 in spending on this card and provides up to a 2% return on your purchases. Here are the Fixed Points award charts: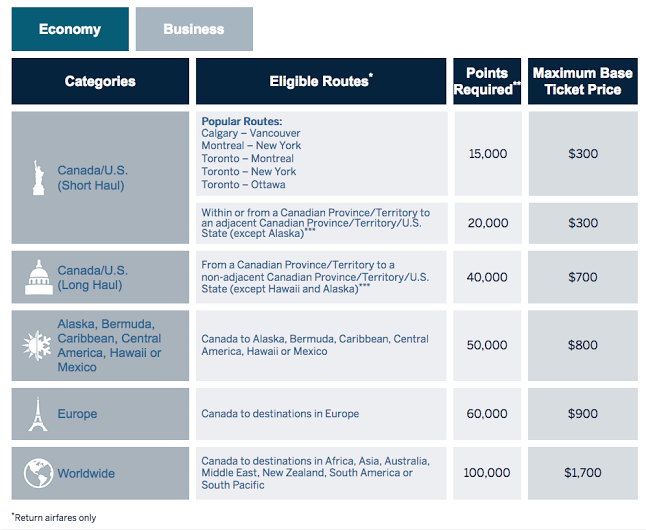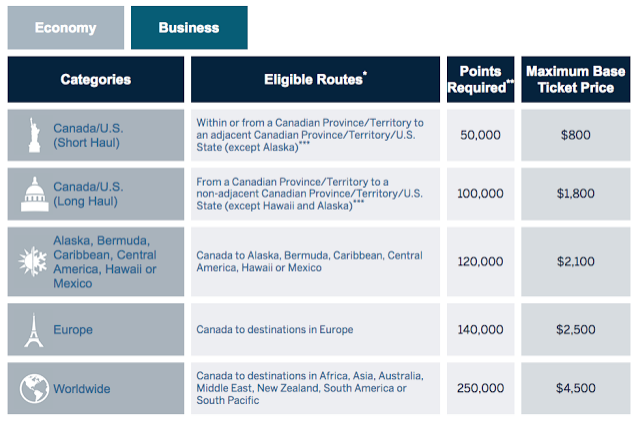 Finally, another huge and I mean huge benefit to the redemption side of this card is the ability to convert to Membership Rewards Frequent Traveller participants. You can convert the Membership Rewards points earned on this card to six airline and two hotel programs. The most popular are Air Canada and British Airways - both of which are 1:1 transfers and to Marriott Bonvoy which are 1:1.2. We value Aeroplan Points and British Airways Avios at 1.5 cents each at a minimum which means your base spending on this card works out 1.5%. But that's a minimum - there are so many occasions where you can get 3, 4 or even more cents per points if you redeem for business class or higher flights with these programs so that puts your return even higher.
Those are all the travel redemption options but then the Membership Rewards has its cash back option. Amex calls it Use Points for Purchases and this option works exactly like the any travel any time redemption. You can simply redeem 1,000 points for a $10 statement credit to any eligible purchase made on the card. By eligible it means an actual purchase, you can't redeem points towards interest charges, cash advances etc. With that 1,000 points to $10 redemption rate the American Express Business Gold Rewards cards provides a 1% cash back return not including that quarterly bonus rates.
After this you have other redemption options like merchandise, prepaid American Express cards and some others that are more of a last resort type redemption as these provide the least amount of value for your points.
Features and Benefits
The American Express® Business Gold Rewards Card provides access to The Hotel Collection from American Express which provides benefits at over 600 participating hotels and resorts in over 30 countries worldwide. Simply book a minimum of two consecutive nights at participating properties with American Express Travel using this card and receive:
Up to a $100 USD hotel credit to use on amenities like dining, spa or other leisure facilities when charged to the room.
A one-category room upgrade at check-in, when available.
As with all American Express Cards the card comes with American Express Invites which includes Front Of The Line® Advance Access, Front Of The Line® Reserved Tickets, Front Of The Line® E-Updates, Special Offers & Experiences for all Cardmembers and Social Access for all Cardmembers.
The card comes with a pretty strong insurance package as well! Here is what is included:
Employee Card Misuse protection
Car Rental CDW - up to 48 days & $85,000 MSRP Coverage
Lost or stolen baggage
Hotel burglary
Flight delay
Baggage delay
$100,000 travel accident / common carrier
Purchase Protection
Extended warranty
Mobile device insurance
As seen on the consumer cards, this Small Business card also provides the Amex Offers benefit. Amex Offers continually provides special deals at select retailers when you use your registered American Express card. The deals are typically a statement credit after you meet a minimum spend with a retailer but we have also seen discounts and bonus points offers as well. The Amex Offers program can in many cases pay for the annual fee on this card several times over each year. We have a complete Guide to American Express Canada 'Amex Offers' where you can learn more about the Amex Offers program.