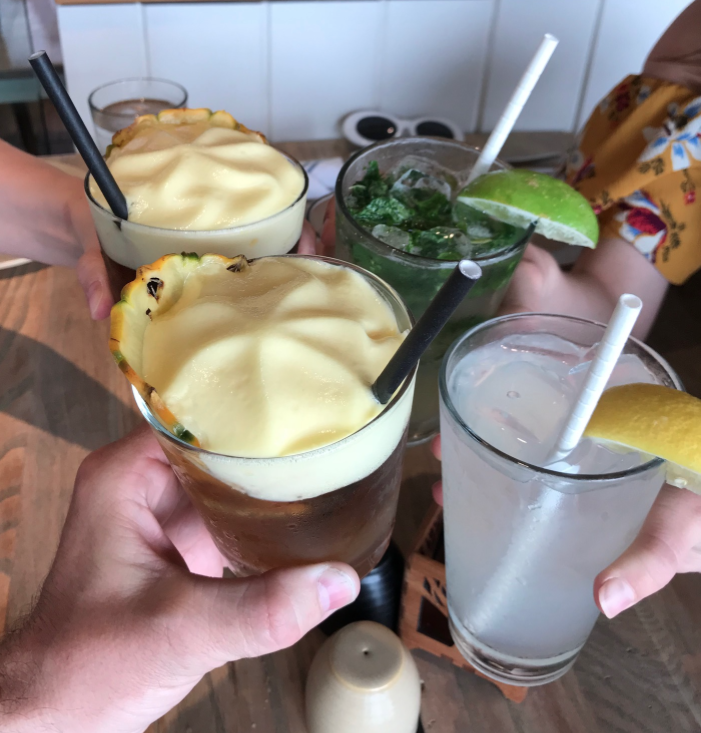 In this feature of Rewards Canada's Ultimate Credit Card Portfolios we look at the ultimate one for those who like to enjoy food - whether it is cooking your own gourmet meals or going to three Michelin star restaurants. And when it comes to food - you buy it - no matter what, so if you a major foodie you'll want to make sure you capitalize on those food purchases by maximizing the rewards you earn. While this piece is focused on earn we also take into account what those points and/or cash back can get you value wise. As we have always recommended and is standard with our Ultimate Portfolios is that you should carry a Visa, a Mastercard and an American Express card in your wallet. The reason why is that there are benefits, promotions and earning potential unique to each brand of credit card regardless of the version of the card you have. We won't go into detail here as you can read all about it in our feature on how to Maximize your Miles and Points but here we outline one card from each brand that will help you as a foodie get the most bang for your buck. Ultimately there are various options that could be utilized for such a portfolio but we look at one card from each issuing family that we feel are the best fit for foodies.
What is Rewards Canada's Ultimate Foodie Credit Card portfolio? It is the following three cards:

All three cards in this wallet have category multipliers that work great for foodies. That is they earn more points or rewards for purchases made that are related to food - whether it's dining or groceries - all three of these cards earn more than their base earn rate on other purchases. Not only that, they also earn some highest rewards out of all their competitors for the same categories or brand of card.
Key Benefits of this portfolio
No less than a 4% return on dining, grocery, food delivery and other foodie related purchases
Every type of reward redemption is covered by this portfolio (travel, points conversion, cash back etc.)
Airport Lounge Access Membership with the MBNA Card
Strong insurance coverage
Why you want to get each of these cards

The first card in the portfolio is Canada's number one travel rewards credit card - the American Express Cobalt Card. Plain and simple it is the most rewarding card for eats and drinks. The card earns 5 points per dollar spent on groceries, dining out, coffee shops, bars, food delivery and so on. Note that there is an annual cap of $30,000 for the eats and drinks category. So what does 5 points per dollar mean? That means you are getting at a minimum a 5% return. If you choose to redeem points with Amex's Use Points for Purchases option you can redeem 1,000 points for a $10 credit. Spend $10 at Starbucks, you can redeem against it with 1,000 points. That's how 5 points becomes 5%. But the card gets better returns than that. Redeem for travel with Amex's other redemption options and you can see returns of 10%, 15% or even more than 20%. Now we're talking! Want to get even more? Convert the points earned to Air Canada Aeroplan, British Airways, or Marriott Bonvoy. Those 5 points equates to 5 Aeroplan points, 5 BA Avios or 6 Bonvoy points. Aeroplan and Avios carry a minimum value of 1.5% cents while Bonvoy points, in our mind carry a value of at least 1 cent each, which gives you a 6% to 7.5% return at a minimum. Redeem for high end hotels or business class flights and that's where your 20%+ return comes in. Use them for Amex's Fixed Points for Travel option and those 5x points can provide up to a 10% return! Simply unbeatable. Ultimately you'll want to put as much of your spending on this card as possible for food purchases, the only time you wouldn't is if the place doesn't accept American Express.
Recommended reading: American Express Cobalt Card Confirmed Multiplier Locations

The second card in this portfolio is the MBNA Rewards World Elite Mastercard. Revamped in 2021 to become Canada's third true 5x points card this card awards 5 points per dollar spent on restaurant and grocery purchases including food delivery services (not to mention also on some other non-food categories). The card has a $50,000 annual cap on each category - so you can spend $50,000 on restaurants and $50,000 on groceries! On top of all of this the card offers a Birthday Bonus that awards 10% extra points (up to 15,000 points in total) on purchases made during the 12 months prior to your birthday. That puts your earn rate as high as 5.5 points per dollar spent on those foodie purchases! So what do MBNA points work out to value wise? Well if you redeem for travel it the 5 points and 5.5 points work out to a 5% and 5.5% return respectively! This is even potentially better than the base redemption value of the Cobalt Card by 1/2 a percent - however you do have to note the travel redemption with MBNA is less flexible. Whereas the Cobalt Card lets you book travel with any one anywhere and take advantage of the best price, with MBNA you have to book the travel with them so you may not have access to the best prices and all available travel (I'm thinking Ultra Low Cost airlines here). All that being said there is redemption option that can provide even more value and that is for select e-Gift Cards where your return on those 5 or 5.5 points works out to a 5.61 to 5.94% return. Check out our review of the card for more details on that!
Recommended reading: MBNA Rewards World Elite Mastercard Review
Finally rounding out this portfolio is the CIBC Dividend® Visa Infinite* Card which really is just a back up card here. You'll put this card in your wallet for grocery store purchases at locations where American Express or Mastercard isn't accepted (are there any that don't accept Mastercard?). As it is a cash back card, the reward option is simple and you can cash out your rewards any time once your cash back balance reaches $25.
No matter what with this combination of cards you shouldn't be earning anything less than 4% on all your foodie needs.
Here are the details on these three cards
2023 Overall Top Travel Rewards Card
2023 Top Hybrid Travel Rewards Card
This is the best overall credit card in Canada!

Monthly Fee $12.99/month of Cardmembership ($155.88 annually) Additional Cards: $0
Annual interest rate 20.99% on purchases and 21.99% on funds advances
• In your first year as a new Cobalt Cardmember, you can earn 2,500 Membership Rewards® points for each monthly billing period in which you spend $500 in net purchases on your Card. This could add up to 30,000 points in a year. That's up to $300 towards a weekend getaway or concert tickets

• Earn 5x the points on eligible eats and drinks in Canada, including groceries and food delivery
• Earn 3x the points on eligible streaming subscriptions in Canada
• Earn 2 points for every $1 spent on eligible transit & gas purchases in Canada and eligible travel purchases. That's 2X the points on purchases that get you from point A to B 
• Earn 1 point for every $1 in Card purchases everywhere else. We won't tell you where to spend, we'll just reward you on your Card purchases
• Transfer points 1:1 to several frequent flyer and other loyalty programs
• Cobalt Cardmembers receive regular Perks such as bonus reward offers and access to great events
• Access Front Of The Line® Presale & Reserved Tickets to some of your favourite concerts and theatre performances and special offers and events curated for Cardmembers with American Express® Experiences
• American Express is not responsible for maintaining or monitoring the accuracy of information on this website. For full details, current product information and Terms and Conditions, click the Apply now link. Conditions Apply


---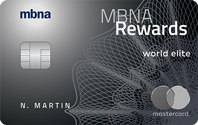 MBNA Rewards World Elite® Mastercard®

• 20,000 bonus points†† (approximately $165 in cash back value) after you make $2,000 or more in eligible purchases within the first 90 days of your account opening.
• 10,000 bonus points†† (approximately $80 in cash back value) once enrolled for paperless e-statements within the first 90 days of account opening.
• Earn 5 points‡ for every $1 spent on eligible restaurant, grocery, digital media, membership, and household utility purchases until $50,000 is spent annually in the applicable category. 1 point‡ for every $1 on all other eligible purchases.
• Each year, you will receive Birthday Bonus Points‡ equal to 10% of the total number of Points the Account earned in the 12 months before the month of your birthday, to a maximum Birthday Bonus each year of 15,000 Points.
• Redeem points‡ for cash back, brand-name merchandise, gift cards from participating retailers, charitable donations, and travel.
• Standard Annual Interest Rates of 19.99% on purchases, 22.99% on balance transfers✪, and 24.99% on cash advances.
• Mobile Device Insurance***
With Mobile Device Insurance, you've got up to $1,000 in coverage for eligible mobile devices in the event of loss, theft, accidental damage or mechanical breakdown.
• $120 annual fee. $50 Additional Card Annual Fee for one authorized user (if you have one).
• To qualify, your personal annual income must be greater than $80,000, or your household annual income must be $150,000 or greater.††††
• This offer is not available for residents of Quebec.  For residents of Quebec, please click here.

‡ ††, ‡, ✪, ***, ††††, Terms and Conditions apply.

This offer is not available for residents of Quebec. For residents of Quebec, please click here.

Sponsored advertising. MBNA is a division of The Toronto-Dominion Bank (TD) and TD is not responsible for the contents of this site including any editorials or reviews that may appear on this site. For complete information on this MBNA credit card, please click on the "Apply Now" button.

The Toronto-Dominion Bank is the issuer of this credit card. MBNA is a division of The Toronto-Dominion Bank. ®MBNA and other-trademarks are the property of The Toronto-Dominion Bank..
---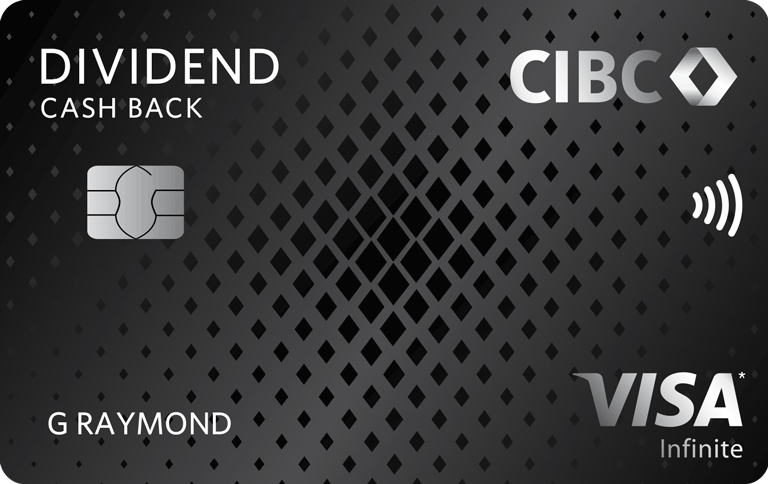 CIBC Dividend® Visa Infinite* Card

Annual Fee $120 Additional Cards (Up to 3): $30
Annual interest rate 20.99%† on purchases and 22.99%† on cash advances and 22.99% † on balance transfers
$60,000 personal or $100,000 household annual income †

Welcome Offer: Get a first-year annual fee rebate for you and up to three Authorized Users† and 10% cash back for the first 4 statements on net purchases of up to $2500.†

10% cash back for the first 4 statements ($ 250 cap) & Fee Rebate†

After that, get 4% cash back on eligible gas and grocery purchases.†

• 2% cash back on eligible transportation, dining purchases and recurring payments†
• 1% cash back on all other purchases†
• Get cash back on demand - redeem your cash back at any time when you have a minimum of $25 through CIBC Online and Mobile Banking®†

Save on gas with CIBC and Journie Rewards
Link and use your CIBC Dividend® Visa Infinite* Card with Journie Rewards to automatically save up to 10 cents per litre† at participating Pioneer, Fas Gas, Ultramar and Chevron gas stations.†

• This offer is not available for residents of Quebec.





This is a digital-exclusive offer.† To be eligible for this offer, you must apply for a new eligible card using the "Learn More" link available on this webpage.†

†Conditions Apply

---