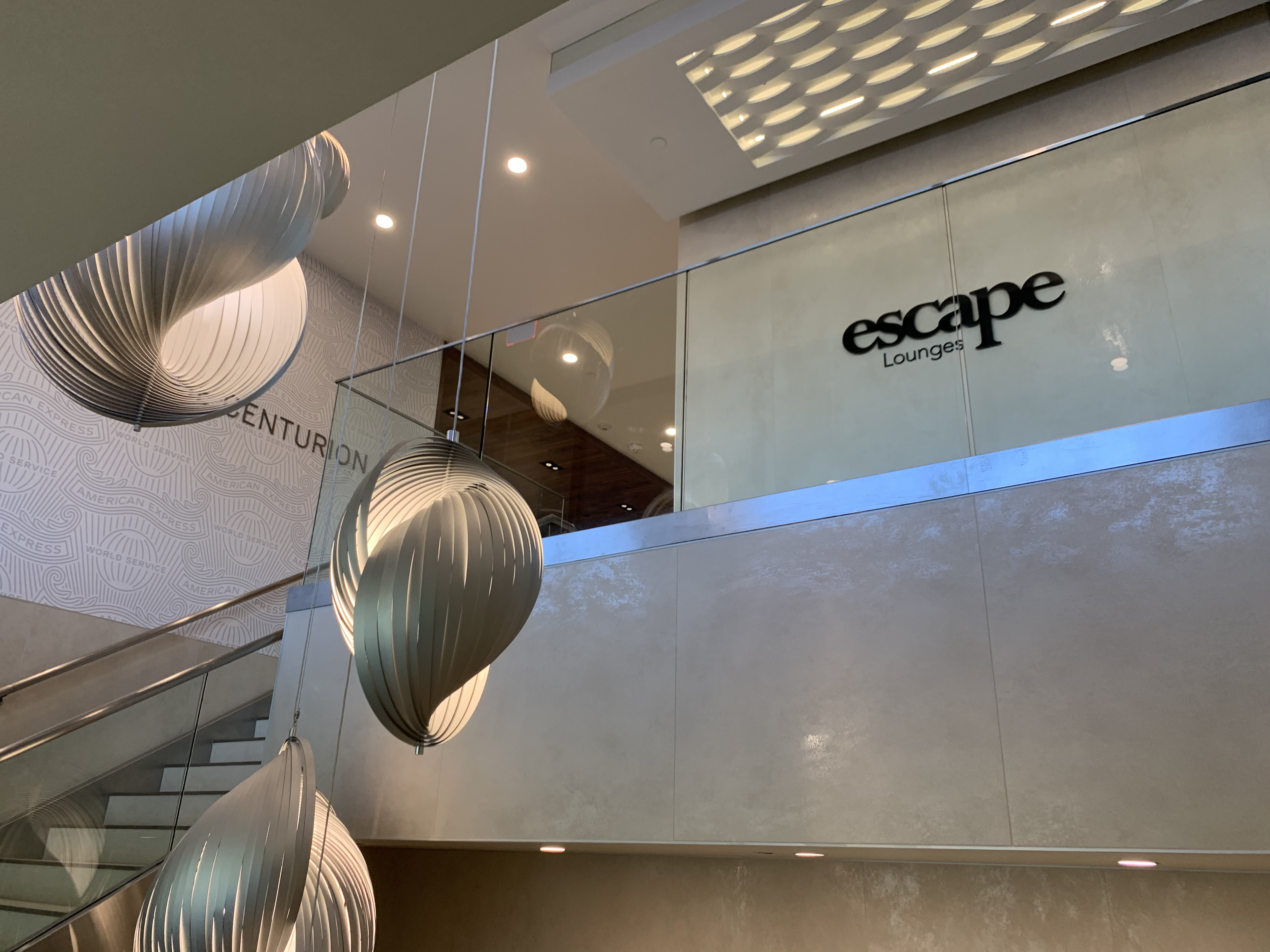 In this feature of Rewards Canada's Ultimate Credit Card Portfolios we look at the ultimate one for those who want to travel in style, experience luxury and get great benefits from their credit cards. It is well known from multiple surveys that those who are well off or at least those who can afford higher end credit cards are less interested in the points and miles earned on their cards but rather they are interested in the exemplary benefits that can make their travel around the globe unique and more luxurious. Both American Express and Visa have higher end cards that fit this bill while Mastercard has lagged behind somewhat but as we have always recommended you should carry a Visa, a Mastercard and an American Express card in your wallet thus there is a Mastercard included in this portfolio. The reason why you should carry one of each is that there are benefits, promotions and earning potential unique to each brand of credit card. We won't go into detail here as you can read all about it in our feature on how to Maximize your Miles and Points but here we outline one card from each brand that will help you high end travellers get those perks, benefits and one of a kind experiences. Ultimately there are various options that could be utilized for such a portfolio but we look at one card from each issuing family that we feel are the best fit for a high end traveller.
What is Rewards Canada's Ultimate High End Traveller Credit Card portfolio? It is the following three cards:

This mix of cards will not only get you lots and we mean lots of travel benefits, they also provide relatively strong miles and points earning in their respective programs. Even though surveys point out that high rollers are less interested in points and miles, they still matter but perhaps just not as much as they do to us average Canadians. The front runner in this portfolio is The Platinum Card from American Express. It has long been the 'high end' or Ultra Premium card in Canada outside of the invite only American Express Centurion Card. The Platinum Card still offers the most benefits and perks for those looking to enhance their travels. The Visa slot is given to the TD Aeroplan Visa Infinite Privilege card. The Infinite Privilege branding came out a few years ago as the 'high end' offering from Visa. Their aren't many Infinite Privilege options in Canada and we give the nod to the TD Aeroplan version since it provides some great perks when flying on Air Canada. As mentioned before, Mastercard is the weakest in the 'high end' market out of the three big issuers and we really only considered several cards for this position with the decision going to the HSBC World Elite Mastercard.
Five Key Benefits of this portfolio
Provides the utmost in business class lounge access (including free massages)
Hotel elite status galore and even status like benefits when flying with Air Canada
The best credit card concierge services
Additional perks and benefits at the world's most luxurious hotels
Strong insurance coverage
Why you want to get each of these cards - AKA the benefits they provide!

In reality this portfolio is about one card, the Platinum Card from American Express. It is the ultimate high end card. From the best airport business class lounge access programs to hotel elite status to business class companion fares and much more, the card has all ends of high end travel covered. It is also a hybrid card, which if you have followed Rewards Canada for some time, you'll know its our favourite type of card since it gives you so many options for reward redemptions. Want to redeem points against a travel charge on the card? You can do that. Want to convert to Aeroplan or British Airways? You can do that. Want to pay with points for a purchase on the card? You can dod that. But that's the points side of the card and this portfolio is more about the bling. You get an annual $200 travel credit that you can use via American Express travel, you get elite status with Marriott Bonvoy, Hilton Hotels and Radisson Rewards . You get access to the Fine Hotels & Resorts program, a collection of over 950 luxury hotels where the Platinum Card gets you hotel/spa credits, breakfasts, upgrades, early check in, late check out and more. You get access to over 1,200 airport lounges via the American Express lounge program, Priority Pass membership that also includes a guest for free. You get Platinum Concierge service which by many reports is one of the best in the business by getting tables at restaurants that are fully booked, getting tickets to events that don't have tickets (we actually tried this one out and it worked but we did not end up buying the tickets due to a scheduling conflict) and more. Finally the card has a really strong insurance benefits package as well. Really, we could write a heck of a lot more about the card but I think you get the gist of it.
Rwrds reminder: How to maximize the elite status benefits from The Platinum Card from American Express

The next card for the portfolio is the TD Aeroplan Visa Infinite Privilege Card and you are getting this card primarily for two reasons. First, it is a Visa card so it completes the Visa component of this portfolio. Second, it gets you some nice benefits for travelling on Air Canada, something many of us do seeing that is one of our two major airlines. It is these Air Canada benefits that make this card valuable. You get priority check in and boarding (if you aren't already flying in a premium class). You get priority security screening at select airports.  You can access Maple Leaf Lounges in North America. The Primary Cardholder can take advantage of an annual round-trip companion pass, which entitles you to buy a companion ticket from $99 (plus taxes, fees, charges and surcharges). You get your first checked bag free on Air Canada flights and the benefits continue after that. The card is strictly an Aeroplan mile earning card which of course you can tie in to the Platinum Card since you can convert American Express Membership Rewards points to Aeroplan. Or if you make an Aeroplan booking you can put the taxes and fees on the Platinum Card and redeem points against that charge to really make your travel free. And it gets your Aeroplan award flight preferred pricing.

Finally, the third card is the HSBC World Elite Mastercard. This card fills your Mastercard component of the portfolio. As we already mentioned there really isn't a high end card in the market from Mastercard but this card does fit the bill of being the best Mastercard in the Canadian market and completes this portfolio nicely. You'll mainly take this card out at places that don't accept American Express or Visa like Costco. The main benefit this card provides to a high end traveller is No Foreign Transactions fees. When you travel outside of Canada or shop online in a currency other than C$ this card does not charge the 2.5% Foreign Exchange Fee most other cards in Canada levy on such purchases (including the other two in this portfolio) The card's points can be used to redeem for any travel or converted to British Airways Executive Club (again you can tie this in to conversion from the Platinum Card as well), Cathay Pacific Asia Miles or Singapore Airlines KrisFlyer. The card also has a nice $100 annual travel enhancement credit that can be used for baggage fees, seat selection fees, etc. It also has Mastercard Airport Experiences by Lounge Key, which for the most part you have covered by the other two cards however Mastercard Airport Experiences does have some additional benefits like free 15 minute massages and other non-lounge benefts at select airports around the world.
Here are the details on these three cards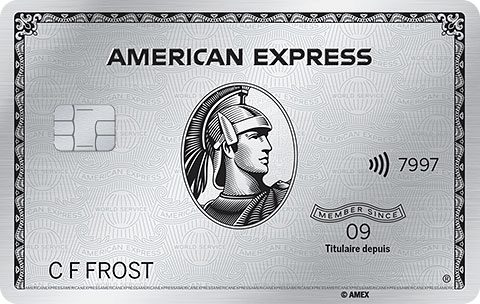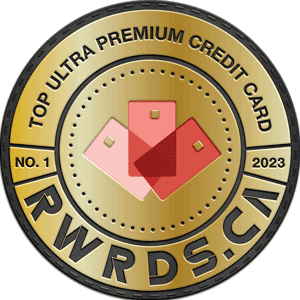 The Platinum Card®

2023 Top Ultra Premium Credit Card

Card Type: Charge
Annual Fee: $699 Additional Card Fee: $175 for Platinum, $50 for Gold
Unlock special experiences with the Platinum Card®
Earn up to 80,000 Membership Rewards® points - that's up to $800 towards a weekend away
New Platinum® Cardmembers, earn 60,000 Welcome Bonus points after you charge $6,000 in net purchases to your Card in your first 3 months of Cardmembership
Plus, earn 20,000 points when you make a purchase between 14 and 17 months of Cardmembership
• Earn 3 points for every $1 in Card purchases on eligible dining and food delivery in Canada, 2 points for every $1 in Card purchases on eligible travel, and 1 point for every $1 in all other Card purchases
• You will have access to a $200 CAD Annual Travel Credit to use towards any single travel booking of $200 or more charged to your Platinum Card and made on www.americanexpress.ca/travel or through Platinum Card Travel Service 
• Take full advantage of The American Express Global Lounge CollectionTM  which unlocks access to over 1200 airport lounges worldwide. This includes The Centurion® Lounge network, Plaza Premium Lounges, and hundreds of other domestic and international lounges designed to enhance your travel experience
• Enjoy flexible ways to use your points such as statement credits for any eligible purchase charged to your Card, new travel purchases booked on American Express Travel Online through the Flexible Points Travel Program, and eligible flights through the Fixed Points Travel Program
• Transfer points 1:1 to several frequent flyer and other loyalty programs
• Enjoy complimentary benefits that offer an average value of $550 USD at over 1,000 extraordinary properties worldwide when you book Fine Hotels + Resorts
• Platinum Cardmembers can enjoy access to special events and unique opportunities
• Enjoy premium benefits at the Toronto Pearson Airport such as discount on parking
• You will also have access to many leading hotel and car rental companies' loyalty programs. Our partners include Marriott International, Hilton Hotels and Resorts, Radisson Hotel Group Americas, Hertz and Avis
• Interest applies in accordance with your Cardmember Agreement, Information Box, and Disclosure statement if the total New Balance is not paid by the Payment Due Date each month. All payments must be received by the Payment Due Date shown on the monthly statement
• American Express is not responsible for maintaining or monitoring the accuracy of information on this website. For full details and current product information click the Apply now link. Conditions apply

---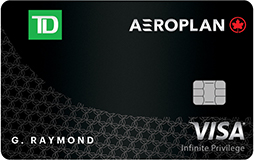 TD® Aeroplan® Visa Infinite Privilege* Card

Special Offer
Earn up to 115,000 Aeroplan points†. Conditions Apply. Must apply online by May 28, 2023.
Annual Fee $599
Additional Cards: $199 †
Annual interest rate 20.99% on purchases and 22.99% on funds advances
$150,000 annual personal income or $200,000 annual household income

Limited Time Offer

Earn up to $3,100 in value† including up to 115,000 Aeroplan points and additional travel benefits. Must apply by May 28, 2023.
Earn a welcome bonus of 20,000 Aeroplan points when you make your first purchase with your new card†

Earn an additional 60,000 Aeroplan points when you spend $7,500 within 180 days of Account opening†

Plus, earn an anniversary bonus of 35,000 Aeroplan points when you spend $12,000 within 12 months of Account opening†

Enroll for NEXUS and once every 48 months get an application fee rebate†

Share first free checked bags with up to 8 travel companions†and get unlimited access to Maple Leaf Lounges† including complementary access for one guest.


Earn Aeroplan Points on your everyday purchases

Take advantage of an extensive suite of travel insurance.

Get access to Priority Airport Services† like Priority Boarding, Priority Baggage Handling, and Priority Airport Standby & Priority Airport Upgrades†.

Earn 2 points† for every $1 spent on eligible purchases made direct through Air Canada® purchases (including Air Canada Vacations®)
Earn 1.5 points† for every $1 spent on eligible gas, grocery, travel and dining purchases
Earn 1.25 points† for every $1 spent on all other purchases made with your Card
Earn points twice when you pay with your Card and provide your Aeroplan number at over 150 Aeroplan partner brands and at 170+ online retailers via the Aeroplan eStore (www.aeroplan.com/estore)


Get an annual round-trip companion pass from $99 (plus taxes, fees, charges and surcharges)†.
Global Airport Lounge Access†: Receive a complimentary membership to the Visa Airport Companion† Program hosted by Dragonpass International Ltd. and take advantage of six lounge visits included for each Cardholder per membership year at over 1,200 airport lounges worldwide. Enroll through the Visa Airport Companion App or through visaairportcompanion.ca

Complimentary Visa Infinite Concierge† : On-call 24 hours a day, seven days a week, the Visa Infinite Concierge can help with any Cardholder request — big or small, to help you get the most out of life whenever you travel, shop and use your Card.

Visa Infinite Luxury Hotel Collection†: Receive seven exclusive benefits when you book your stay through the Visa Infinite Luxury Hotel Collection featuring over 900 of the world's most intriguing properties. Enjoy an additional 8th benefit at over 200 properties, exclusively for Visa Infinite Privilege cardholders.

This offer is not available for residents of Quebec. For Quebec residents, please click here .

† Terms and Conditions apply.

Sponsored advertising. The Toronto-Dominion Bank (TD) is not responsible for the contents of this site including any editorials or reviews that may appear on this site. For complete and current information on any TD product, please click the Apply Now button
---
Top No Foreign Transaction Fee Credit Card for 2023
Earn up to 80,000 Points* PLUS a full annual fee rebate for the Primary Cardholder for the first year*

Primary Cardholder Annual Fee: $149 (1st year annual fee rebate*)
Authorized User Annual Fee: $0 Per Card
Annual interest rate: 20.99% on purchases and 22.99% on cash advances and balance transfers.
$80,000 personal or $150,000 household annual income
Special offer: Earn up to 80,000 points* ($400 travel value) PLUS a full annual fee rebate for the primary cardholder for the first year* ($149 value) and receive a $100 annual travel enhancement credit*. Must apply by February 28, 2023. Conditions apply.
• Welcome bonus of 20,000 points* ($100 travel value)
• Earn 40,000 points* when you spend $6,000 within 6 months of account opening ($200 travel value)
• Earn 20,000 points* as an anniversary bonus ($100 travel value)
• First year annual fee rebate for the primary cardholder* ($149)
• Receive a $100 annual travel enhancement credit*
• With the HSBC World Elite Mastercard you earn 6 points for $1 in Net Purchases which are Travel Purchases, 4 Points for $1 in Net Purchases that are Gas, Grocery and Drugstore Purchases and 2 Points for $1 in Net Purchases, other than Travel, Gas, Grocery and Drugstore Purchases.
• Save on all your foreign currency purchases (even online) with no additional foreign currency conversion charges.
• Enjoy maximum flexibility and redeem your Points on your terms for:
• Travel
• Gift cards and valuable merchandise
• Financial rewards
• Rewards for miles



*Terms and Conditions apply
®/TM Mastercard and World Elite are registered trademarks, and the circles design is a trademark of Mastercard International Incorporated. Used pursuant to licence

This offer is only available to residents of Canada other than the province of Quebec (Quebec residents eligible for separate offer)

---